Production of the Boeing 747 will come to an end this year. Four 747-8Fs remain in the order book, all destined for US-based Atlas Air. Another US cargo giant recently took delivery of its latest jumbo freighter.
The Boeing 747 is the flagship of UPS Airlines from Louisville in the US state of Kentucky. The parcel service officially calls 41 jumbo freighters its own. These 41 aircraft are divided into 13 from the earlier version 747-400F and 28 from the latest version 747-8F. However, no more will be added, at least not from the factory. With the N633UP, UPS Airlines took delivery of its latest newly ordered Boeing 747 last Friday in Everett. The handover also brings the end of the 747 program closer: Boeing still has four jumbo jets to deliver to Atlas Air, and then one of the most formative civil jet programs of all time will be history once and for all.
UPS is very happy with the 747
For UPS, however, it is certain that at least the 747-8F will continue to transport packages around the world for many years to come. This is especially true for the new N633UP, which has already completed its first two cargo rotations to Dallas, Texas and Minneapolis, Minnesota after its delivery flight to the UPS hub in Louisville. "The 747-8 offers UPS an excellent combination of payload, range and efficiency," UPS press officer Jim Mayer told Flying. Given sustained high demand in the cargo sector, the parcel giant may have wanted more jumbo jets for its fleet, but Boeing decided in the summer of 2020 to end the 747 program in 2022. This means that UPS and other 747 users they will only be able to turn to used aircraft if necessary.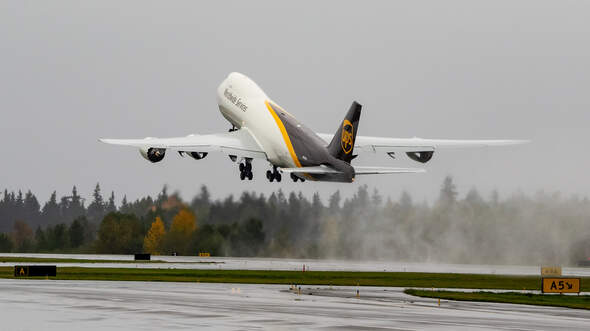 Only the freighter was successful.
The 747-8F is the most powerful commercial freighter ever produced in the United States. It can carry a payload of up to 134 tons and fly a good 8,000 kilometers. The main deck is loaded and unloaded through the folding bow, the lower deck is loaded with cargo through the side doors.
The final jumbo generation cargo variant was also the guarantee that Boeing was able to keep production simmering for so long. Of a total of 155 orders for the 747-8, 107 were for the 747-8F, with a meager 48 for the passenger 747-8I. The latter found only three business customers: Lufthansa, Korean Air and Air China. Some examples were also delivered to governments in VVIP configuration.
.