Good deals at Microsoft



Google ad revenue is weakening

04/27/2022, 02:16
With Alphabet and Microsoft, two technology heavyweights presented their quarterly figures after the close of the US stock market. Only Microsoft can convince, mainly thanks to a substantial lead in the cloud business. Google's parent company, on the other hand, feels the reluctance of advertisers and falls short of analyst expectations.
While Microsoft continued to benefit from the trend toward mobile work at the start of the year, Google's parent company Alphabet felt pushback from advertisers amid the global economic slowdown. In the first quarter, revenue rose 23 percent to around $68 billion, as the world's largest search engine provider announced. Earnings, on the other hand, even fell eight percent to $16.4 billion. Analysts had set the bar higher for both sales and profits. Shares fell more than 4 percent in after-hours trading, while Microsoft's stock rose slightly.
During the pandemic, Google had benefited from the online boom and associated bubbling ad revenue. No other company in the world sells as many ads on the Internet as Google. However, competition from companies like Amazon and TikTok is growing. Additionally, many advertisers now prefer to keep their money pooled so they can react more flexibly to concerns about inflation, delivery issues, and the war in Ukraine. Google was also having a harder time in the cloud sector than it was a year ago.
The cloud boom continues
Direct competitor Microsoft, on the other hand, pleased investors with a rise in cloud business, including the Azure offering, of 26 percent. Otherwise it turned out fine. Microsoft's sales rose 18 percent to nearly $49.4 billion in the most recent quarter at the end of March, the world's largest software company from the US announced. That's more than analysts expected. Operating profit rose 19 percent to $20.4 billion.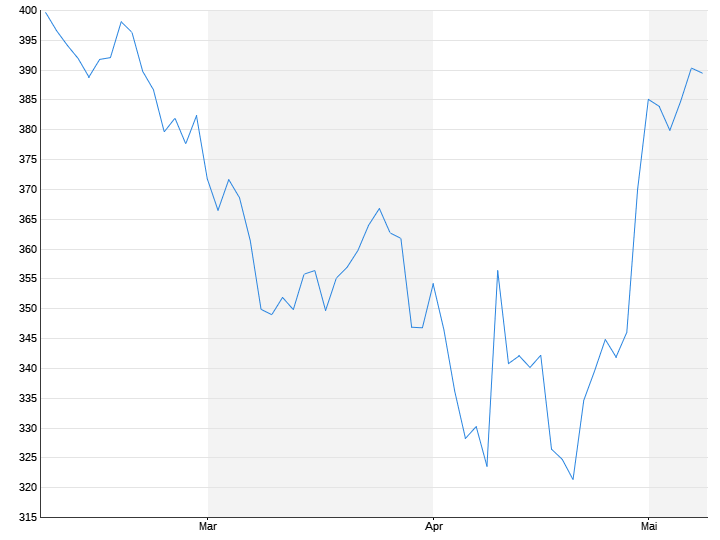 Like Amazon and Google, Microsoft benefits from the fact that more and more employees, schoolchildren and students have moved flexibly between the home office and the office since the Corona crisis. For this to work, businesses and individuals alike need storage space and cloud applications that everyone can access from anywhere. Products and services often come from Microsoft, the home of Windows and Teams.
Microsoft is no longer only active in the software sector. The American group currently wants to take over the call of duty developer Activision Blizzard for 69 billion dollars and is therefore also betting on the metaverse that is currently being created, a virtual world accessible through various devices and platforms, which is intended to merge online and offline. More recently, Microsoft has had a lucky hand, such as with the acquisitions of LinkedIn or Skype.
.