Mini John Cooper Works at the Nürburgring 24 Hours
Ring wrap with iconic design
After a ten-year hiatus, Mini returns with a John Cooper Works at the Nürburgring 24 Hours. The 306-hp racer starts in the popular SP3T class and is closely tied to the region.
Red, white and black accents – this is how the Brits at Mini celebrated their first big successes in motorsport: in the 1960s, the iconic marque in this color scheme achieved three overall wins at the Monte Carlo Rally (1964, 1965 and 1967). To celebrate the 50th edition of the 24 Hours of Nürburgring, the BMW subsidiary has now created a tribute to racing together with the privateer team Bulldog Racing.
The project, which began last September, includes a Mini John Cooper Works turbocharged four-cylinder engine with an output of 225 kW or 306 hp and a maximum torque of 450 Nm. Power is transmitted via the series-produced 8-speed Steptronic transmission with an integrated mechanical differential lock that has a locking effect of up to 70 percent.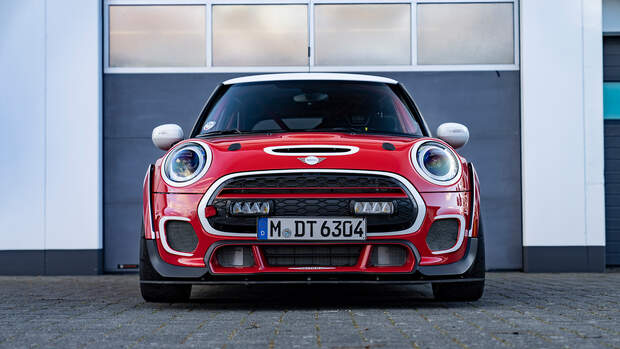 Racing Settings
In order to start in the SP3T class (2000 ccm with turbo), some modifications were required by Mini and the Nürburg-based Bulldog Racing team. Extensively revised aerodynamics with an adjustable rear spoiler that protrudes far to the rear, a fully clad lower body, rear diffuser and front splitter are particularly striking. In addition, the racing cage specially developed for the model and painted in red inevitably attracts attention.
Beneath the red and white casing, the sports mini now has a 100-litre tank, a model-specific racing chassis with adjustable stages of compression and rebound, and a pneumatic lift system. Project partners also replaced all moving parts of the chassis and suspension with reinforced Uniball bearings, installed a racing catalytic converter and steadily reduced weight. The parent company also donated some BMW M Performance brake components.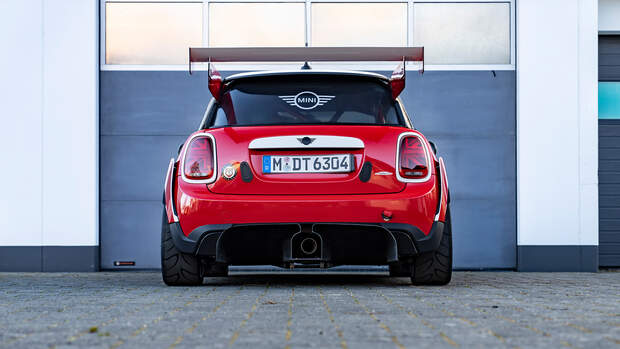 short preparation time
The launch was planned for the end of March, seven months after the start of the project. More testing will follow in the coming weeks on the Nordschleife and at BMW's Miramas test center in the south of France. The test track between Marseille and Avignon helps the team to optimize the chassis. Bulldog Racing boss Friedhelm Thelen explains: "The 24-hour race at the Nürburgring is an extreme load on all vehicle components. That's why we are very happy to be able to use the test center."
More information about the team of drivers and the entire race calendar will be given later. However, we can already tell you that Jens Dralle, Head of Testing and Technology at auto motor und sport, will be driving the Über-Mini from May 26-29, among other things. You can see what awaits you in our large image gallery.
.