Semiconductors and Ukraine weigh



VW profits shine, but poor prospects

04/14/2022 14:02
If you just look at the number of cars sold in the new Volkswagen Group figures, they look meager. However, the company is celebrating billions in profits, because it has made provisions for cases like the Ukraine war. However, for the near future, the outlook is quite cloudy.
Despite the war in Ukraine and faltering production due to the corona fight in China, Volkswagen made billions in profit at the beginning of the year. However, the Wolfsburg-based company benefited greatly from the financial instruments with which the group has hedged against rising commodity prices. Operating profit before special effects jumped to around 8.5 billion euros in the first quarter, as reported by the automaker based on initial estimates.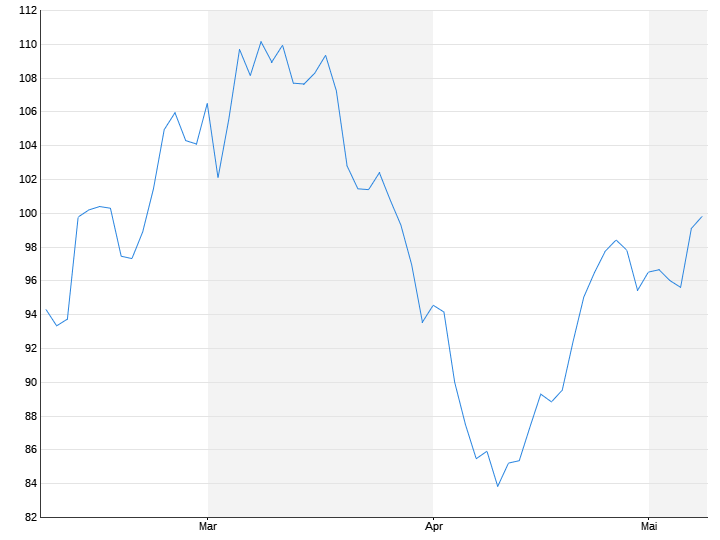 But VW did not sell more cars, on the contrary: The car company delivered about 500,000 fewer cars worldwide from January to March than in the same quarter a year earlier. This corresponds to a decrease of almost 22 percent. After all, there was growth in all-electric cars: In the first quarter, VW sold about 99,000 electric cars, a 65 percent increase from a year earlier.
Demand for electric cars is high around the world and order books are well filled, explained sales manager Hildegard Wortmann. Without the current supply bottlenecks, this number would have been significantly higher. The figures were not well received in the stock market. VW stock was at the bottom of the DAX, around noon it was in the red by 1.9 percent.
Uncertainty factors Semiconductors, Ukraine, raw materials
A year ago, operating profit was 4.8 billion euros. Operating performance almost doubled in the first three months compared to the same period a year earlier to 13.5 (7.7) percent. In addition to strong operating business, a positive fair value assessment of hedging instruments of 3.5 billion euros also ensured higher profits, VW said. This is a crisis precaution: due to long-term hedging through financial instruments, the group is still paying raw material prices at the level they were before the Ukraine war. The difference from the current price level secures an accounting profit.
Looking ahead, CEO Herbert Diess' management explained that there was still a risk that the progress of the Ukraine war would have a negative impact on the car company's business. This could also be due to bottlenecks in the supply chain. Additional developments in commodity markets are also unpredictable, which in turn could have a significant impact on the valuation of hedging transactions.
Volkswagen also referred to the possible negative effects of an intensifying corona pandemic and bottlenecks in the supply of semiconductors. However, Volkswagen has not changed its outlook for the current year. Consequently, the group expects an operating return of between 7.0 and 8.5 percent by 2022. Sales are expected to increase between eight and 13 percent.
.