Just in time for the beginning of spring, temperatures are rising and the sun is appearing more and more frequently. What's better than spending the day with friends in the park? But instead of just lying lazily on the picnic blanket, you should try these fun and active fitness games.
Whether you prefer an active rest day or a full body workout, there's a set for you. And if dark clouds suddenly appear in the sky, you can simply move your exercise program to the living room. Because we have also selected great games for you.
Fitness games: get fit
Playing sports is a good break from everyday life that keeps you fit at the same time. Studies show that variety is a key factor in staying engaged during exercise. So grab your favorite teammates, a refreshing drink and snacks for the break and for the park. These fitness games will make you forget the stressful everyday life.
1. Viking chess: fun for young and old in the kubb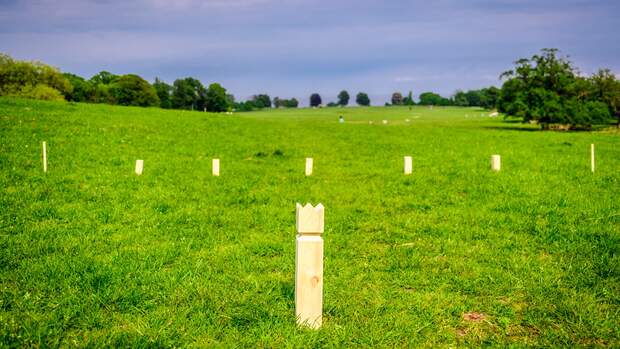 Order here: viking chess
Viking chess, actually called 'kubb', is a fun outdoor game for the whole gang that doesn't require you to be particularly athletic. You can play the game with 2-12 players, with two groups. The object of the outdoor game is to knock down the opposing group's "servants" first, then the "king" with throwing sticks. It can take up to 2 hours depending on the strength of the players.
Play equipment includes a wooden king, ten wooden workers, six throwing sticks, and boundary sticks to mark the playing field. In the game, not only are you constantly on your feet, but you often have to bend down to pick up the sticks again. So not only do you burn a lot of calories, but you also get a great workout for your glutes, legs, and lower back. The entire set is delivered in a weather resistant carry bag.
Partner offer: OCEANSPART
With our exclusive code WOMAN30PANTS you get at OCEANSPART 30 percent discount in your shopping cart plus one free pant.
Here you come to the store.
2. Slackline: train your balance and core muscles in a fun way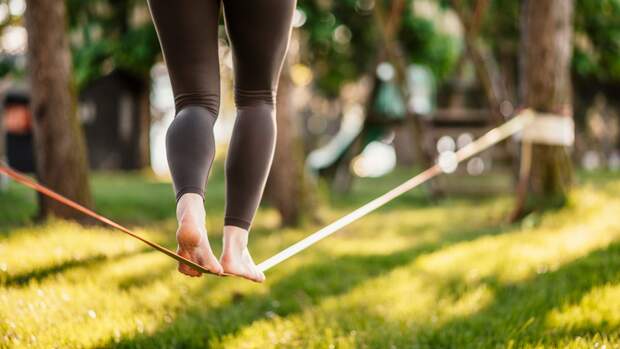 Order here: Complete slackline set with line, tree guard, auxiliary rope and carry bag
Slacklining is the perfect pastime on balmy spring days. Balancing on the band trains your concentration, coordination and sense of balance on the one hand, and loosening up on the other hand improves body tension and strengthens your muscles. Among other things, the muscles of the arms, legs, buttocks, back and abdominals are trained.
Once you get the hang of it, you can also add jumps and spins. So it never gets boring and there are always more moves to learn. Therefore, slacklining outdoors is a great balance for daily work life, which is fun and exercise alone, but also in a group.
3. Crossminton: like badminton without a net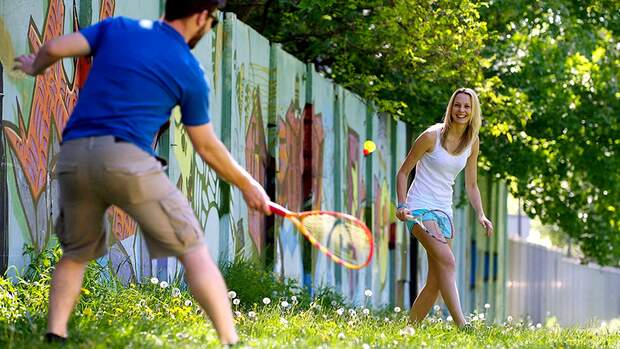 Order here: Crossminton set consisting of 2 rackets, balls, a bag and other equipment
Crossminton is like badminton, but without a net and with rackets that are more like squash rackets. Badminton gets a lot of power from the racket, which makes the game faster. The game may be simple, but it keeps you on your toes and tests your fitness. Speed ​​and a good intuition give you a huge advantage in Crossminton.
Another little incentive: Crossminton can burn around 600 kilocalories per hour. You can play the game in pairs against each other. A game set traditionally ends with 16 points. Points are scored when the serve fails, the "slider" (the ball) falls out of bounds, or is hit twice in a row.
4. Cubeletics: Cube Your Training Together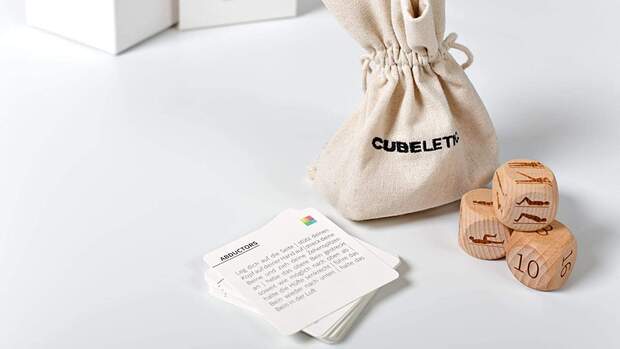 Order here: cubelet
With Cubeletics cubes, chance decides which workout you complete. The game consists of 4 dice: one with exercises specifically designed to strengthen the front of the body, one for the muscle groups of the back, one for the legs, and one that dictates the number of repetitions of the exercises. With 216 different training combinations, the cubes provide the optimal basis for effective bodyweight training.
With Cubeletics you are disconnected from the gym, because the small mini-gym can be taken with you anywhere, conveniently packed in a linen bag. Decide for yourself how many rounds you want to play. For example, how about a challenge of who can do the most laps? Here we go!
Bad weather? Fitness games for Nintendo Switch
Of course, on rainy days you don't have to go to the park to do your training. Studies show that computer fitness games can clearly have a training effect and motivate people through the fun factor.
There are some fitness games for Nintendo Switch that will get you moving. As you play, you sweat and burn some calories. We have selected our top 3 games for you.
5. Ring Fit Adventure: the fitness adventure for the living room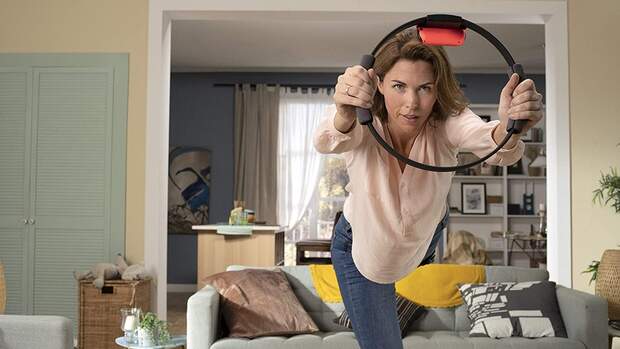 Order here: ring shaped adventure
With Ring Fit Adventure, your movements are transmitted to the game through a leg strap and a rubber ring, the Ring-Con. Here you have to fight a dragon, among other things. Because Ring Fit Adventure is an RPG where you defeat opponents with squats, yoga poses, or sit-ups and level up your character.
Apart from that, there are also predefined and customizable training programs without any role-playing elements. Thanks to various settings for the exercises, the program can be adapted to your needs. With extra practice, you can take turns competing against your friends and family for the highest score. Ring Fit Adventure trains your whole body.
6. Just Dance 2022: Dance Happy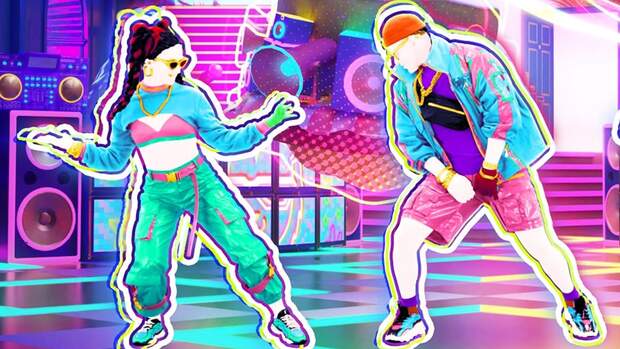 Order here: just dance 2022
Dance to get fit with Just Dance! Dance to new songs this year like Camila Cabello's 'Don't Go Yet', Taylor Swift's 'Love Story', Billie Eilish's 'Happier Than Ever' and more! In Sweat mode you can create your own fitness program and see how many calories you have burned in total. You can play the game alone or with friends. The game is also available for Nintendo Switch, as well as PS5, PS4, and Xbox One.
7. Fitness boxing: the powerful fat burner for home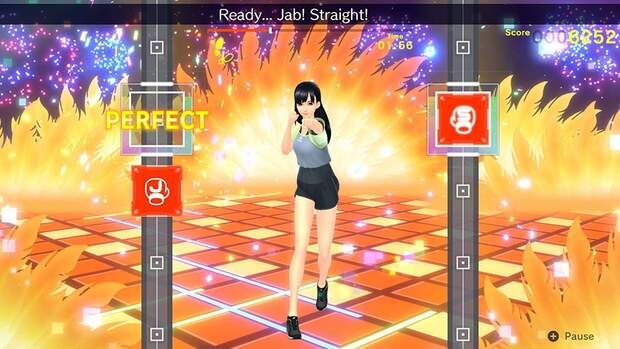 Order here: fitness boxing
With fitness boxing you have a digital trainer by your side and, as the name suggests, you have to box in the air. Instrumental versions of well-known pop songs are available for this purpose, which you can work with during your training. You will learn different combos, train in two player mode or compete for points in rival battles.
In fitness boxing you train the whole body, but the main focus is on the arms. Since you can set the speed and duration yourself, the training can be tailored to your needs. The set is suitable for an active rest day, but also as a cardio workout.
Our fitness games will get you in shape for spring. In good weather in the park or on the beach, in bad weather at home. Whether with tools or fitness games for the console – that's how you keep moving!
.