Apple Watch as a satellite phone
The Apple Watch could soon get a new feature to better help you in emergency situations. According to a report by Bloomberg, Apple plans to integrate a satellite connection. There have been rumors about this since the iPhone 13, but as is well known, these did not come true. According to Mark Gurman, this should change with iPhone 14 and allow users to send SMS and SOS to their emergency contacts to draw attention to an emergency situation even without a mobile network. Gurman assumes that the iPhone will initially use this technology and that Apple will later integrate it into the Apple Watch. The feature should be available in two parts:
Emergency messages via SMS must be able to be sent to both emergency contacts and emergency services, regardless of the mobile network and one's position. Messages should appear in the Messages app as gray speech bubbles and therefore stand out from the rest. Furthermore, in the event of a disaster (shipwreck, plane crash, car accident or fire), it should be possible to directly alert the responsible authorities and draw their attention. The system should query independently if help and a rescue service are required, if people are injured or if further dangers (suspicious persons or weapons) are expected. However, according to Bloomberg, the feature will depend on local regulations and may not be available in all countries.
New health features for Apple Watch: blood pressure and more
After the rumor had already surfaced that the Apple Watch Series 7 should be equipped with a blood pressure sensor, Mark Gurman of Bloomberg contradicted it and he was right. In a new article he assumes that Apple is still investigating it and, above all, wants to increase reliability before the new feature is integrated into the Apple Watch. Consequently, the blood pressure sensor will also be missing this year and will probably be available with the Apple Watch in 2024 at the earliest. Also, the sensor should not show you the exact systolic and diastolic values, but rather give you a trend to estimate your blood pressure.
Like the blood pressure sensor, blood sugar monitoring is still a few years away from being market-ready. Apple wants to offer a simple, non-invasive method to constantly monitor your blood sugar without having to constantly prick yourself and measure yourself manually. In addition, the Apple Watch should also be able to indicate values ​​that are too high or too low.
While new features are still a long way off, Gurman expects Apple to deliver new features for sleep, exercise, medication management and women's health with the Apple Watch Series 8 this year.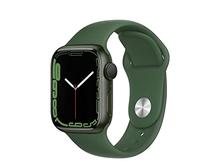 Apple Watch Series 7 (GPS, 41mm) – Green Aluminum Case with Clover Sport Band – Standard
€390.00