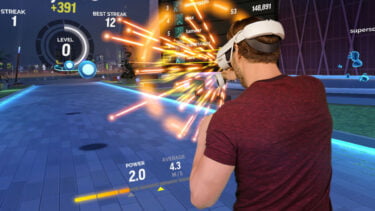 Image: FitXR
The article can only be displayed with JavaScript enabled. Please enable JavaScript in your browser and reload the page.
Virtual reality fitness is booming relative to the growth of the VR market as a whole. For FitXR CEO Sam Cole, virtual training is just getting started and will soon become more efficient through wearable integrations, artificial intelligence, and new VR headsets.
Gyms have experienced a huge boom in the last twenty years. From 2003 to 2019, the number of members in Germany increased from 4.38 to 11.66 million. Then came the pandemic, causing 2.4 million people to cancel their fitness subscriptions in two years. Lockdowns and working from home have changed daily routines and virtual reality fitness apps have exploded.
VR fitness benefits from changing habits
"Before you had your house, your office and your gym. The degree of separation between these different physical environments has often been very important to humans. I think with the pandemic, people started connecting with home and work, and then they also started connecting with home, work and the gym," Sam Cole said in an interview.
Sam Cole is the CEO and founder of the FitXR Limited development studio. In 2016, he and his team launched BoxVR, the first virtual reality game designed from the ground up as a fitness app. In a virtual environment, users can complete training sessions created by real physical trainers in virtual reality.
With the pandemic, the fitness app business started to grow. Facebook, today's metacorporation, announced at the time that fitness apps were particularly popular during the lockdown. For BoxVR developers, the increased popularity resulted in $6.3 million in new investment funds.
VR app becomes a virtual gym
In 2020, BoxVR received a major upgrade, going from a VR game to a VR gym. The development team overhauled the app from the ground up, introducing live fitness workouts with other users, personal trainer avatars, and additional workout types like dance or HIIT.
The innovations were initially not well received and FitXR was punished by users with negative ratings. However, the reason was not the technical implementation. BoxVR and its DLC can be purchased for a single purchase price. With the upgrade to FitXR came the switch to a subscription model and a monthly cost of $9.99. The virtual reality game BoxVR, on the other hand, has disappeared from Meta Quest 2.
The initial rejection subsided over time and FitXR became more and more successful. With regular updates, new content and events, as well as constantly improving accessibility, FitXR has built its own enthusiastic community.
In the future, virtual reality courses could be taught live by trainers.
The team around personal trainers is also constantly growing. Born without legs, professional wrestler Zion Clark offers training sessions for people with physical disabilities. With Nicola Adams, FitXR was able to sign a professional boxer and Olympic gold medalist.
In the near future, trainers could even be present in person in the virtual reality studio. According to Cole, tests are already underway for training classes that are held live. "We have the technology to support that, we just need to come up with a complete go-to-market strategy."
FitXR: Training feedback through artificial intelligence
Cole still sees more potential in recorded courses. They would become increasingly efficient thanks to the improved motion detection of future VR glasses and the use of artificial intelligence. In the future, FitXR should be able to give feedback based on player movements.
"The lines between an avatar talking to me and a recorded avatar giving me specific instructions based on how I play become blurred. It feels more like live feedback," says Cole.
"Soon you will get almost complete position data from the headset. Right now you can infer the whole body, we're getting data from the headsets and the controllers' hand movements through things like inverse kinematics. These AI systems are getting better every day. But the new headset will also bring additional tracking from the cameras, which will also allow for longer arm tracking and deeper torso tracking."
The FitXR experience will expand across AR, mobile app and wearable devices
FitXR recently released a companion app for iOS and Android, which users can use to track their progress, create training plans, or set fitness goals on their smartphones. An important step into the future for the CEO of FitXR.
"We think we need to focus on everything from virtual reality to augmented reality, and mobile devices are opening up some exciting augmented reality opportunities," says Cole.
Last updated on 09/10/2022 / Affiliate Links / Amazon Product Advertising API Images / Price includes VAT plus shipping
FitXR has gained many new customers through word of mouth. According to Cole, this is due to the experience nature of the VR app. This experience can be extended with the smartphone. FitXR is also working with Apple and Strava on an integration for wearable devices.
"I love this vision of doing an intense race today and then starting FitXR tomorrow. We welcome him back, congratulate him on the race, and tailor the entire course recommendation based on how he ran," said Cole.
FitXR CEO: VR headset sales have increased tenfold
Cole recently announced in an interview that the number of subscribers to the fitness app had quadrupled in the last twelve months. This success is all the more remarkable when you consider that coronavirus lockdowns and hygiene measures have noticeably eased in the last year and fitness studios are fully accessible again.
For Cole, that growth is just the beginning. He believes that sales of VR glasses will increase tenfold in the next three years. The launches of PlayStation VR 2, Apple's first VR headset, Meta Quest Pro (Cambria), and TikTok owner Bytedance's Pico Neo 4 (Pro) could help the market grow again.
If you want to learn more about the efficiency of VR fitness, you should take a look at my multi-part self-assessment: I started a VR fitness self-experiment earlier this year and got a yearly subscription to FitXR. You can read about my experience in the linked article. Much in advance: VR fitness is a real option for regular training at home.
Sources: Statista, Sports Techie
Note: Links to online stores in the articles may be so-called affiliate links. If you buy through this link, MIXED.de will receive a commission from the seller. The price does not change for you.