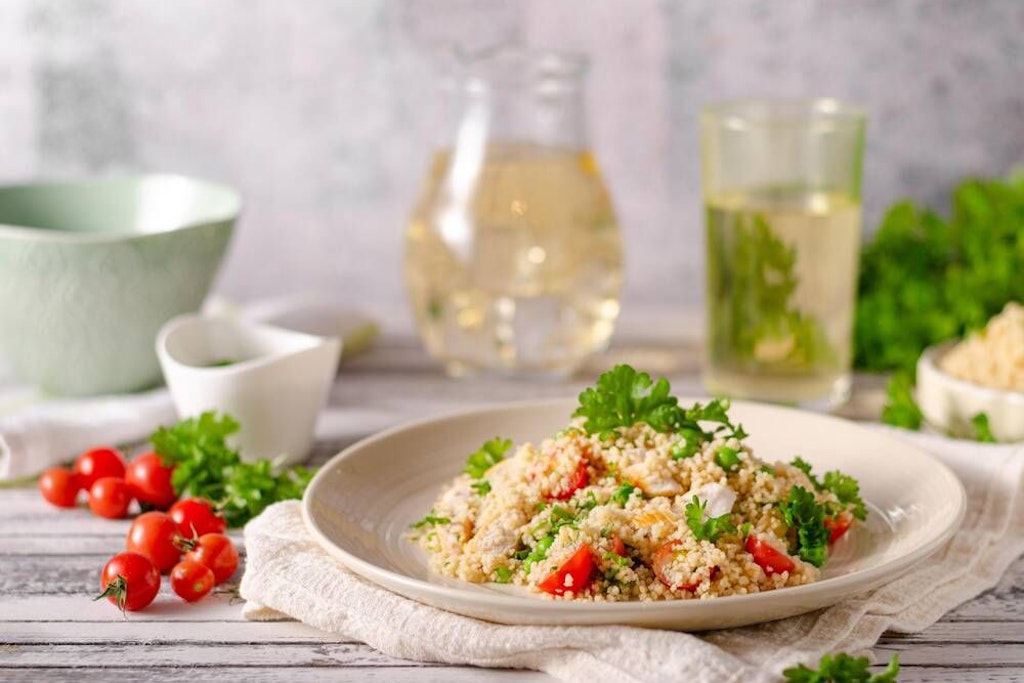 Should it be tasty and light? The perfect low carb dinner? We have something for you: try the best fitness salad with couscous and feta cheese! It is super healthy, super quick to make and it also goes perfectly with fish or chicken. Enjoy your meal!
Also read: Fat-burning salad that's filling and totally delicious – here comes the recipe with radish and apple >>
Ingredients for couscous salad with feta cheese
You need: 200 grams of couscous, 200 grams of feta cheese, 1 cucumber, 150 grams of mini tomatoes, 2 spring onions, 250 milliliters of vegetable broth, 4 tablespoons of olive oil, 1 lemon, a few fresh mint leaves, 1 teaspoon of turmeric , ½ teaspoon of salt, a pinch of chilli pepper, 1 pinch of pepper
Also read: Do you want to learn how to eat healthy? Eight doctors explain where to start >>
This is how couscous salad with feta cheese is made
This is how you do it: Wash the lemon well with hot water. Grate a little peel, cut the lemon in half and squeeze the juice. Bring the vegetable broth to a boil, add 2 tablespoons of lemon juice and turmeric. Season with chili, pepper and salt.
Place the couscous in an ovenproof bowl or saucepan and pour over the hot vegetable stock mixture. Put the lid on and let it sit for five minutes.
Meanwhile, wash and chop the cucumber. Wash and cut the mini tomatoes in half. Wash the spring onions and cut them into rings. Wash the mint and cut it into thin strips.
Fluff the couscous with a fork. Fold in olive oil. Add the vegetables, crumble the feta over the salad and toss too. Season with remaining lemon juice, lemon zest, salt and pepper. Decorate with mint.
Also read: Strawberries, cheese and company: nine foods that we all store badly, do you too? >>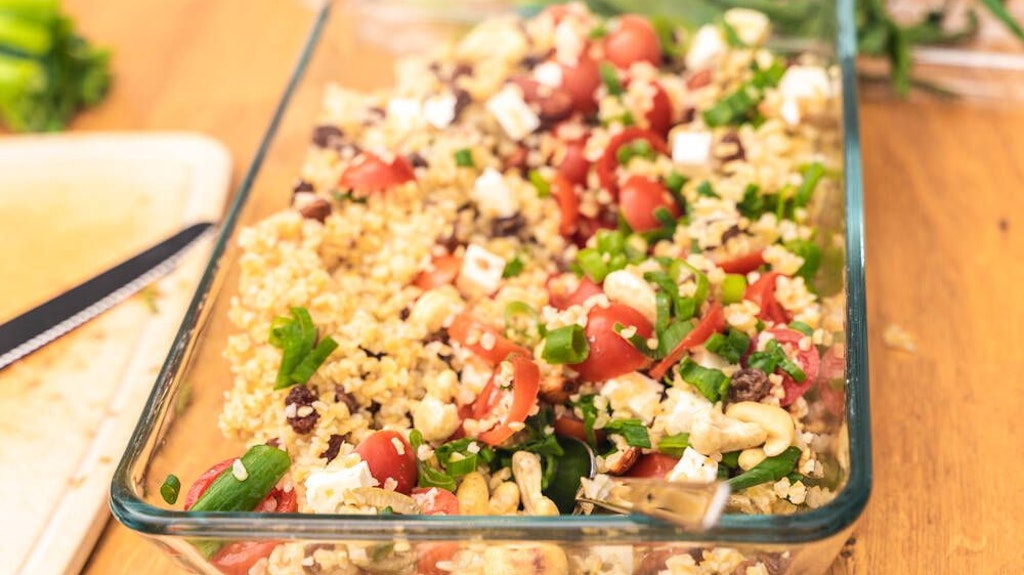 Why is couscous so healthy?
Couscous salad is not only delicious, but also healthy. 100 grams of couscous provides eleven grams of healthy vegetable protein, which covers almost 20 percent of the daily protein requirement. Plus, with just 1.8 grams of fat per 100 grams, couscous is extremely low in fat, yet provides valuable carbohydrates. Couscous also contains a lot of folic acid and B vitamins. This helps to think and gives power for sports.