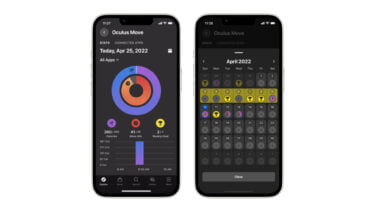 Image: Goal
The article can only be displayed with JavaScript enabled. Please enable JavaScript in your browser and reload the page.
Attention VR fitness fans: You can now track your Oculus Move workout stats on your smartphone. I will show you how.
Anyone who likes to use their Meta Quest 2 for their daily training can now check their own stats on their smartphone. If desired, the VR headset syncs data from the Oculus Move fitness tracker with the Oculus mobile app and Apple Health. We'll show you how to set up shortcuts.
Oculus Move: Meta VR Fitness Tracker
Oculus Move is a fitness tracker built into Meta Quest (2). If you train with the VR headset on VR games that require a lot of movement, such as FitXR or Les Mills Bodycombat, the app can record your calorie consumption and training duration.
You can define your own training goals and you will be rewarded with various trophies for achieving them. You can also view your progress so far at any time. Until now, however, this was only possible directly in the VR glasses.
Goal: VR fitness stats will come to smartphones
An update to the Oculus app now brings VR fitness tracker data to the smartphone. Android and iOS users can find stats directly in the Oculus app after syncing. If you have an iPhone, you also have the option to link it to Apple Health.
In both cases, you must first set up the Oculus Move in Meta Quest (2). Open the app in the VR goggles app overview and follow the instructions. You'll be guided through a short process by defining your fitness goals, among other things.
Sync Oculus Move with an Android smartphone or iPhone
Smartphone sync is disabled by default and works with Android or iOS. Once you've set up Oculus Move and installed the Oculus mobile app on your smartphone, do the following:
Open Oculus Move and go to the menu "settings" Bottom right
Activate the option "Connect Move to the Oculus mobile app"
Your movement statistics are stored in encrypted form on the meta servers and you can check them at any time via the smartphone app. If you want to turn sync off again, you can only do so in the Oculus Move settings on the VR headset. Data collected up to that point will remain in the Oculus app.
Then open the Oculus app on the smartphone and tap "Explore' screen on Oculus Move. There you will now find a dashboard that shows you the current training statistics. You can use the filter to filter by VR game or get monthly progress.
Oculus Move and Apple Health: everything at a glance
If you sync your Move data with Apple Health, you have a handy advantage: VR and reality fitness data automatically flow together in a single app.
You no longer have to manually enter your VR fitness data into Apple Health. Whether you're jogging in the woods or chopping up some glowing blocks with Beat Saber, you'll find measured motion data on your iPhone or Apple Watch.
How to sync Apple Health and Oculus Move
Enable Oculus Move to sync with the Oculus iOS app as described above, then open the Oculus app on the iPhone.
Proceed as follows:
Tap Oculus Move on the Explore screen or in the menu
At the top of the screen you will find the point "linked apps'- touch it
Scroll down and turn on Apple Health
Order Meta Quest 2 from Germany
Meta Quest 2 will not be sold in Germany at the moment. It is not known how long this ban will last.
At Amazon France you can buy the Meta Quest 2 as usual. Advice: Right click on the web page and select "Translate".
Metasearch – 128 GB | Oculus Quest – 256GB
A new: You can order from Amazon France through your German account. The VR glasses support the German language in the menus. A Facebook region lock is not currently active: Quest 2 works normally. Amazon France delivers within a few days, some of the devices are even shipped from warehouses in Germany.
Note: Links to online stores in the articles may be so-called affiliate links. If you buy through this link, MIXED.de will receive a commission from the seller. The price does not change for you.