commercial
HUAWEI Watch GT 3 Pro
The elegant combination of modern technology and timeless elegance
Do you want a watch that accompanies you on your adventures without looking like a smart or sports watch? The new HUAWEI Watch GT 3 Pro combines innovative features with the look of a luxury watch. For true winners
Taking advantage of the good weather, taking your fitness to the next level, or simply better coordination every day: there are many reasons for the HUAWEI Watch GT 3 Pro. Technical innovations that enrich life, combined with elegant design: the HUAWEI Watch GT 3 Pro is the smartwatch for women who want more from their everyday lives. Your best moment starts now.
A smart watch in a noble format
It immediately catches the eye: With the GT 3 Pro, HUAWEI sets new standards in terms of appearance. The watch is literally full of elegance. Decorated in elegant white and featuring a classic ceramic casing, it is an innovative everyday stand and noble fashion accessory in one. But it doesn't just look good, it can also cost a lot: the large, rounded screen is made of scratch-free sapphire glass. So no matter what you have in mind: the GT 3 Pro can handle any of your adventures.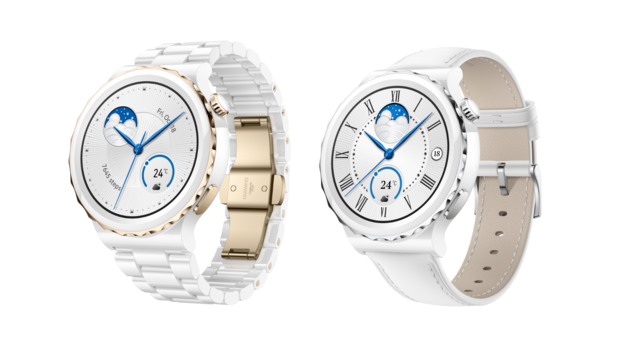 More information about the watch
A watch for every occasion
It doesn't matter if it's everyday life in the office, physical training or a dinner date: with various personalized options, you can adapt the GT 3 Pro completely to your activities. Are you done with work? Simply switch from the elegant ceramic bracelet to the casual leather bracelet. Thanks to the practical folding clasps, you can change them at any time. With the help of various offerings from HUAWEI Watch AppGallery, you can also select numerous watch faces: heart rate display for sports, simple background for a date;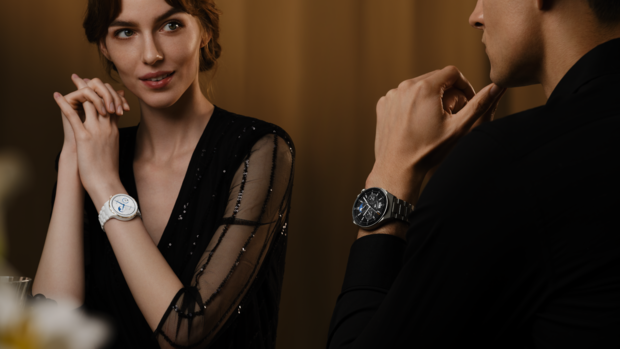 HUAWEI
Whether on land or in the water: the watch takes part in every adventure
Attention swimming and diving fans: Thanks to the HUAWEI Freedive mode, the elegant ceramic watch can withstand pressure up to 30 meters in saltwater areas. Yes, you read that right, 30! This corresponds to the depth of five diving pools. Simply download the HUAWEI Health app and the watch will record diving data in real time. Discovering new wonders underwater is not your thing? No problem, the GT 3 Pro has over 100 different outdoor and indoor training modes. Simply select a mode and the watch will accurately track training data such as speed and heart rate. How about an exciting mountain climb or a relaxed yoga? It's your choice. talking about yoga: In the Health app, the watch also has all the breathing exercises that you can use to reduce your stress level.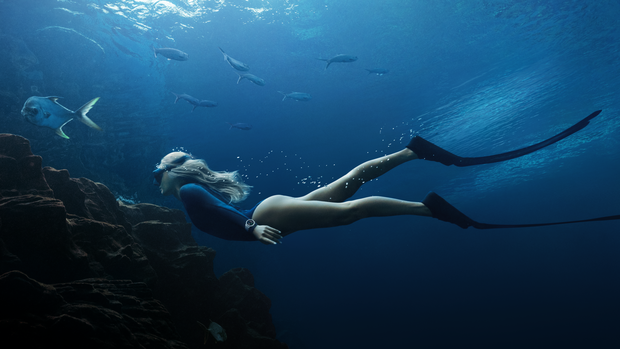 HUAWEI
Perfect companion in daily life.
Is your life fast-paced and often hectic? The many smart features of the HUAWEI Watch GT 3 Pro literally do a lot in a very short time. After getting up, a quick glance at your wrist and reading the new email from the boss, then play your favorite playlist in the shower (with the HUAWEI Music app you have more than 50 million songs available for only € 9.95 per month ) ), answer Bluetooth calls on the go, all with a short swipe to the right. Thanks to the innovative eSIM technology, you can even make calls without having your smartphone with you.
With a battery life of up to two weeks (about eight days with heavy use) and a charging time of 85 minutes, the GT 3 Pro hardly ever tires and rarely needs time to recharge its batteries. And if you've dawdled while charging: After ten minutes, the GT 3 Pro's battery is already 25 percent restored. by the way: Charge the watch wirelessly, i.e. with a charging station. Currently on the road? Then simply use your smartphone's reverse charging feature to turn the bar back to green.
For a healthier life
It doesn't matter if it's the number of daily steps you take, healthy eating habits, or enough water intake. Throughout the day, the GT 3 Pro keeps in touch with you with little reminders to remind you of your good intentions. The food tracking feature also helps with this. How many calories did my sundae have before and how much fat did my burger have? The clock tells you.
Its 24/7 health management also takes care of keeping you healthy and alert. With TruSeen™ 5.0+ technology, eight sensors located on the bottom of the watch monitor the health of your heart and report any abnormalities. Do you really know if you are sufficiently supplied with oxygen? The watch performs an SpO2 measurement throughout the day in the background. Do you have enough REM sleep phases? She also takes care of that with her sleep monitor. The GT 3 Pro even tracks your menstrual cycle.
is something for you. You can buy the watch here.
Or participate: Win a HUAWEI Watch GT 3 Pro Ceramic
Simply complete the entry form below and with any luck you'll be among the winners. Participation is possible from the age of 18. Employees of participating companies are excluded from the contest. Cash payment of prizes is not possible. The prize is not transferable. The legal process is excluded. Winners will be notified in writing. The deadline for registrations is September 14, 2022.. We wish good luck!
.