(Motorsport-Total.com) – Lando Norris is still not 100 per cent after suffering from tonsillitis at the Spanish Grand Prix, but McLaren is not worried about his fitness for the Monaco Formula 1 race weekend.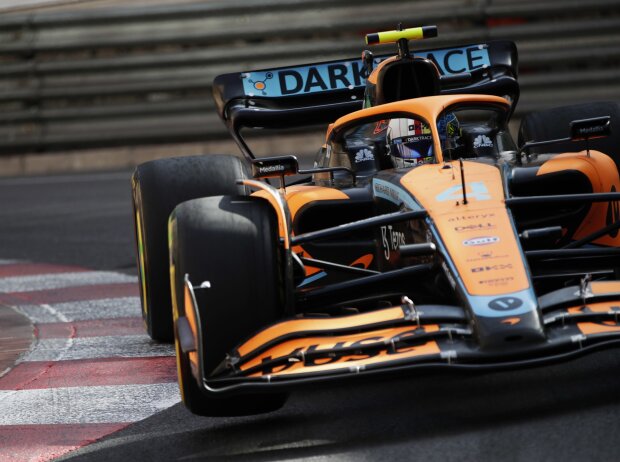 Lando Norris rested to be fit enough in Monaco
zoom
Due to illness, Norris had already struggled on the starting grid in the extreme heat before the race in Barcelona and only spoke on the radio a few times during the race. After the checkered flag, he was relieved of his media duties to recover.
For Friday's press conference in Monaco, Norris was granted an exemption by the FIA ​​so that he and McLaren could fully focus on being in the best possible shape at the start of practice. Norris finished the day fifth fastest, behind only the Ferrari and Red Bull cars.
Norris had 'maximum time to recover'
McLaren team principal Andreas Seidl reveals that the team has worked hard to ensure Norris is as fit as possible for Monaco. Although he is still struggling, he believes he will be fit for the rest of the race weekend.
"After the race in Barcelona, ​​the most important thing was that we as a team gave him maximum time to recover, which we did," Seidl commented on Norris' condition on Friday.
"He had great support from our team doctor and his team, including his personal trainer to make sure he was full of energy when he came out of the garage for the first practice session today. That's exactly what happened."
"He's probably not 100 per cent yet," admits Seidl, "but he's doing a lot better. I don't expect any more problems for the rest of the weekend."
---
Friday Monaco: The "bounce" is back!
Lewis Hamilton was so shaken in Friday practice in Monte Carlo that he asked for elbow pads. More Formula 1 videos
Had Norris not been fit in Monaco, McLaren might have called up Mercedes reserves Nyck de Vries and Stoffel Vandoorne, as well as Alpine's Oscar Piastri as part of deals with the other teams: "As always at every weekend race week, we always have reserve drivers ready.
"We have different arrangements. Let's say if Lando wasn't quite fit, then yes, we would have had a reserve driver ready," Seidl said.
Seidl satisfied after the first training, but…
The team manager was satisfied with the first practice session in Monaco. Norris was fifth, his teammate Daniel Ricciardo just a tenth of a second behind in seventh. Seidl spoke of "one of our best free practice sessions this year" and reported good comments from both McLaren drivers.
"Both cars worked well, both drivers felt relatively comfortable in the car," said the team boss. "We haven't had any problems. That's what we expect for this special weekend here in Monaco. It's also very important that everything stays in one piece given the spare parts situation."
However, that changed in the afternoon, as Ricciardo crashed at the pool chicane and couldn't get back out afterwards, so he had no lap time. Norris reconfirmed his pace and was fifth again.