Summer is here and with it the desire to be active outdoors. Discomfort leading to restricted movement is now particularly bothersome during outdoor activities. An urgent reason to do something for your health!
"Right now is the time to make myself feel better. Because nothing is more important than creating the only life you have pain free, fit and full of energy. And by the way, you also do something against the figure on the sofa."
Kirsten Schölz
Owner of the therapeutic training center in Flensburg
A good address for all Flensburg residents is the therapeutic training center on Friesische Straße.
More information:
special offer
Currently, new members only pay €35 per month for three months after registration. The campaign runs until September 30, 2022. More information can be found at www.therapeutestrainingszentrumflensburg.de
On a good 240 square meters there is a wide range of offers for both fitness and health athletes. Owner Kirsten Scholz has been running the therapeutic training center, TTZ for short, since July 1, 2021. She explains her studio concept as follows: "We have a clear focus on the health sector, but we are not a physical therapy practice, we offer physical training and sports therapy from a single source! We have trained specialists such as physical therapists and sports scientists for both areas." Kirsten Scholz herself is a qualified sports scientist, medically trained therapist, personal trainer and she has also completed additional training in various specialized training methods such as bottleneck stretching and Liebscher osteopressure. and Bracht, fascia training and Spiral Dynamics Therapy.
A client performs a breast opening exercise on the Redcords.
Photo: Kirsten Scholz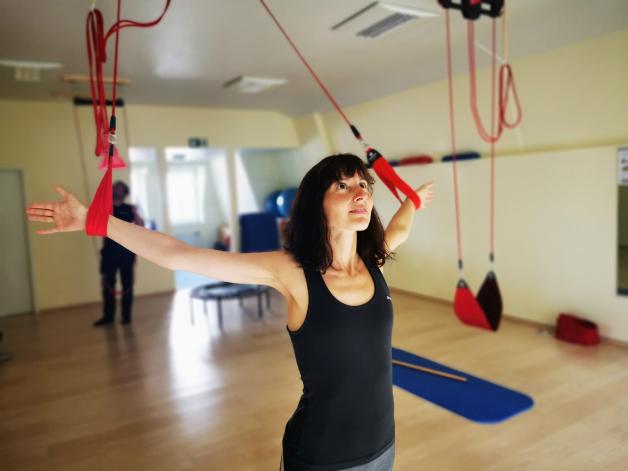 One training method that you probably won't find in every studio chain is called Redcord training. The training uses red slings attached to the ceiling, in which one lies down, hangs or stands and performs various exercises with one's own body weight.
"It always looks a bit spectacular and exciting, of course. When people come in here, some smile at first: Oh, what kind of torture chamber is this? But slings are suitable for everyone, from fitness beginners to competitive athletes."
It is also suitable, for example, for support training in case of back, hip or knee pain. Kirsten Scholz is a real fan of this method because: "What I like most about it is that it's so versatile: with the Redcords you theoretically don't need a weight machine anymore! And you don't just train a specific muscle, but entire muscle chains." and also the deep-seated stabilizer muscles."
You train at the TTZ on a good 240 square meters, with a panoramic view over the Friesische Straße in Flensburg.
Photo: Kirsten Scholz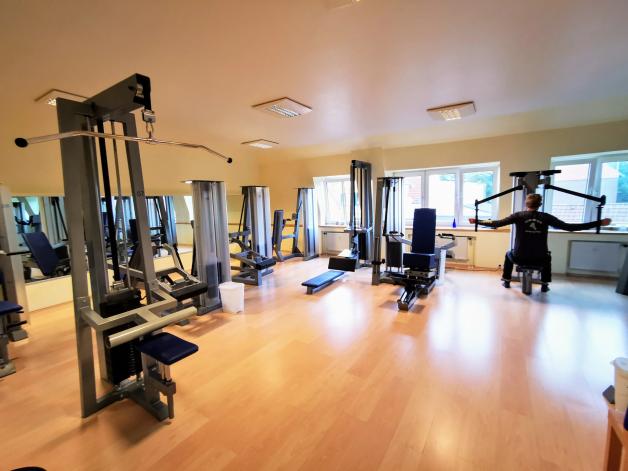 Basically, there are numerous offerings on TTZ that focus on typical "common ailments" such as back or other joint or muscle problems. The "Coretraining" prevention course, which is also financially subsidized by all official health insurance companies, is particularly popular. The next course, which is scheduled to start in September, is already full, so Kirsten Scholz wishes to offer a second course on a different date during this period. In this prevention course, training is carried out in small groups of up to eight people.
The studio also offers personal training. These 1-on-1 sessions with a coach are especially suitable for people who want a little extra support with their sport or have specific fitness goals. In general, however, an individual training plan is created for all clients during the first test session and there is always at least one trainer on the floor to help with the operation of the equipment or the execution of certain exercises. At certain times, short group trainings are also offered, in which anyone who wishes can participate. So you always get new inspiration for your training.
Kirsten Scholz has owned TTZ since the summer of 2021 and is a huge fan of functional training methods.
Photo: Anett Brillat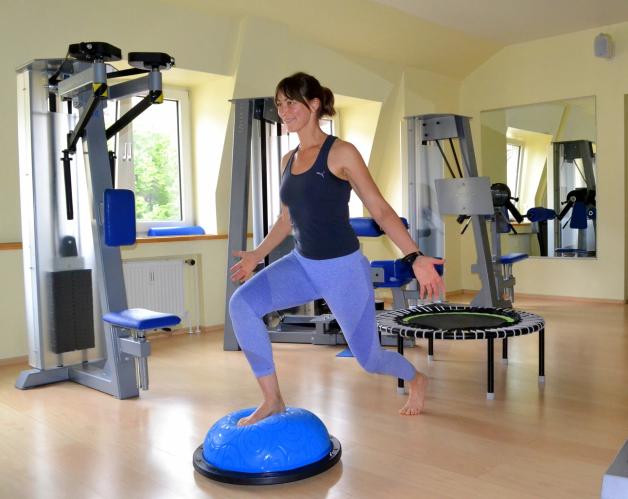 The "shopping list" for the coming months includes a weight bench and a curved treadmill, where the user drives the treadmill without electricity using their own physical strength and can thus maintain a more natural running pace. "It is important for us to optimize our offer and adapt it to the different needs of our diverse clientele. This also includes regular continuing education in the field of training therapy," explains Kirsten Scholz.
Currently, the TTZ offers a special offer to meet you: for three months after registration, new members only pay €35 per month. The campaign is valid from now until September 30, which ensures that those interested can still register after the summer holidays and benefit from the special prices. Kirsten Scholz and her team are happy to welcome new faces in her Flensburg rooftop study!
More information:
Therapeutic training center in Flensburg
Frisian Street 3
24937 Flensburg
Telephone: 0461 – 9 788 733
Email: [email protected]
Web: www.therapeutestrainingszentrumflensburg.de
Read more: Flensburg Therapeutic Training Center: For movement in life (announcement)