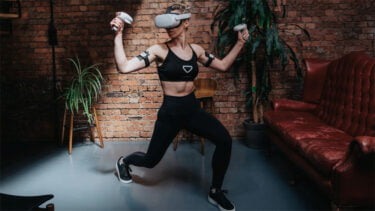 Image: Valkyrie Industries
The article can only be displayed with JavaScript enabled. Please enable JavaScript in your browser and reload the page.
VR fitness not exhausting enough for you? Then these EMS bracelets will help you. With electronic impulses, they simulate weight and tension in virtual reality.
Valkyrie Industries is launching haptic fitness wristbands designed to simulate muscular endurance in virtual reality games. The use of electrical muscle stimulation (EMS) aims to make full-body cardio training for VR fitness enthusiasts more efficient.
EMS Training for Virtual Reality
With EMS training, the muscles are additionally contracted during a training with controlled electrical impulses. This makes fitness exercises more strenuous, muscle development is promoted through the added stimulation, and the workout should feel more rewarding overall.
Valkyrie Industries now wants to make this form of training possible for VR fitness as well. EIR wristbands are intended to provide feedback to the upper arms in accordance with movements in virtual reality. According to the manufacturer, the impulses change intensity depending on the activity performed.
If players lift a virtual dumbbell, for example, the bracelets simulate the resulting strain on the muscle. The harder you hit a virtual punching bag or the harder you pull on a rope, the stronger the impulses become.
EMS bracelets come with the fitness VR app
With "EIR Training", Valkyrie Industries launches a fitness virtual reality application adapted to wristbands. This includes various full body HIIT courses put together by professional trainers.
The following courses and game modes are included in EIR Training:
Wired HIIT: Virtual machines of cables and elastic bands to push and pull with a force of up to 4 kg simulated by the bracelets.
HIIT with dumbbells: Dumbbell exercises at different speeds and intensities.
Box Fit: Virtual shadow boxing exercises with uppercuts, jabs and hooks.
There should also be a free play mode where users can train at their own pace. EIR training is available for Meta Quest (2) through the App Lab.
EIR bracelets can now be reserved for 150 euros. Valkyrie Industries is offering a 25 percent discount for an unspecified period of time. The bands will be delivered starting in the summer of 2023. It is not known if they will also be compatible with other fitness apps such as FitXR.
Order Quest 2 and Quest Pro
Meta Quest 2 and Quest Pro are not yet sold in Germany, but you can easily get them from Amazon France. Tip: Right click on the website and select "Translate".
Sources: Valkyrie Industries
Note: Links to online stores in the articles may be so-called affiliate links. If you buy through this link, MIXED.de will receive a commission from the seller. The price does not change for you.