Not only because we were more or less locked up at home during the lockdown, home workouts are a good alternative to the gym and sports club. But not all workouts are suitable for your own four walls. We show you which exercises you should not do in your apartment and which ones you should use home workout plan you still stay fit and mobile.
It should all be part of your home training plan.
These exercises do not belong in your home training plan.
Training in your own four walls is convenient and time-saving. You don't have to pack your training bag and head to the gym. Instead of annoying communal showers, you can freshen up in your own bathroom. There are no contemptuous looks. She can greatly increase motivation. However, not all exercises are suitable for doing at home. especially when you live in an apartment building or have roommates.
This applies in particular Workouts that include jumps. Otherwise, the neighbors may be disturbed. Also, you should avoid loud music. Training devices such as elliptical trainers, stair climbers and ergometers should also be checked for volume.
keep reading: You can find suitable workouts without skipping here.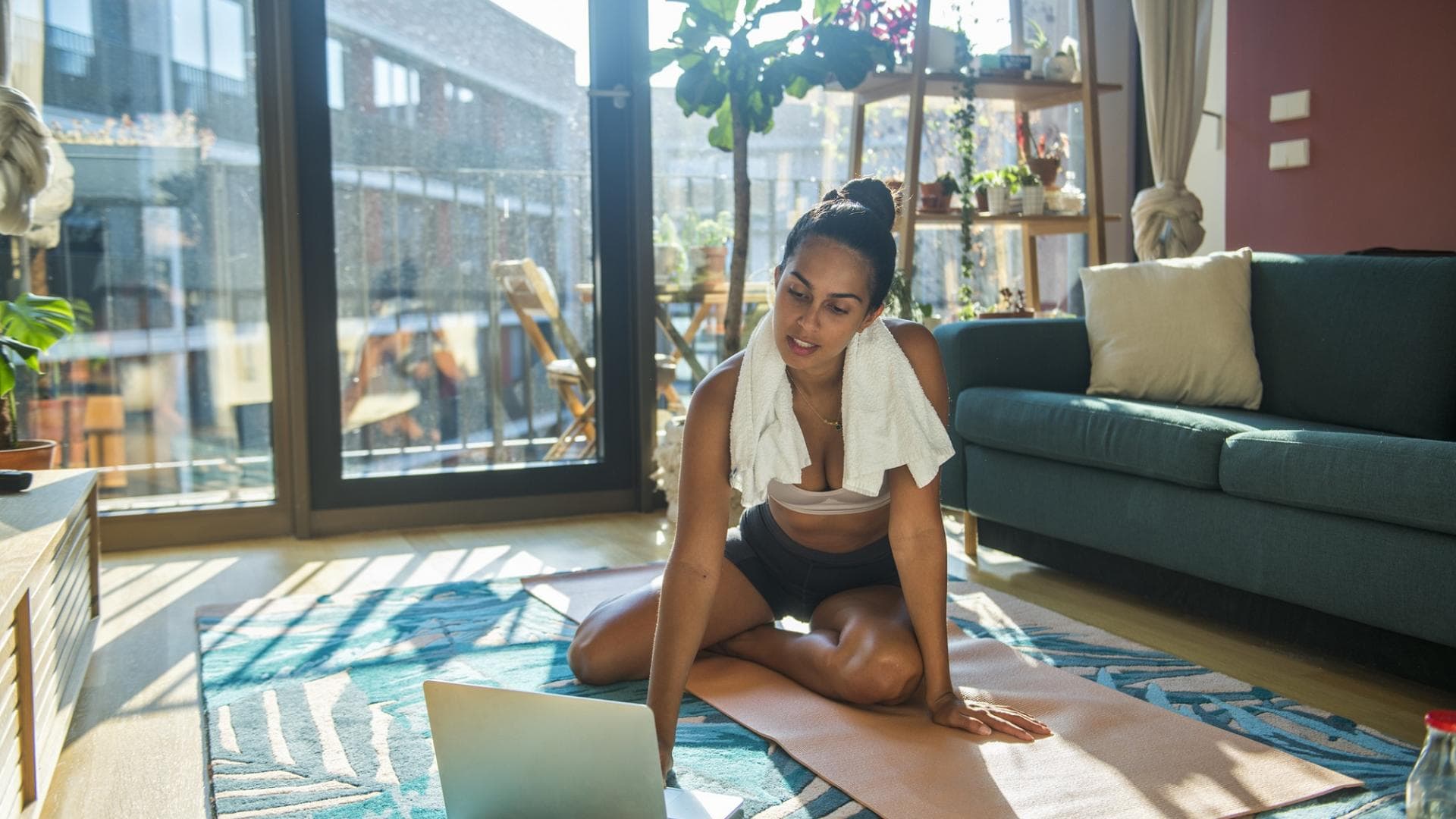 With fitness influencers through YouTube on the living room carpet
Ideas and plans for home workouts are now ten cents a dozen. Because with the plethora of fitness influencers, there's something for everyone. There are countless free videos and helpful tips from fitness professionals.
But before explaining what an effective home training plan should look like We will briefly introduce you to our favorites.
Mady Morrison for yoga, positive energy and company.
You can find videos on Mady Morrision around the themes of yoga, fitness and lifestyle. In addition, both beginners and experienced players can start and, depending on their mood, participate in one or another challenge.
The special one: Mady came into contact with yoga at the age of 13 and has continued to expand her knowledge ever since. She was excited about it from the start, however, her yoga wasn't exactly easy. – as a result, you can empathize particularly well with yoga beginners.
Evelina: abdominal muscle training for beginners
With 519,000 Insta followers, Evelina is nothing new among fitness influencers. Sport has always played a central role in her life. In addition to a trainer's license and her modeling career, she is studying civil engineering. and therefore it is a true bundle of energy. This is exactly what he reflects in his workouts.
With their workouts you can choose between full body workouts as well as choose different abdominal workouts.
Antonia Elena: Without pretending to fit in the smallest size
The fitness influencer fought her way out of her eating disorder and now considers herself a successful fitness influencer. By talking honestly about the weather, she not only wants to cheer others up, but also help them not to get sick.
That's why he keeps posting photos from the time when he was just skin and bones. He would like to protect his followers from the false perception of the body. and the pressure of getting into the smallest dress size at all costs, hold. Here you will find videos for all the different types of workouts.
Training plan at home: this is how you succeed!
First of all, you need to think about what kind of workouts you want to do. Because depending on the training you want to do, you need the right equipment – even if you only want to train with your own body weight.
This basic kit You need
fitness mat
Towel (instead of resistance band)
Water bottles (instead of dumbbells)
Chair (instead of weight bench)
For most workouts you don't need more than a fitness mat. However, we definitely recommend this to you as it makes your training so much easier. If you decide to watch yoga videos and want to practice yoga more intensively, there are also some devices for this.
yoga block
yoga strap
exercise ball
pilates ring
Thera's band
balance pad
Of course, there is also additional equipment for strength training or cardio training, but the equipment mentioned above is enough to get you started. you have everything together then you should think about the frequency of your workouts.
Set the frequency and duration of workouts
It has been scientifically proven that two to three full body training units per week of 45 to 60 minutes each is the optimal workload are. However, that doesn't mean less exercise is worse. Basically, it is important that you choose fixed days in which you do sports and determine the duration.
We recommend that you do this a week in advance, e.g. B. Write a plan for the week on Sunday. then you have the videos ready within the week, if you want to start Of course, a colorful mix of strength training, cardio and yoga is allowed and promises a lot of variety.
If you want to exercise frequently then a split plan is a good idea. Here you train two to three muscles per session and switch between upper and lower body, for example.
Always pay attention to your body after particularly long or intense workouts. enough time to regenerate. As a general rule: rest 48 hours between two training sessions of the same muscle group.
A little hint: You can also complete the recovery phase with easy running or yoga.
Nutrition should not be missing in your home training plan
Nutrition is the A&O, especially if you're spending a lot of time at home during lockdown. In order for your workouts to be effective, you definitely need to pay attention to a healthy diet. Your body needs enough energy every day: carbohydrates and fats help you achieve peak performance in all areas of life.
they are just as important proteins, so your muscles can recover and grow after your workout. If you have little time and still want to supply your body with energy and protein quickly, then you are with one Protein shake on the safe side.
Conclusion: train more effectively with the home training plan
It doesn't matter if you are a beginner or an advanced athlete and if you want to train a lot or a little: a home training plan will do the trick. reach your goals faster. Because if you take the time to make a plan once a week, it will be easier for you to incorporate the exercises into your day to day.