Home

»

apple watch » watchOS 9 with lots of health and fitness improvements: this is new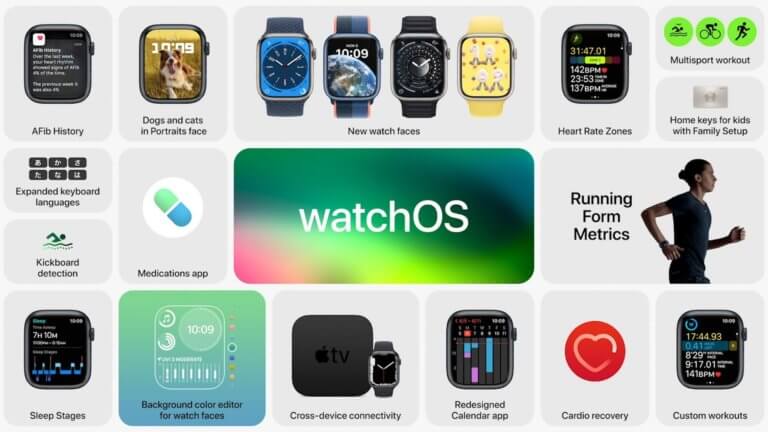 Apple also introduced watchOS 9 tonight. The new update brings some new health features and improvements to fitness features.
Apple also introduced watchOS 9 tonight. As expected, the next update aims to improve the health segment, among other things.
More Helpful Warnings for Atrial Fibrillation
As previously suspected, watchOS 9 brings more accurate detection of dangerous atrial fibrillation. Critical cardiac events are now saved for a longer period of time with date and time, helping treating physicians with diagnosis, among other things. Patients can share their atrial fibrillation progression with their doctor via PDF.
This functionality must be certified by the US FDA and Apple expects its approval soon.
A new app for medicines
Apple will release a new medication management app in watchOS 9. It gently reminds users to take medication. Medications can also be recorded via the iPhone camera and entered into the planner.
watchOS or your new drug app should also recognize cross-incompatibilities or other contraindications; watchOS 9 accesses a medical database for this purpose.
In addition, the patient can share their medications with their family or partner.
All medication data is encrypted and stored locally on the device.
Medication reminders should also be available for users without Apple Watch in the iPhone's Health app.
fitness improvements
Apple will also introduce improvements to fitness features with watchOS 9.
The Apple Watch should recognize the smooth switch between sports during training and carry it out automatically. Interval training and heart rate zones are now also supported.
Step length and ground contact points can be recorded during training.
The watch also shows details about the progress of closing the rings during training.
Users can also create their own training sessions, for example to achieve individual endurance and speed goals.
Improved sleep phase detection is coming
Apple introduces improved sleep phase detection with watchOS 9: all three phases of REM, core, and deep sleep are detected.
Data about your own sleep phases can be viewed briefly on the Apple Watch and in detail in the Health app on the iPhone.
Also new watch faces in watchOS 9
And finally, new dials are included:
watchOS 9 comes with a new lunar calendar, a new astronomy watch face, as well as Metropolitan and PlayTime.
Additionally, users can now search for shows in the podcast app or set a filter for kid-friendly content.
This article will continue to be completed…/strong>
—–
Don't want to miss any more news? then follow us Twitter or become a fan on Facebook. Of course, you can also download our iPhone and iPad app with push notifications here for free.
Or do you want to discuss the latest products with like-minded people? Then visit our forum!