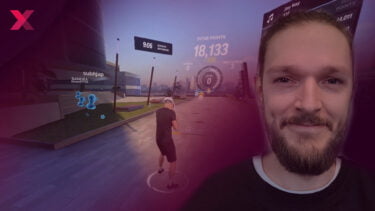 Image: FitXR / MIXED
The article can only be displayed with JavaScript enabled. Please enable JavaScript in your browser and reload the page.
Josef keeps smashing flares and dancing to FitXR. But what about the motivation?
The holiday season is long gone, but cookie belly still greets me every morning, even if, on closer inspection, it's not nearly as prominent in the room as it was in early January. In any case, after three weeks of fitness in virtual reality, I feel much better, I can tell you that.
The back and neck are no longer in fierce competition for the title of the tensest part of the body and the extra movement is also good for the soul. However, little by little, doubts arise as to whether I will be happy with FitXR alone. It is time for a tentative conclusion.
40 kilograms lighter thanks to VR fitness: a success story (external)
Maybe it's just me and I am and will continue to be an indestructible muffle when it comes to working out. But others can too. Christine Whyte, for example. The single mom shared her story with VR Fitness Insider in January. A combination of counting calories and FitXR for an hour a day is said to have reduced her weight by nearly 90 pounds in a year.
Before that, she avoided physical exercise, especially in public: "I had an irrational fear of being judged by others," explains the 39-year-old woman. He feared that she would be laughed at as a "chubby, sweaty girl." Therefore, actual fitness studios would be taboo.
Physical training with virtual reality helped her overcome this fear and allowed her to train privately in her own four walls. She today she is in the shape of her life and even she can largely do without her asthma inhaler.
Can VR fitness motivate me in the long run?
Of course, Christine's story sounds like any other diet or fitness provider success story. However, it shows one of the great advantages of a VR fitness course: I can attend it in my living room at any time. But I?
When I started my VR fitness long-term test, I wondered if VR fitness could do what real fitness courses failed and keep me going long-term. The answer: yes.
I am convinced that virtual reality has the potential to make me a fitter person. At the same time, after only three weeks, I am sure that FitXR alone will not be enough. It is too close to reality.
VR fitness could be so much more than boring gym
My longest streak of physical training almost every day has been a year and a half so far. After that, I never got past a few months until I threw in the towel again. One of the main reasons for this is undoubtedly my distaste for working stoically with repetitive exercises. I also mainly attribute today's absence of a six-pack to him.
FitXR is already dancing on the brink of boredom for me right now. Sure, I'm still doing the beginner courses at the moment, and for an unfit office worker like me, they're pretty irritating.
But there are only three basic exercises: dance, boxing and HIIT. They get more intense over time, but suddenly they don't place me in a brightly colored fantasy world or serve as an exciting Half-Life: Alyx-style plot. The physical form of VR would probably be more compelling if I didn't know that VR can do more than throw flares at me.
Yes to virtual reality fitness, but more variety, please
So after three weeks of VR exercises, I decided to spice things up. Even after the first FitXR courses, in which I clearly overdid it and was on the verge of a full-body strain, I prescribed a warm-up before each unit. Warming up is a must, especially for beginners; believe me the neck, which was almost stiff for three days. So stretching is actually already on the agenda.
So that the focus remains on the VR goggles and I don't get bored, from now on I'll warm up with a round of Synth Riders. That just relies on the Beat Saber formula and sends me colored balls that I'm supposed to smash to the beat. But it has much better songs than FitXR's horribly boring soundtrack.
Who knows, maybe an Until You Fall game will be added next week. The action roguelite is supposed to be one of the most motion-intense VR games of all time and then I would have my brightly colored fantasy world too.
I'm hooked, fitness VR. You just have to finally land me. I know you can
Read more about virtual reality fitness:
Note: Links to online stores in the articles may be so-called affiliate links. If you buy through this link, MIXED.de will receive a commission from the seller. The price does not change for you.