CHECK24 SL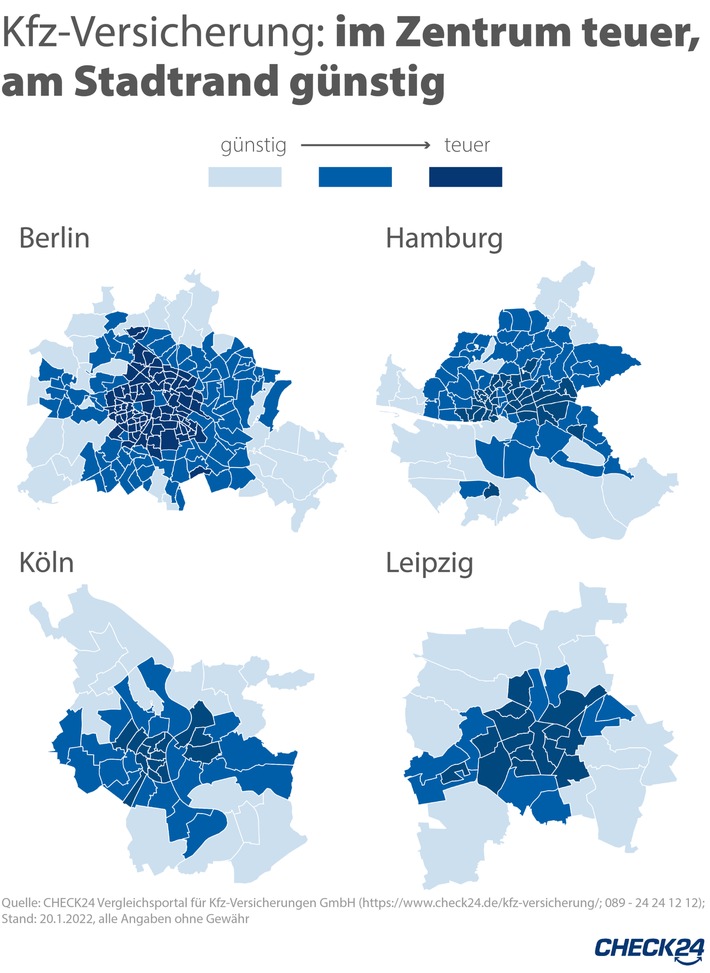 Munich (ots)
Largest price differences within Berlin and Hamburg, smallest in Stuttgart
Car owners generally insure their most expensive vehicle in the city center.
300 CHECK24 experts provide advice on all matters relating to motor vehicle insurance
The postal code of your place of residence is decisive for the price of car insurance. Even within the same city, contributions vary by as much as 16 percent. In Berlin-Grünau, a family pays an average annual insurance premium of 443 euros for their fully comprehensive Golf VII. In the most expensive postcode area, Berlin-Gesundbrunnen, an average of 513 euros is due. That is a plus of 70 euros, with otherwise identical tariff characteristics.
Here you can find all the cities considered
In a comparison of the 15 largest German cities, car insurance prices within the same city also differ particularly in Hamburg (15 percent) and Cologne (10 percent). The smallest differences are found in Essen and Stuttgart (6 percent each).
Car owners generally insure their most expensive vehicle in the city center.
In almost every city examined, the most expensive zip code areas for auto insurance are in or around the city center. In the suburbs, consumers tend to insure their cheapest cars.
"Traffic is usually particularly heavy in the city center, so accidents are more common."says Dr. Rainer Klipp, Managing Director of Motor Vehicle Insurance at CHECK24. "In many cases, there is also a lack of parking spaces in the city center, which increases the risk of vandalism and theft. Insurers take this into account when calculating their premiums. Therefore, more car insurance is owed in the center of the city than to the outskirts."
300 CHECK24 experts provide advice on all matters relating to motor vehicle insurance
If you have any questions about car insurance, more than 300 insurance experts at CHECK24 will advise you personally by phone, chat or email. In addition, CHECK24 customers are supported by our chatbot 24 hours a day in many matters related to the service. In your personal insurance center, customers manage their insurance contracts, regardless of who they have concluded them with. You benefit from automatic price and service checks and can easily optimize your insurance coverage and save at the same time.
About CHECK24
CHECK24 is the largest comparison portal in Germany. The free online comparison of numerous providers creates constant transparency and customers often save several hundred euros when switching. You can choose from more than 300 car insurance rates, more than 1,000 electricity providers and more than 850 gas providers, more than 300 banks and credit brokers, more than 350 telecommunications providers for DSL and mobile communications, more than 10 000 affiliated electronics, home goods and auto tire stores, 300+ car rental companies, 1,000,000+ accommodation providers, 700+ airlines and 75+ tour operators. Use of the CHECK24 comparison calculator and personal customer advice seven days a week is free for consumers. CHECK24 receives remuneration from providers.
CHECK24 supports the EU quality criteria for comparison portals
Consumer protection is the highest priority for CHECK24. Therefore, CHECK24 actively participates in the application of uniform European quality criteria for comparison portals. The EU Commission's list of principles "Key Principles for Comparison Tools" contains nine recommendations for objectivity and transparency, which CHECK24 complies with on all points, including rankings, market coverage, data currency, customer reviews, ease of use, and customer service.
Press contact:
Edgar Kirk, Public Relations Manager, Tel. +49 89 2000 47 1175,
[email protected] Daniel Friedheim, Director of Public Relations,
Telephone +49 89 2000 47 1170, [email protected]
Original content from: CHECK24 GmbH, transmitted by news aktuell
.