CHECK24 SL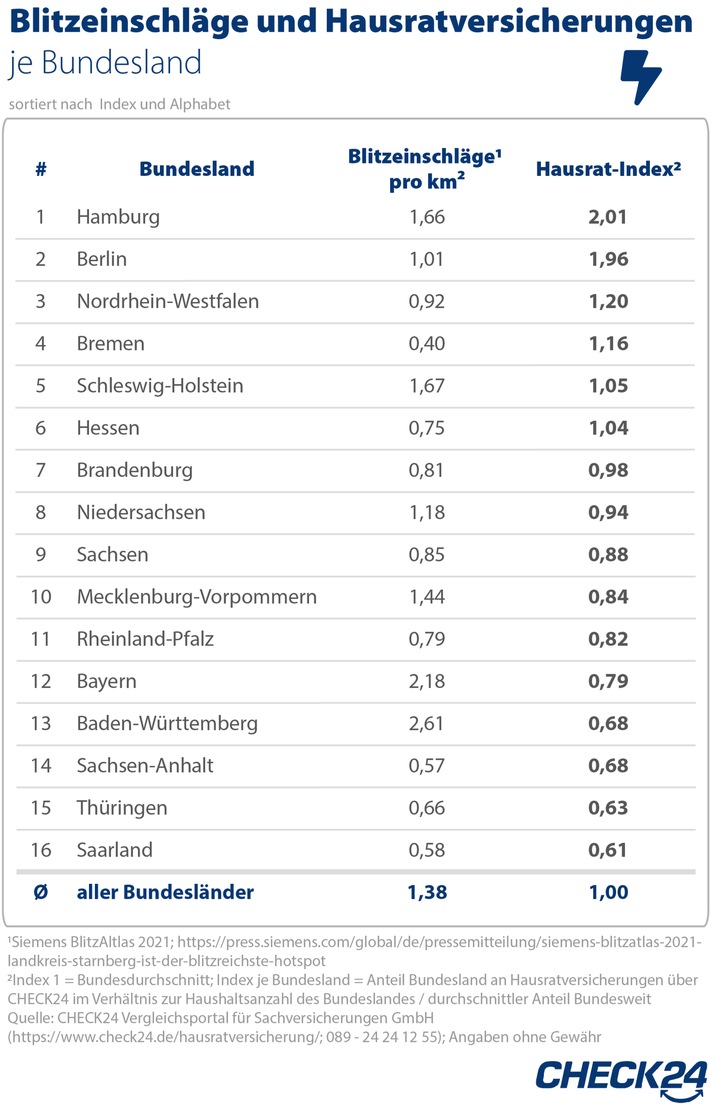 Munich (ots)
Every fourth home does not insure the contents of the home; Rates from just 16 euros per year
Severe Weather Warning: CHECK24 Helps Before Damage Occurs
The number of lightning and surge damages is increasing. In total, the Association of the German Insurance Industry (GDV) identified 210,000 claims for lightning damage last year. That is 30,000 more than in 2020. The average amount of damage was 960 euros. 1) Costs that uninsured consumers have to pay for themselves.
"The high voltage generated by a lightning strike can damage electronic devices or, in the worst case, even set them on fire", says Braulio Dario Rissi, managing director of property insurance at CHECK24. "With household goods insurance, consumers are protected against surge damage to electrical appliances and resulting fire damage."
Most lightning strikes per square kilometer occurred in Baden-Württemberg in 2021: 2.61 per square kilometer. There, however, consumers rarely protect their household effects with insurance compared to the national average (minus 32 percent).2)
In Bavaria there are also frequent accidents. Despite 2.18 lightning strikes per square kilometer, relatively few Bavarians opt for home contents insurance (minus 21 percent). On the other hand, there are particularly many home insurance policies in the city states of Hamburg and Berlin. While lightning strikes Hamburg more frequently than average, the lightning frequency in the capital is below the national average.
"In addition to lightning strikes, other factors also play a role in the increased coverage of home insurance in major cities, such as the frequency of burglaries." says Braulio Dario Rissi.
Every fourth household without home insurance; Rates from just 16 euros per year
One in four households in Germany still does not have household goods insurance.3) There is a fee that pays for lightning damage without excess and up to the total sum insured, e.g. B. for 55 square meters from 16 euros per year. For 80 square meters it costs from 21 euros.4)
Severe Weather Warning: CHECK24 Helps Before Damage Occurs
With a storm warning service, consumers can prevent damage to their home before it happens. Anyone who has taken out household insurance through CHECK24 will receive a free SMS in the event of a storm warning from the German Weather Service in their place of residence. In this way, consumers can unplug devices from the power supply, close windows or put patio furniture in the garage in time to avoid storm damage.
1)Source: GDV, https://ots.de/iPzXVN [18.7.2022]
2) Siemens BlitzAtlas 2021; https://ots.de/YC29ha [18.7.2022]
3)The data used is based on an online survey conducted by YouGov Deutschland GmbH on behalf of CHECK24, in which 2,043 people participated between 23.3. and 25.3.2021 participated. The results were weighted and are representative of the German population aged 18 and over.
4) Profile example 1: living area 55 m2, policy holder: 30 years, no public service, no previous damage, 80636 Munich, sample profile 2: living area 80 m2, policy holder: 30 years, no utility, no previous damage, 80636 Munich
About CHECK24
CHECK24 is the largest comparison portal in Germany. The free online comparison of numerous providers creates constant transparency and customers often save several hundred euros when switching. You can choose from more than 300 car insurance rates, more than 1,000 electricity providers and more than 850 gas providers, more than 300 banks and credit brokers, more than 350 telecommunications providers for DSL and mobile communications, more than 10 000 affiliated electronics, home goods and auto tire stores, 300+ car rental companies, 1,000,000+ accommodation providers, 700+ airlines and 75+ tour operators. Use of the CHECK24 comparison calculator and personal customer advice seven days a week is free for consumers. CHECK24 receives remuneration from providers.
CHECK24 supports the EU quality criteria for comparison portals
Consumer protection is the highest priority for CHECK24. Therefore, CHECK24 actively participates in the application of uniform European quality criteria for comparison portals. The EU Commission's list of principles "Key Principles for Comparison Tools" contains nine recommendations for objectivity and transparency, which CHECK24 complies with on all points, including rankings, market coverage, data currency, customer reviews, ease of use, and customer service.
Press contact:
Edgar Kirk, Public Relations Manager, Tel. +49 89 2000 47 1175,
[email protected] Daniel Friedheim, Director of Public Relations,
Telephone +49 89 2000 47 1170, [email protected]
Original content from: CHECK24 GmbH, transmitted by news aktuell
.