CHECK24 SL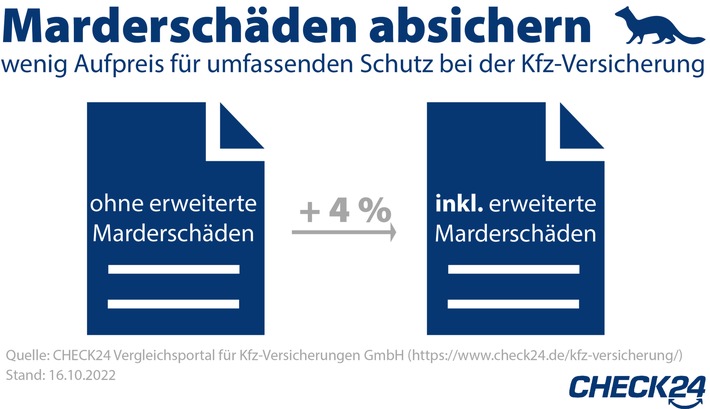 Munich (ots)
Insuring indirect damage from marten bites costs an average of just four percent extra
Auto Insurance Switch: New Drivers Save Up To 47 Percent On Premium
CHECK24's 300 experts provide advice on all aspects of car insurance
Consumers hardly pay more for their car insurance if they include marten damage, including consequential damage. On average, long-term marten damage insurance only costs a four percent surcharge compared to the basic premium.1) The protection makes sense, because more than 200,000 cases of marten damage to vehicles are reported each year in Germany.2)
In the event of damage, the comprehensive insurance will cover the replacement of cables, hoses or chewed rubber in the event of a sable bite. However, consumers should make sure that consequential damages are also insured. Only then will the insurance also cover damage that occurs, for example, to the engine as a result of a marten bite. Especially with electric cars, marten bites can even lead to a total loss.
"Engine damage quickly costs several thousand euros"says Michael Roloff, General Manager of Motor Vehicle Insurance at CHECK24. "Consumers should therefore make sure that they also insure indirect damage caused by a marten bite in their car insurance. It only costs a little more. In some rates, indirect damage is even insured for free. ".
Auto Insurance Switch: New Drivers Save Up To 47 Percent On Premium
By switching car insurance, consumers can save several hundred dollars. This is shown by example calculations performed by CHECK24 for typical driver profiles. Novice drivers have the highest percentage savings potential: up to 47 percent. In the cheapest rate they pay 634 euros a year. On average, 1,207 euros are owed between all fees.
CHECK24's 300 experts provide advice on all aspects of car insurance
CHECK24 insurance experts will help you with all questions related to car insurance in a personal consultation via email, chat or phone. In addition, CHECK24 customers are supported by our chatbot 24 hours a day in many matters related to the service. In your personal insurance center, customers manage their insurance contracts, regardless of who they have contracted with. You benefit from automatic premium and benefit checks and therefore can easily optimize your insurance coverage and save at the same time.
1) Sample calculations for all available rates in the CHECK24 comparison. Profile example: Change of insurance on January 1, 2023, VW Golf 1.0 TSi (HSN: 0603, TSN: BVV), first registration: February 2020, purchase and owner registration: August 2020, used car, purchase at cash, use: private only (including trips), 12,000 km/year, vehicle user: policyholder (45 years old, 27-year-old driver's license), married, employed, no points, no children at home, homeless on property, parking: street (public), civil liability (SF 20) and comprehensive insurance (SF 20) with excess of 300 including partial insurance with excess of 150 euros, selection of workshop: all rates, annual payment of the contribution; 06268 Barnstaedt
2)Source: https://ots.de/Gwga1Y [2.11.2022]
About CHECK24
CHECK24 is the largest comparison portal in Germany. The free online comparison of numerous providers creates constant transparency and customers often save several hundred euros when switching. You can choose from more than 300 car insurance rates, more than 1,000 electricity providers and more than 850 gas providers, more than 300 banks and credit brokers, more than 350 telecommunications providers for DSL and mobile communications, more than 10 000 affiliated electronics, home goods and auto tire stores, 300+ car rental companies, 1,000,000+ accommodations, 700+ airlines, 75+ package tour operators and service providers around 70 categories have the right offer for you. Use of the CHECK24 comparison calculator and personal customer advice seven days a week is free for consumers. CHECK24 receives remuneration from providers. C24 Bank also belongs to the CHECK24 Group. CHECK24 is based in Munich and is represented at 18 other locations in Germany.
CHECK24 supports the EU quality criteria for comparison portals
Consumer protection is the highest priority for CHECK24. Therefore, CHECK24 actively participates in the application of uniform European quality criteria for comparison portals. The EU Commission's list of principles "Key Principles for Comparison Tools" contains nine recommendations for objectivity and transparency, which CHECK24 complies with on all points, including classifications, market coverage, currency of data, customer reviews, ease of use and customer service.
Press contact:
Florian Stark, Public Relations Manager, Tel. +49 89 2000 47 1169, [email protected]
Daniel Friedheim, Director of Public Relations, Tel. +49 89 2000 47 1170, [email protected]
Original content from: CHECK24 GmbH, transmitted by news aktuell
.