CHECK24 SL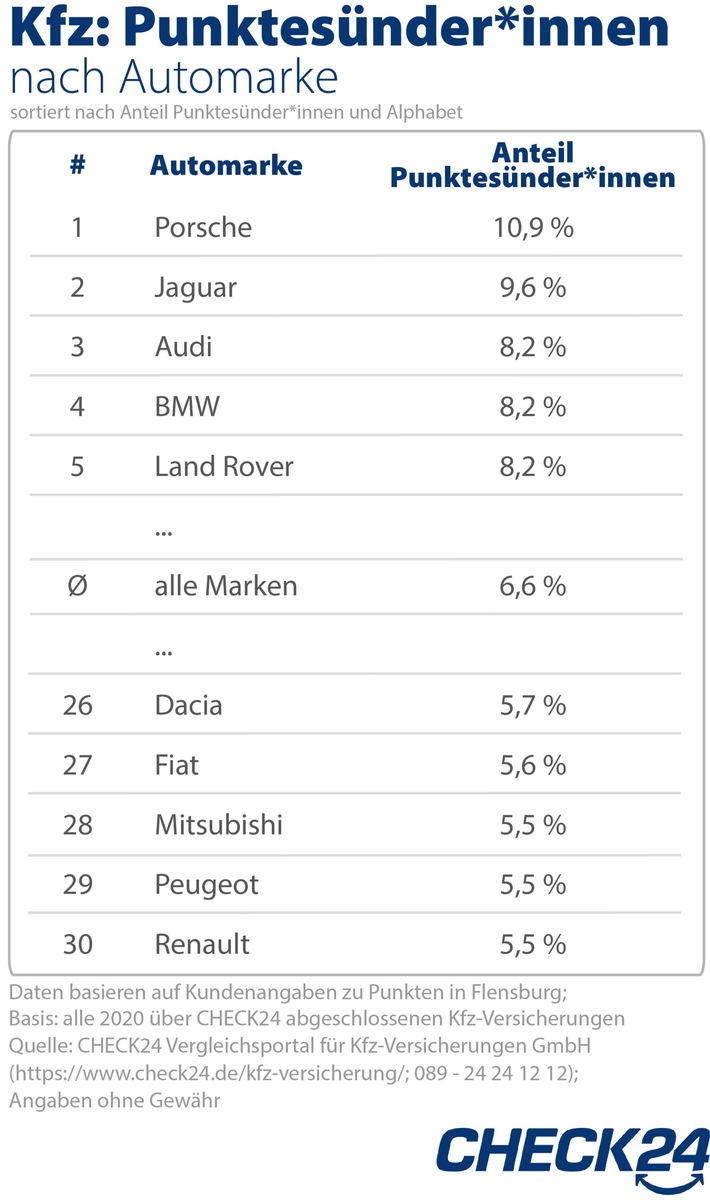 Munich (ots)
Eleven percent of all Porsche owners indicate points in Flensburg
Mitsubishi, Peugeot and Renault drivers have the fewest points
300 CHECK24 experts provide advice on all matters relating to motor vehicle insurance
Porsche drivers have the most points in Flensburg. When taking out car insurance, about eleven percent of sports car owners say they have entries in the driver's fitness register from the Federal Motor Transport Authority.1)
The proportion of point sinners at Porsche is around 65 percent higher than the average for all car brands considered. On average, 6.6 percent of CHECK24 customers claim to have points in Flensburg.
Here is a list of all considered car brands.
Also in the top five are owners of Jaguar (9.6 per cent), Audi, BMW and Land Rover (8.2 per cent each). With a percentage of 7.3 percent sinners, Tesla, a brand of purely electric cars, is also in the top ten.
Mitsubishi, Peugeot and Renault drivers gave the fewest points (5.5 per cent each).
"No one should be afraid to indicate existing points when taking out car insurance"says Dr. Rainer Klipp, Managing Director of Motor Vehicle Insurance at CHECK24. "Only a few insurers increase auto insurance premiums based on points. However, consumers should always provide truthful information so as not to jeopardize insurance coverage."
CHECK24's 300 experts provide advice on all aspects of car insurance
CHECK24 insurance experts will help you with all questions related to car insurance in a personal consultation via email, chat or phone. In addition, CHECK24 customers are supported by our chatbot 24 hours a day in many matters related to the service. In your personal insurance center, customers manage their insurance contracts, regardless of who they have contracted with. You benefit from automatic premium and benefit checks and therefore can easily optimize your insurance coverage and save at the same time.
Comparison portals promote competition between providers: total savings of €318 million per year
Comparison sites encourage competition among auto insurance providers. Consumers saved a total of €318 million by switching in one year. This was the result of a representative study conducted by WIK-Consult, a subsidiary of the Scientific Institute for Infrastructure and Communication Services (WIK).2)
1) Database: All car insurance policies taken out through CHECK24 in 2020; only brands with at least 1,000 transactions were considered
2) Source: WIK-Consult (https://www.wik.org/fileadmin/Studien/2018/2017_CHECK24.pdf)
About CHECK24
CHECK24 is the largest comparison portal in Germany. The free online comparison of numerous providers creates constant transparency and customers often save several hundred euros when switching. You can choose from more than 300 car insurance rates, more than 1,000 electricity providers and more than 850 gas providers, more than 300 banks and credit brokers, more than 350 telecommunications providers for DSL and mobile communications, more than 10 000 affiliated electronics, home goods and auto tire stores, 150+ car rental providers, 1,000,000+ accommodation providers, 700+ airlines and 75+ tour operators. Use of the CHECK24 comparison calculator and personal customer advice seven days a week is free for consumers. CHECK24 receives remuneration from providers.
CHECK24 supports the EU quality criteria for comparison portals
Consumer protection is the highest priority for CHECK24. Therefore, CHECK24 actively participates in the application of uniform European quality criteria for comparison portals. The EU Commission's list of principles "Key Principles for Comparison Tools" contains nine recommendations for objectivity and transparency, which CHECK24 complies with on all points, including rankings, market coverage, data currency, customer reviews, ease of use, and customer service.
Press contact:
Florian Stark, Public Relations Manager, Tel. +49 89 2000 47 1169, [email protected]
Daniel Friedheim, Director of Public Relations, Tel. +49 89 2000 47 1170, [email protected]
Original content from: CHECK24 GmbH, transmitted by news aktuell
.