DEVK insurance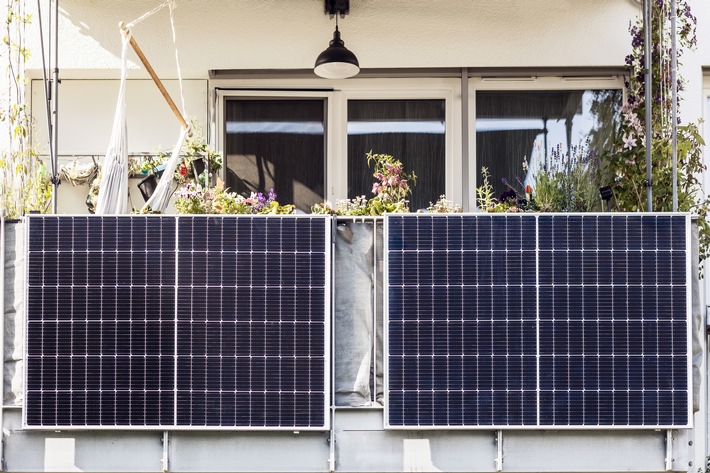 Colony (ots)
The war in Ukraine is forcing people in Germany to save energy. The trend: supply yourself with electricity, for example, with a small solar power plant on the balcony. DEVK insures systems up to 600 watts at no additional charge on personal liability and household goods insurance.
Before winter arrives, many people want to become less dependent on supplies from energy providers. "Anyone who owns their own home and wants to have a larger photovoltaic system installed on the roof should be prepared for long waiting times," says Melanie Ruthmann, DEVK specialist in real estate/HUK. "Usually it's too late for this year: there are too few modules available and too few skilled workers for assembly."
Using sunlight at home
An alternative is mobile systems that can be disassembled and taken with you when you move. They are still available in stores and are much cheaper than their larger counterparts. You can do the professional installation yourself if you follow the manufacturer's instructions. Photovoltaic (PV) systems for the balcony are all the rage. Whether the purchase is worthwhile depends primarily on the location and orientation of the mini power plant. "Now not only those who own a home, but also the tenants can generate part of their electricity needs themselves," says Melanie Ruthmann.
Devices up to 600 watts are also insured as household items
Although the devices are installed outdoors, DEVK insures them as household items, similar to antennas. This is unusual in the industry. In order for the electric plant on the balcony to be insured at no additional cost, the power of the inverter, which converts the generated direct current into alternating current used in homes, must not exceed 600 watts. The household policy mainly insures the balcony plants against storms, hail, fire and surge damage caused by lightning. However, liability insurance is also important, because mobile devices can be ripped off in a storm and thrown onto a neighbor's patio roof. DEVK pays for such damages. For more powerful systems, it is essential that a specialized company perform the installation. DEVK offers several insurance options for homeowners insurance.
Generate electricity for the fridge yourself.
If you buy a mini power plant, you have to inform several people involved: The owner, because the system changes the external appearance. The Federal Network Agency and the power supplier to clarify whether a normal plug is sufficient or whether a power plug is required. And the insurer. According to the North Rhine-Westphalia consumer center, a standard solar module with a power of 380 watts on a south-facing balcony generates as much electricity per year as is consumed by the refrigerator or washing machine in a two-person house. The electricity meter rotates correspondingly more slowly. Mini PV systems are available as a complete package for just a few hundred euros. More powerful models over 600 watts can also cost several thousand euros.
"We got a lot of inquiries this summer," reports DEVK expert Melanie Ruthmann. As part of the residential construction policy, DEVK has been insuring photovoltaic systems against the risks of fire, mains water, storms, hail and other natural hazards for many years. "For systems that are no more than ten years old, we offer even more protection: for example, in case of malfunctions, third-party intentions or animal bites. It can also secure battery storage." New is the insurance protection for household items, which applies immediately to small balcony power plants that are currently in high demand. Those interested can get advice at one of DEVK's 1,200 offices across the country.
Information on household goods insurance is available at www.devk.de/hausrat
***
Photos can be found here: https://www.devk.de/presse/pressemitteilungen/pm_182528.jsp
Policyholders in Germany have entrusted their everyday risks to DEVK Versicherungen for more than 135 years. Founded by railroad workers for railroad workers, DEVK today serves around 4.2 million clients across the country with more than 15.5 million risks across all lines of insurance. A total of around 7,500 employees roll up their sleeves to help quickly and actively. Furthermore, Sparda banks have been a reliable partner for many years. In terms of number of contracts, DEVK is the fourth largest home insurer in Germany, the fifth largest car insurer and the sixth largest third party liability insurer in Germany.
Press contact:
DEVK Insurance
Mashamay Possekel
Riehlerstraße 190
50735 Cologne
Telephone 0221 757-1802
Email: [email protected]
Original content from: DEVK Versicherungen, broadcast by news aktuell
.