Several companies continue to insure electric cars at a cheaper price than combustion engines. But high repair costs are likely to drive up premiums in the medium term.
02.12.2021
Hanno Boblenz, Uwe Schmidt-Kasparek
No oil, little brake wear, low consumption – many fleet operators have already noted that electric cars are cheaper to run than combustion engines. On the other hand, there may be a surprise in the case of accident repairs, because they are usually more expensive for electric cars. "The average damage in case of collision damage is around 30 percent higher for electric cars compared to conventionally powered vehicles," says Carsten Reinkemeyer, head of safety research at the Allianz Technology Center ( AZT). One reason is that electric cars are heavier, due to the large battery, but also the reinforced body that protects the battery. One aspect is that heavier cars cause more damage in an accident with other cars. Repairs to their own vehicles can also cost fleet operators much more. If the battery fails, it can be a total loss as it usually needs to be replaced with a new one. "We still don't have a market for used batteries," says Reinkemeyer.
Even if the airbag has been deployed, a new battery is required for safety reasons. Specialists are also required for repairs, which also increases costs. According to the expert, damage to the high-voltage cable is also costly because it has not yet been repaired. A change quickly costs 7,000 euros and more.
Expensive repairs lead to higher ranking in the rate classes that determine the insurance premium. In the years 2018 to 2020, electric vehicles were classified similarly to gasoline vehicles in that they are more likely to be driven in the city and tend to have low annual mileage.
Many electric car owners drive less than 10,000, some less than 5,000 kilometers per year. The risk of causing an accident is correspondingly low. However, Stromers are rated on average in the full 18th class, while the petrol engines end up in the 16th class on average. But the higher the class, the more expensive the policy will be.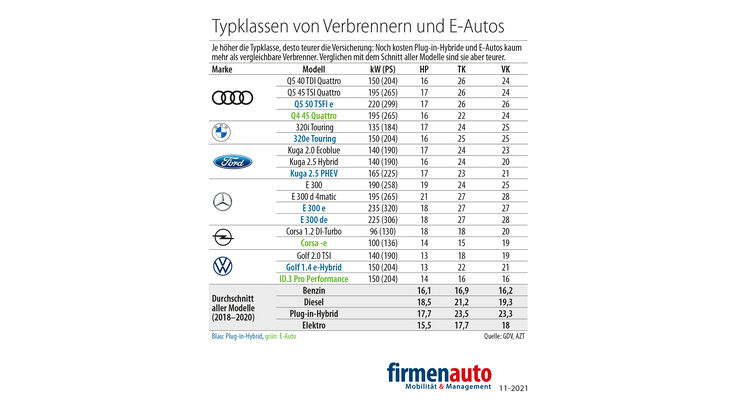 Photo: GDV, AZT
Diesel and plug-in hybrids are also comparable in terms of damage expenses, as both are more likely to be driven in rural areas and with higher mileage. On average, electrified gasoline engines are classified in the full 23 class, while diesels end up in 19 class. Theft protection for electric cars is also more expensive due to higher partial insurance classes. Only when it comes to responsibility do green cars fare slightly better. The bottom line is that insurance premiums for cars with alternative drive systems will increase in the future and put much more pressure on the fleet budget than diesel or gasoline engines, because the cost of comprehensive insurance generally dominates the full premium.
But there is still a real avalanche of discounts for green cars. "We want to continue promoting the change to electromobility with an economic incentive in the insurance premium," says Allianz, for example. The insurer continues to give an electronic discount of up to 20 percent. Ford even advertises the Puma with a mild hybrid drive with a 25 percent discount on liability and comprehensive insurance. However, the system is technically less complex than a plug-in hybrid, if only because of the lack of charging options and the small battery. Other insurance companies calculate similarly. Market leader Huk Coburg defends his green discounts by pointing out that environmentally conscious customers are more conscious about road safety.



also read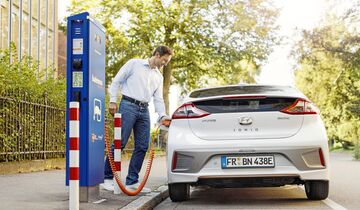 Car insurance
Insure cheaper e-cars

Competition in the insurance market is fierce, which generates new offers. Allianz has been offering replacement value protection for batteries since October. Previously, there was a ten percent deduction for each year of operation if a new battery was installed after the damage.
Many companies have included in their contracts the so-called comprehensive protection for electricity storage, but in some cases with a "new for old" deduction. Allianz, for example, replaces a new battery for customers with a Premium rate for 36 months and for 24 months for customers with a Comfort rate. According to Allianz accident investigators, the battery often accounts for 30 percent of the vehicle's value. And the older the vehicle, the higher the percentage when the battery needs to be replaced.
.