CLARK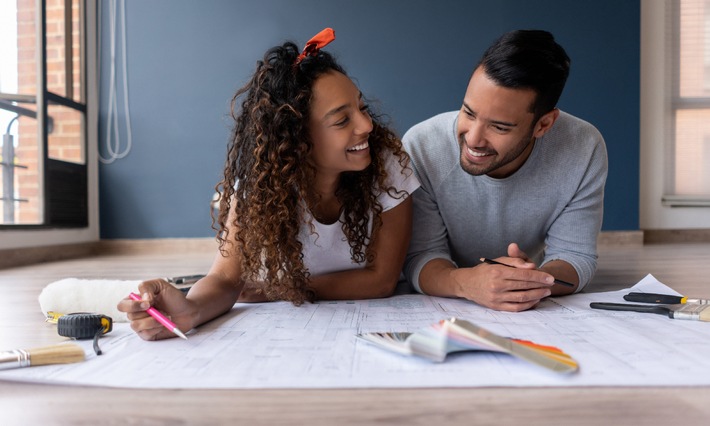 Frankfurt am Main (ots)
The property is very popular as an investment. This is mostly due to the fact that it is considered to be of stable long-term value, worthwhile and low risk. [1]. Nearly one in five (18 percent) Germans say they use property as an investment [2], according to the result of a representative study of the population carried out by the digital insurance administrator CLARK in cooperation with the opinion research institute YouGov. To ensure that everything runs smoothly when it comes to buying and building real estate, CLARK provides helpful tips on financing and insuring construction projects.
Inform and do not ignore any factor
For many people, owning a home or buying real estate is the biggest investment in life. For this reason, you should carefully consider what property is not only suitable for your own family, but also for your personal financial situation. "Under no circumstances should you financially overreact and rely on future salary increases, etc. Such behavior can often lead to property financing becoming an unbearable burden at a later time," according to financing experts at CLARK. As a general rule, monthly payments on a property should be no more than 35-40 percent of the household's net income. If you are currently renting, you can also use the monthly rental payments as a guide. It should be noted that real estate owners bear not only the monthly financing fee, but also various additional costs that can quickly be miscalculated.
"In order to find adequate financing for construction and possibly to be able to use subsidies, you should seek full and independent advice. Whenever you buy or build a house, additional costs and one-time payments should also be taken into account to avoid unpleasant surprises. . , CLARK's financial experts continue. In addition, CLARK recommends using online calculation tools and a financial advisor for an initial estimate rather than doing it yourself, as these often include other factors. A financial advisor often has insight. full market overview, which can save you additional money Costs that shouldn't be ignored include notary, land transfer tax, and land registry entries So there are no surprises when buying a home, CLARK has put together a checklist complete with important cost items and other tips.
Respect the deadlines and keep an eye on the scope of the insurance!
After financing, notarial appointment and registration in the land registry, it is important to protect the new property and the monetary values ​​it contains. It is important to pay attention to the special notice period of four weeks after the transfer of ownership (ie registration in the land registry) for the change of residential building insurance. If this period expires, the old insurance is transferred to the new owner. When it comes to residential building insurance, it pays to take a close look at the scope of insurance and prioritize price.
It's also important to double-check the scope of liability insurance to see if it's also suitable for potential liabilities of a real estate owner. A classic example of this is the pedestrian slipping on an icy sidewalk, for which the adjacent property owner may be held liable.
Despite all the planning, security and financing of the new property, you should definitely continue to enjoy the new property by completing all these bureaucratic tasks in a specific way. Afterwards you can look forward to your new home with a good and secure feeling and congratulate yourself.
[1] https://www.finanztip.de/baufanzierung/immobilie-kapitalanlage/
[2] Note on the study: The data used is based on an online survey conducted by YouGov Deutschland GmbH, in which 1005 people participated between 31.03. and 04.05.2021 participated. The results were weighted and are representative of the German population aged 18 and over."
Press contact:
CLARK Press Contact:
fiona nitsch
[email protected]
Original content by: CLARK, broadcast by news aktuell
.