the bavarian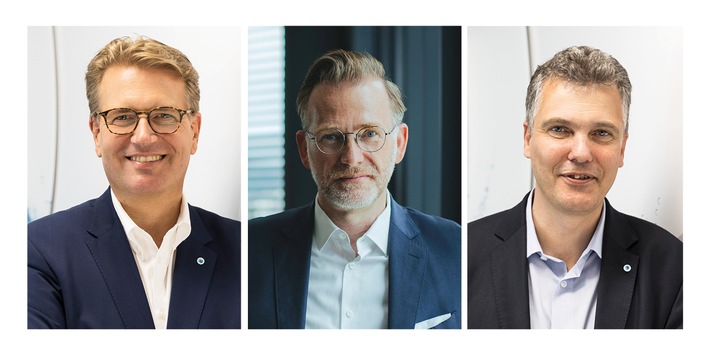 Munich (ots)
Together for a sustainable future: The Austrian Merkur Versicherung is investing in the consistently climate-friendly real estate fund of Pangea Life, the sustainability brand of the insurance group die Bayerische. In addition, traditional insurers want to take advantage of synergies, increase the transfer of know-how and promote talent together.
"In Merkur Versicherung we have found a partner in Austria that could hardly fit better into our own DNA," says Dr. Herbert Schneidemann, CEO of the insurance group die Bayerische. Martin Graefer, Member of the Bayerische Management Board, adds: "We are united by the holistic view of ideally not allowing the harmful event to occur for our customers in the first place. A healthy planet is also a prerequisite for this. We are still more pleased that our colleagues in Graz are doing well with their investment and are standing up for effective climate protection together with us and our clients in the Pangea Life fund."
With the investment in the real estate fund in the field of renewable energies created by Aquila Capital and Bayerische in 2017, Merkur Versicherung is sending a clear signal of the importance of sustainability in its capital investments. Pangea Life is one of the pioneers of sustainable insurance solutions in the German insurance market. The fund invests exclusively in specific real assets in the renewable energy sector and thus allows clients to combine returns and measurable climate protection through sustainable direct investments.
"With this step, we are combining the best of both worlds. The cooperation combines Bayerische's experience in the field of life insurance with our know-how in health insurance, driven by an ambitious sustainability strategy that sets us both apart. We look forward to a country dialogue with a partner that enriches us on many levels", adds Ingo Hofmann, CEO of Merkur Versicherung.
From the cross-border cooperation, the two companies expect synergies in the most important future topics of the insurance industry. Merkur Versicherung and Bayerische are united by an ambitious sustainability strategy, which they would like to sharpen even more in the future through mutual exchange and Pangea Life experience. Austria's oldest insurer and Munich's traditional insurer also plan to jointly promote talent through an employee exchange program to learn from each other across national borders. The two insurers would like to expand and strengthen networks beyond their respective home markets. Both companies look forward to international dialogue, knowledge sharing and the resulting added value for customers and business partners.
***
Merkur Seguros Ltda.
Merkur Seguros Ltda.
Merkur Versicherung AG is an Austrian insurance company based in Graz. As the second largest private health insurer in Austria and with the experience of 223 years of company history, the traditional insurance company places the miracle of the human being and your protection at the center of your business thinking and actions. Merkur Versicherung operates in Austria and South-East Europe with a total of 1,448 employees and a total premium volume of €629.8 million in the last financial year. Since 2020, the group's headquarters have been located in the new Campus Merkur in Graz.
the bavarian
The insurance group die Bayerische was founded in 1858 and consists of the companies Bayerische Amts Lebensversicherung AG (parent company), BL Bayerische Lebensversicherung AG and the composite company BA Bayerische Allgemeine Versicherung AG. The group's total income from premiums exceeds 620 million euros. The group is continually increasing its capital and is well above the industry average. Capital investments of more than 4,900 million euros are managed. More than 12,000 personal advisors are available to around 1 million Bavarian customers throughout the country. Rating agency Assekurata gave the parent company a quality grade of A- ("very good") in a current credit rating and attested to the company's financial strength well above that of the industry. BA die Bayerische Allgemeine AG also received an A- as part of a credit rating. BL die Bayerische Lebensversicherung AG received an A+ in an overall company rating.
pangea life
Pangea Life was founded in 2017 as a sustainable brand of the insurance group die Bayerische. The Pangea Life fund behind the brand currently has a fund volume of around €260 million and has been offering clients an average annual return of 7.1 percent after fund costs since its launch. The fund invests exclusively in climate-friendly real assets from the renewable energy sector.
Press contact:
Press office of the Bayerische group of companies
Moritz Rebhan, Thomas-Dehler-Strasse 25, 81737 Munich,
Telephone (089) 6787-8285,
E-mail: [email protected] Internet: www.diebayerische.de
Original content from: die Bayerische, broadcast by news aktuell
.