Allianz clearly dominates the German insurance market. On average, every fifth insurance goes to the stylized blue eagle. But insurance group R+V has quietly moved into third place. This is shown by the current market share ranking of the Cologne Institute for Insurance Information and Business Services, KIVI for short.
No change leads to total gross premium income in the Group
the Allianz Group with a market share by a clear margin
of 19.75 percent the field. Although the insurer with the stylized eagle lost 67 basis points compared to the previous year, on average one in five policies is still from Allianz.
The group of public law insurers follows at a clear distance. The association, which includes the Sparkasse insurance, the provincial insurance and the Versicherungskammer Bayern, combines 10.44 percent of the market.
R+V convinces in the market
There was a significant shift among the chasers in 2020: R+V posted a plus of 50 basis points and made a significant jump from fifth to third place with a 6.35 percent market share. They relegated Generali (6.06 percent) to fourth place and Ergo to fifth place (5.6 percent). The Munich Re subsidiary also had to post double-digit declines.
For his part, Debebka has gained ten basic points, which places him in sixth place in the new ranking. The Talanx Group remains unchanged from the previous year in eighth place, but has lost 23 basis points.
Zurich also posted a market share loss of twelve basis points, while HanseMerkur, in 21st place, grew an impressive twelve basis points, from 0.98% to 1.10%.
"On closer inspection, the main driver of most of these changes is the life insurance business and, in turn, the companies' appetite for single premiums," says KIVI CEO Dr. Pure Will. Resulting premiums and market share are inherently more volatile than actual premium income.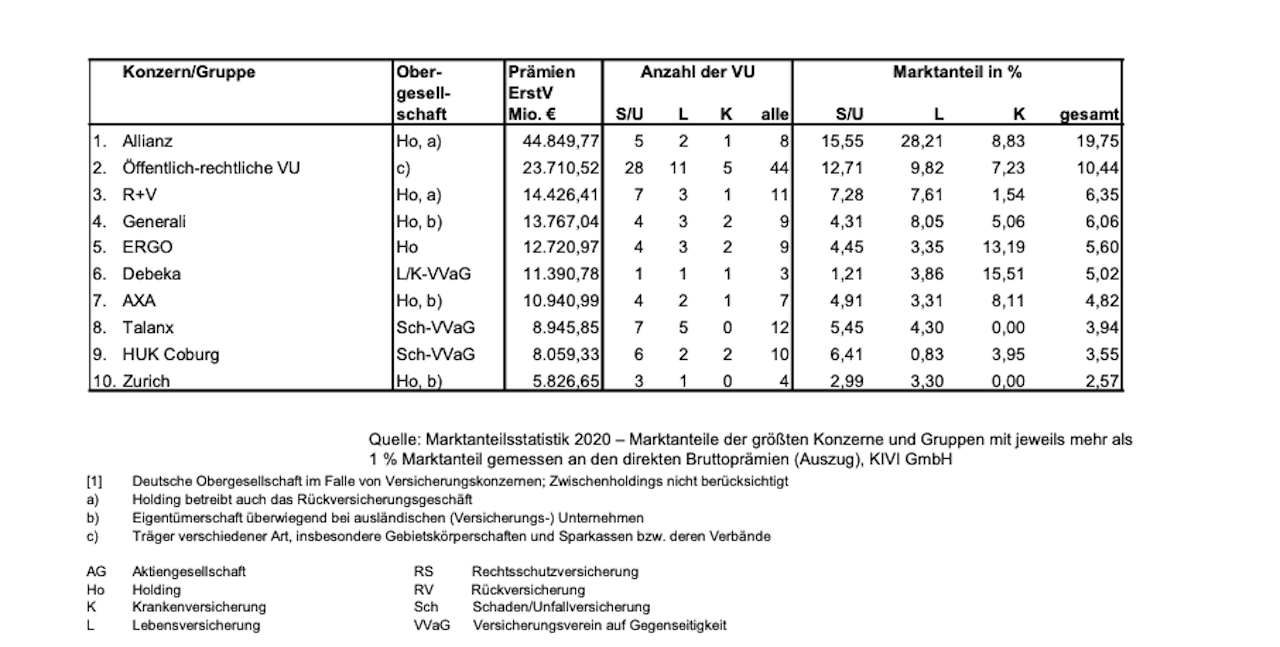 The KIVI analyzes the insurance market based on the annual reports of insurance companies. The investigation is carried out both at the segment level and at the level of the insurance groups/conglomerates. Insurers with a premium billing of more than 50 million euros are registered. According to the KIVI, there are a total of 264 companies (147 property/casualty, 81 life and 36 health).