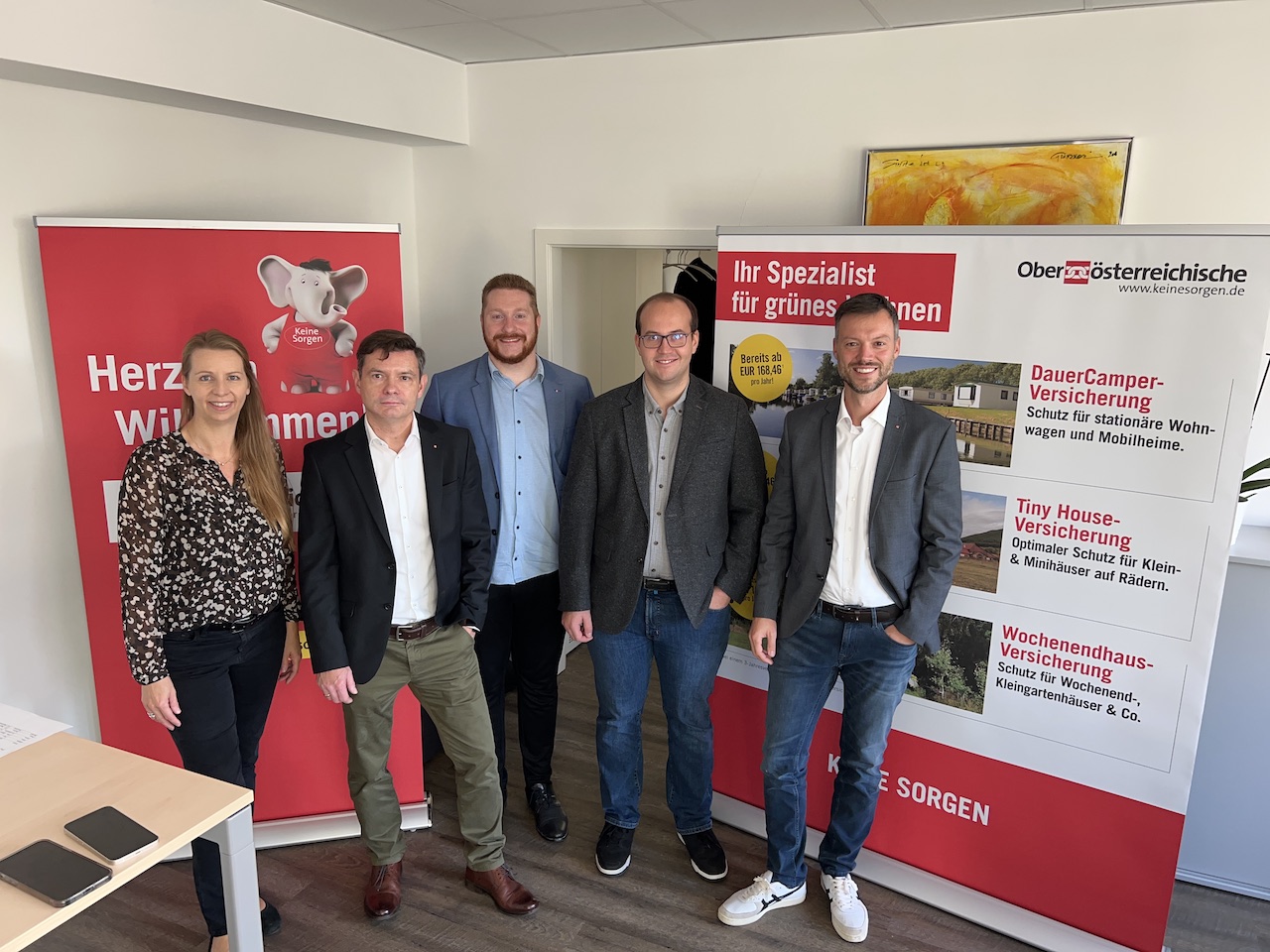 New strategy, new location, new management: Oberösterreichische Versicherung repositions itself in Germany and moves its location from Hanau to Regensburg. In the course of the reorganization, Paul Ristock took over the management of the German subsidiary.
Oberösterreichische Versicherung is moving its German headquarters from Hanau to Regensburg in Bavaria. The insurer with Austrian roots has also finalized its strategy in Germany. As part of the realignment, the insurer has also reorganized its management level in Germany.
The new branch manager in Germany is Paul Ristock. The 37-year-old, who was born in Berlin and moved to Munich, succeeds Peter Schmidt, who will continue to be available to the company as a consultant. Ristock took over management of the German branch in January 2022.
Potential mainly in southern Germany, but not only
"When I joined the board two years ago, the first thing we did was take a closer look at our markets. Of course, we also look at Germany. The Hanau site was very far away, so it was difficult to keep in touch with the employees there," explains CEO Kathrin Kühtreiber-Leitner, who is responsible for sales, among other things. And regarding the strategic orientation: "We work with our omnichannel sales channels and, above all, we wanted to bring our German branch location closer to the domestic market. We have now pitched our tents in Regensburg for this purpose. This is the result of a thorough potential analysis. The main goal is to establish ourselves within a radius of 150 kilometers around Regensburg in cooperation with our business partners."
Active in niche markets
Above all with niche products for weekend houses, long-term motorhomes and small house solutions and now also with Klima Pro, an insurance for photovoltaic systems, Oberösterreichische wants to further establish itself on the German market. However, insurers are very satisfied with the former German business. According to Peter Schmidt, the insurance portfolio is around 120,000 contracts.
Oberösterreichische expects further growth, especially in the area of ​​sustainability. "Due to rising electricity prices and the desire for independence by many, we see a rapidly growing market in the PV field, which is already causing supply bottlenecks," explains Ristock. In the first quarter of 2022, 34.7% more electricity was generated from photovoltaic systems compared to the previous year. A similar picture emerges for long-term campers, which was fueled by Covid-19.
There are currently around 250,000 caravan and mobile home pitches as well as 2,862 campsites, of which 421 are in Bavaria alone. According to Statista, around 11.5 million Germans preferred camping as their preferred form of vacation last year. Vacation homes, weekend houses and small gardens are also experiencing a boom due to the longing for nature. In Germany there are 891,000 home gardens, 13,500 associations, 900,000 hobby gardeners and around 5 million users. In Berlin alone we find 66,000 home gardens in 736 associations.
And Ristock also sees potential in the tiny house market: there is currently a shortage of around 1.9 million affordable apartments in Germany. Additionally, there has been 34 percent less social housing available since 2010. Two-thirds of households are occupied by one or two people. According to Ristock, the market volume for tiny houses is estimated at about 3.9 billion euros in 2022. Especially in the context of high costs and a lack of space to build, the head of Germany expects further positive dynamics here. The growing sustainable approach of many young people to the topic of the trend also plays a role.
New strategy for Germany
For Germany, Ristock sees the goal of strengthening the market position and further developing the product portfolio as a niche supplier. The trending markets mentioned above and the expansion of IT support for brokers and clients, including modern and simple online transaction methods, play an important role here, says Ristock. In addition, the sales network will be expanded with network and cooperation partners. They are the important multipliers in trending markets. In addition, personal advice for brokers and clients in Bavaria will be intensified.
Active in Germany for 20 years.
Oberösterreichische Versicherung has been successfully active in the German insurance market for more than 20 years. In 2000, the market entry took place as a venture company of the German Hanauer Versicherungsservice AG. In 2007 Hanauer was integrated into Oberösterreichische as a subsidiary. Oberösterreichische Versicherung AG has also been operating under its own name on the German market since 2014. With the move from Hanau in Hesse to Regensburg in Bavaria, things have come full circle and the company is going back to its roots. "In January 1811, King Maximilian I of Bavaria founded a "General Fire Insurance Company" for the Kingdom of Bavaria, which at the time also included parts of Upper Austria and Salzburg, the beginning of today's Upper Austria" explains Kühdriver-Leitner.
In the latest insurance year, Upper Austria's market leader increased its core business, property and casualty insurance, by 4.2 percent. In total, premium income for 2021 will be around 473 million euros. The result of the ordinary activity of the business is 43 million euros. Euro. "Oberösterreichische is an equal footing insurer with the Austrian handshake mentality towards our sales partners, insurance brokers and groups. Already 456,800 customers trust us," says Kühdriver-Leitner.
"We are convinced that with Paul Ristock we are on the right track to implement our visions. He has an incredible amount of experience in the industry. At the Generali Group, he worked both in the office and in the field as a broker advisor and key account manager. Paul Ristock was most recently Sales Director at Süddeutsche Krankenversicherung. We are happy to have him in our team", concludes Kühdriver-Leitner.