Rothenburg Police Station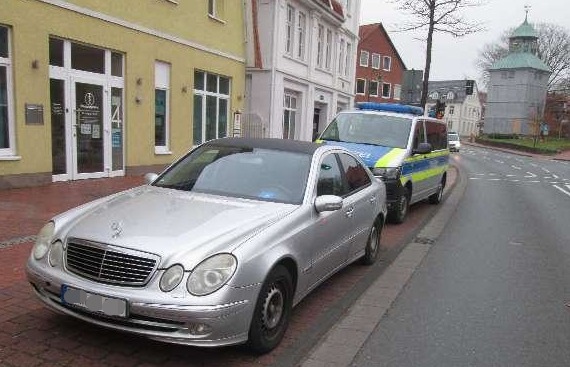 Rothenburg
++ E-scooter without insurance ++
Zeven – Officers from the Zeven Police Department discovered that an electric scooter was missing its lock yesterday afternoon. The young driver had been observed and searched by a police patrol while driving his e-scooter on the Quabben because he did not have the insurance number plate attached. During the check, it was revealed that the insurance registration had not been lost, but that none had been adhered and that, therefore, the corresponding insurance coverage did not exist. The officials initiated criminal proceedings and pointed out to the young man that the e-scooter should not be driven like this. In this context, the police once again highlight the clear rules of the Small Electric Vehicles Ordinance and urge all owners of such vehicles to obtain the necessary insurance cover. The Federal Ministry of Transport and Digital Infrastructure has an information brochure available for further information, which can be accessed via the following link: https://www.bmvi.de/SharedDocs/DE/Anlage/StV/flyer- elektrokleinstfahrzeug.pdf? __blob= postfile
++ Repeatedly found without driver's license ++
Sottrum – A car driver who did not have a driver's license was checked by officers of the Rotenburg police inspection disposal unit last night. The companions initiated the corresponding investigation and assured that it was not possible to continue driving. Apparently the gentleman was already familiar with this procedure. Because he was able to report that he had already been checked several times for this circumstance. However, the fact that such a statement and behavior does not have a mitigating effect on the sentence seems to have been unclear to the gentleman. He will have to adjust to a higher sentence due to the new incident.
++ On the go in the BAB under marijuana ++
BAB 1/ Elsdorf – On Monday evening, a 35-year-old car driver came under attention by officers from the disposal unit of the Rotenburg Police Inspectorate. During a routine control, they recognized obvious signs that indicated the influence of narcotics. This suspicion was confirmed by a preliminary drug test, so a blood sample was ordered and the trip immediately stopped. In addition to these immediate consequences, the young man can now also expect a severe fine and a driving ban.
++ Hit a parked car – polluter wanted! ++
Visselhövede – A Mercedes car parked in a parking lot on Goethestraße in Visselhövede was damaged yesterday morning between 8:00 am and 9:30 am by a previously unknown vehicle, apparently as it passed by. This resulted in around €1,500 in damage to the parked car. The owner of this car and the police request that the witnesses or the perpetrator contact the Visselhövede police on the telephone number 04262-959080. ##Photo in the digital press kit##
++ Pedestrian crossing at BAB 1 ++
BAB 1/Gyhum – Last night, the Sittensen Highway Police were faced with the code word "person on the road", which almost everyone has heard on the traffic radio. A person dressed in dark was seen near the town of Gyhum and reported to the police. Thank goodness this particularly dangerous situation was handled with a happy ending. The person was a gentleman seeking help who had obviously become disoriented for health reasons. The quick and prudent action of the highway police prevented something worse from happening and quickly helped the young man.
Questions please contact:
Rothenburg Police Station
press office
Platen, PHK
Telephone: 04261/947-104
Email: pressestelle(at)pi-row.polizei.niedersachsen.de
Original content from: Rotenburg Police Inspectorate, broadcast by news aktuell
.