Digitization, regulation, rising healthcare costs, uncertain policy framework conditions, but also a shortage of skilled workers and customers who are significantly more cautious in light of the rising cost of living. A new study on the future of private health insurers provides interesting insights into the status quo, market trends, and future potential for private health insurance.
84 percent of the health insurers surveyed are satisfied with the development of the business in comprehensive health insurance. "Good new business developments, new product success and acceptable overall portfolio developments allow the industry to look back positively on fiscal 2021," summarizes Nils Dennstedt, partner and insurance industry leader at Deloitte. .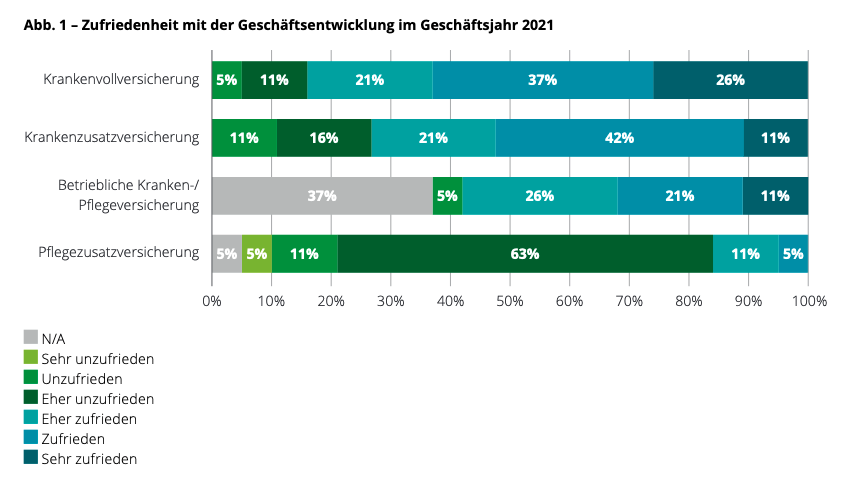 A big child issue for providers is and remains supplemental long-term care insurance. Here, 79 percent of private health insurers are not satisfied with the developments.
Complementary care insurance well below expectations
According to the companies, the reasons for this are low sales figures, high premium adjustments and uncertain political conditions.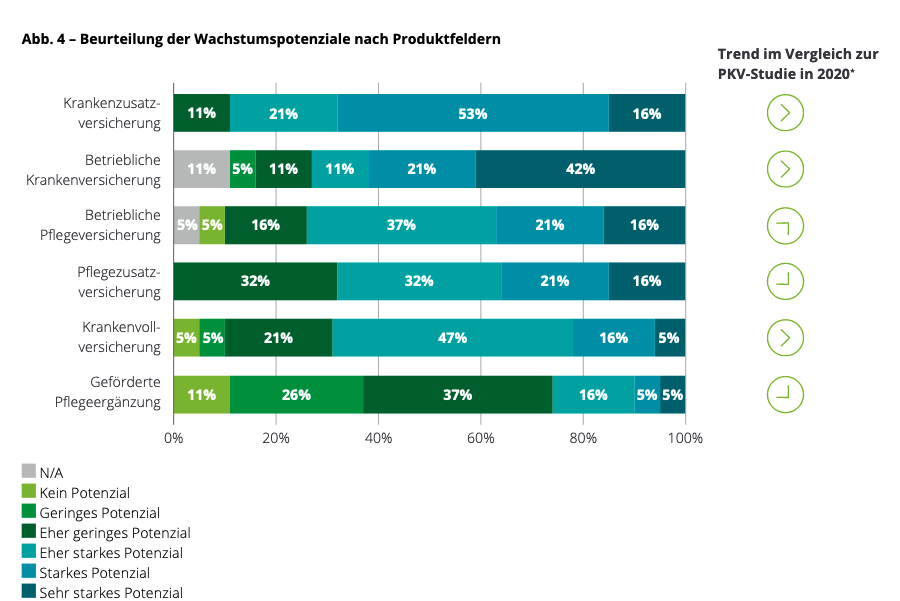 Companies see the biggest growth area in complementary health products. After all, 90 percent of insurers still see this as a growth area. Company health insurance (bKV) and the products offered there also promise great potential.
Competition in the bKV is increasing
47 percent of companies surveyed have already introduced new business health insurance products in the past two years; Competition in this market segment is increasing. In the care sector, on the other hand, health insurers are more cautious. Due to political uncertainty, individual and subsidized long-term care supplemental insurance is evaluated more cautiously than in Deloitte's previous 2020 survey.
PKV required in case of sustainability and shortage of skilled workers
Two social developments are gaining relevance in the industry: on the one hand, the increasing focus on sustainability, whereby the environmental aspect of capital investments and processes, as well as the social component of products, are coming to the fore. .
On the other hand, there is the shortage of skilled workers, which has now reached the private health insurance sector as well: 94 per cent of the companies surveyed fear that the search for skilled workers will become a challenge in the coming years. After all, three-quarters of companies fear that a shortage of skilled workers will have a strong to very strong impact on business in the next five years.
"Counselor" – the image persists
"Many of those surveyed still feel that their customers see them as 'cost reimbursements'. They trust doctors when it comes to health issues and only involve their health insurer in the process at a late stage," explains Stephanie Kampmann, partner and head of Insurance Consulting at Deloitte.
In order to successfully position themselves as healthcare partners, healthcare insurers would need to gain the trust of their customers at an early stage. "Preventive service offers can be a way to build long-term relationships and not just show up at the time of a claim," says the expert.
The discrepancy between the desire for service offerings and their use is exciting. According to Deloitte's survey, health services that are already offered are often considered important by clients, but have so far been little used.
Acceptance of offers varies depending on the health insurer. The measurement of the success of health management activities is limited mainly to surveys (63 percent) and the evaluation of the number of users (47 percent).
Too little data for valid forecasts
Nearly 80 percent of those surveyed plan to use "predictive analytics" to improve their services based on performance data. But only 21 percent have already implemented the first measures. Data availability and quality are the biggest challenges here: Individual health insurers' inventory sizes and data volumes are often too small to make valid predictions. Regulatory requirements, such as BaFin requirements or data protection regulations, represent additional obstacles.
"If a health insurer repeatedly requests the transfer of data, if it interferes too much in the treatments or even if incorrect forecasts are made, this can cause less acceptance among customers," warns Kampmann. "Systematic and customer-friendly approaches are required here."
Deloitte's study also makes it clear that the digitization of processes, IT and customer interfaces continues to be the focus of attention for insurers. Respondents still see potential for digital optimization, especially in performance management. Health insurers plan to significantly increase their dark processing over the next five years, to reach rates of between 60 and 80 percent. Not least in view of new challenges such as the growing shortage of skilled workers, digitization remains one of the central fields of action for the future of private health insurance.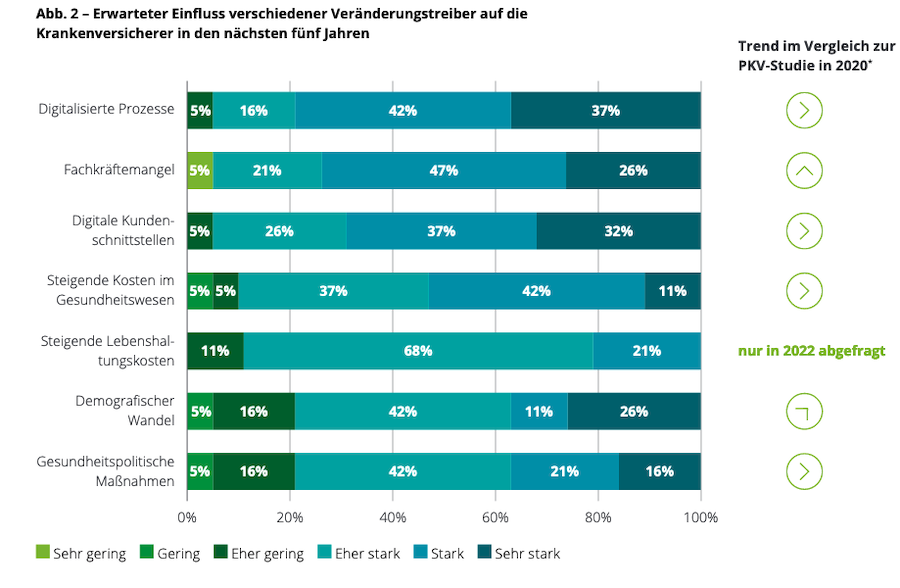 Between May and August 2022, Deloitte, together with the Institute of Insurance Science at the University of Cologne (IVK) and the Wiesbaden Business School, surveyed decision makers from 19 private insurance companies about their positioning in the Business environment. The study participants account for 66 percent of the gross premiums in the German private health insurance market.