BearingPoint GmbH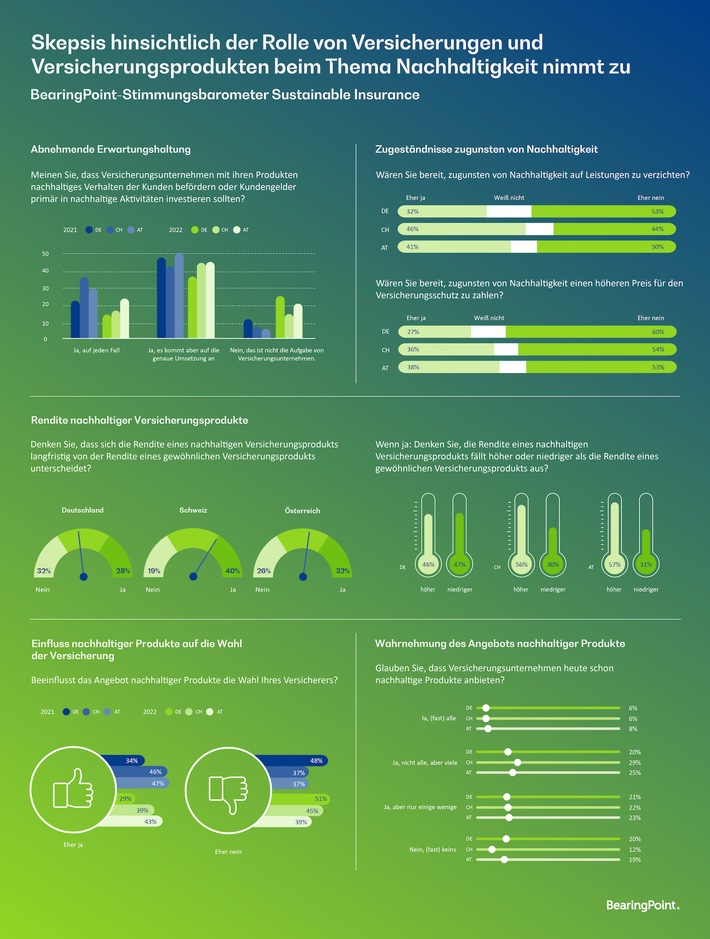 Frankfurt am Main (ots)
The willingness of German consumers to accept higher insurance premiums or lower benefits for sustainability has decreased significantly compared to the previous year's survey. In a country comparison, Germany is also far behind Austria and Switzerland. This makes customer-oriented design beyond sustainable investment products a challenge for insurance companies. This is demonstrated by the new mood barometer from the management consultancy BearingPoint for Germany, Austria and Switzerland.
In the last year, insurance customers have once again become more aware of the issue of sustainability. More than nine out of ten consumers say they already know the term, and the vast majority also have specific ideas about the content and objectives. From the point of view of German clients in particular, sustainability in the context of insurance coverage should not cost anything, as the new YouGov survey commissioned by management and technology consultancy BearingPoint for Germany, Austria and Switzerland shows.
Decreasing expectations with existing high customer skepticism: focus on environmental and resource conservation
Significantly fewer consumers now agree that insurance companies should play an important role in promoting sustainability. With the approval of 53 percent of Germans, 64 percent of Austrians and 67 percent of Swiss, insurance companies should promote sustainable behavior with their products. A majority – in the previous year it was still 71, 80 and 81 percent.
According to the survey, aspects of environmental protection and resource conservation significantly override other ESG elements such as social commitment or good corporate governance. This may also be under the impression of the current consequences of the war, in which resource conservation is also recognized in the context of energy saving. When asked about the issues that are most important to them, investments in environmental protection continue to come out on top. However, transparency and a particularly positive connection between sustainable behavior and the amount of the premium also play an equally important role for consumers when it comes to sustainable products.
The proportion of those who require concrete implementation knowledge remains large. It is therefore not surprising that for 48% of Germans, 59% of Austrians and 58% of Swiss, external certification, for example through a seal, is important when deciding to a sustainable product.
Little willingness to sacrifice performance or higher premiums – the younger generation is more willing
It is true that approval ratings in the young age group 18-24 are significantly higher. However, in the total population, only 32 percent in Germany, 41 percent in Austria and 46 percent in Switzerland would be willing to forego insurance benefits for greater sustainability.
When asked about their willingness to pay a higher premium for a sustainable purpose, only 27% of Germans, 39% of Austrians and 36% of Swiss would be willing to do so. More than 50 percent in all three countries reject a higher premium to reflect a sustainable product orientation. Last year, less than a third agreed with the idea of ​​making insurance coverage more expensive for less green vehicles (for example, large SUVs) in favor of vehicles with a good climate balance.
Among the respondents who would be willing to make their own contribution, the majority in the three countries agreed with different variants of the premium calculation. More than 40 percent can also imagine doing without replacement services (eg, no new parts, repairs, etc.) and more than 30 percent could imagine limiting services in the event of damage.
Giso Hutschenreiter, Partner and Insurance Expert at BearingPoint: "Sustainability is firmly established in the minds of consumers. However, with a supposedly growing understanding of the topic, skepticism is also growing regarding the role of insurance companies. insurance and insurance products on the topic of sustainability. In Germany, the topic seems to be particularly difficult at the moment. The traditional reservations of German consumers towards financial institutions also seem to continue when it comes to sustainability. However, with products oriented towards to investment, the evaluation is gaining ground in the long term. the sustainable orientation at least will not have a negative effect on returns."
Sustainable investment products: Germans are skeptical; the austrians and the swiss believe in high returns
The higher skepticism of German consumers compared to insurance customers in Austria and Switzerland is also evident with regard to the evaluation of sustainable investment products from insurance companies. In Germany, the proportion of those who expect a lower (47 percent) and higher (46 percent) long-term return compared to conventional investment products with a sustainable orientation is almost evenly distributed. It is different in Austria and Switzerland: 57 percent of Austrian and 56 percent of Swiss consumers expect higher returns from sustainable insurance products than in Germany.
The offer of sustainable products has less influence on the choice of insurance in 2022
47 percent of Germans, 56 percent of Austrians and 57 percent of Swiss believe that products with a sustainable orientation are already available on the market. For only 29 percent of Germans (previous year: 34 percent), the range of sustainable products would now influence their choice of insurance, while 51 percent denied it (previous year: 48 percent). Although the figures are higher in Austria and Switzerland, they are also below the previous year.
"Compared to the previous year, the attitude of customers has become more firmly established that a sustainable orientation of their own behavior should also have a positive effect on the amount of the premium. The possible necessary waiver of benefits or an effect disadvantageous in premiums, eg in the form of price control impulses, but still has the approval of some consumers A painful learning process could become clear to both clients and insurers that sustainability also has something to do with do with doing without, or at least with change", Giso Hutschenreiter sums up above.
About the study
The data used is based on a BearingPoint survey conducted by the market research institute YouGov Germany. Between May 20 and 23, 2022, a total of 3,137 people in Germany (1,033), Austria (1,053) and Switzerland (1,051) participated in the online survey on the topic "Sustainable insurance". The results were weighted and are representative of the respective population aged 18 years and over. The survey was also carried out in a comparable configuration in 2021 and allows developments to be derived.
About BearingPoint
BearingPoint is an independent management and technology consultancy with European roots and global reach. The company operates in three business areas: Consulting, Products and Capital. Consulting includes the classic business of consulting with the portfolio of services People and Strategy, Clients and Growth, Finance and Risk, Operations and Technology. In the Products area, BearingPoint offers clients IP-based managed services for critical business processes. Equity covers BearingPoint's mergers and acquisitions, ventures and investments activities.
BearingPoint's clients include many of the world's leading companies and organizations. BearingPoint's global network of more than 13,000 employees supports customers in more than 75 countries and works with them to achieve long-term, measurable business success.
More information:
Homepage: www.bearingpoint.com
LinkedIn: www.linkedin.com/company/bearingpoint
Twitter: @Point of support
Press contact:
press contact
alexander bock
Global Communications Manager
Telephone: +49 89 540338029
Email: [email protected]
Original content from: BearingPoint GmbH, transmitted by news aktuell
.