If you want to sell insurance to the U50 generation, you need to make sure the deals are easy to find online. Because 92 percent of 16 to 29 year olds and even 95 percent of 30 to 49 year olds find out about the offer online before taking out insurance.
Between 85 and 88 percent of these age groups use classic analog information options. At 87 percent, these are just ahead of digital paths (85 percent) among 50-64 year olds. Only among people aged 65 and over are classical information sources at 88% far ahead of digital sources at 41%. These are the results of a survey of 1,004 people over the age of 16 commissioned by the digital association Bitkom. "Online information not only allows interested parties to get information about various offers on the go and at any time, but they can also easily make sample calculations there," says Kevin Hackl, finance expert at Bitkom. "The successful conclusion of a digital insurance begins with the preparation of the information. Providers should not just put classic printed information online one by one, but should also use the possibilities of digital media wisely. This is all the more true as young people are the main target group of many policies".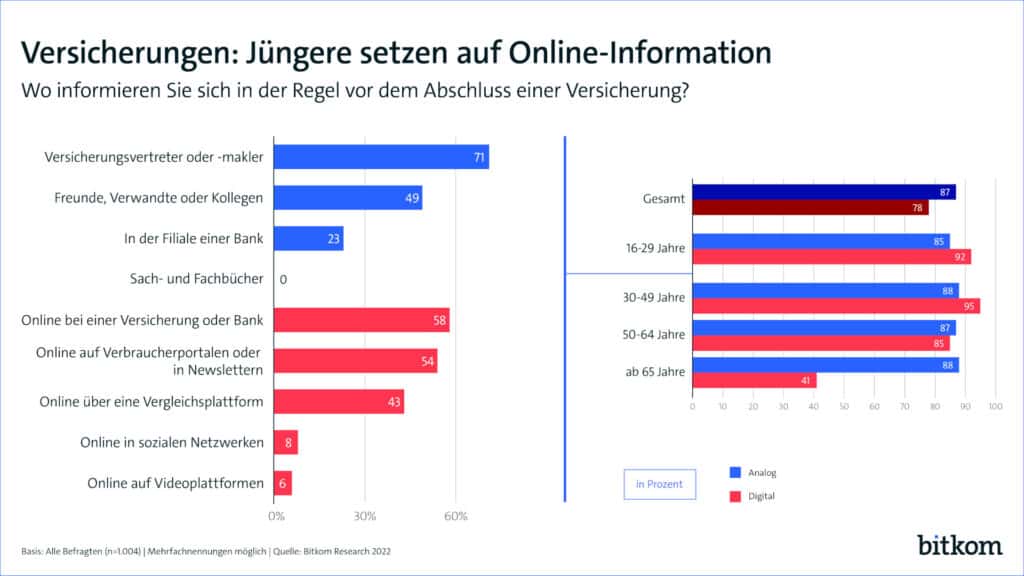 In the general population, classic analog sources are used somewhat more often (87 percent) than digital offerings (78 percent). The most sought after advice is from insurance agents and brokers (71 per cent), followed by friends and acquaintances (49 per cent) and the advice of a bank (23 per cent). Technical and non-fiction books play no role. Digitally, information from insurance companies and banks is ahead (58 percent), just ahead of consumer portals and corresponding newsletters (54 percent) and online comparison platforms (43 percent). . Social media (8 percent) and video platforms (6 percent) only play a minor role.
Note on methodology: The information is based on a survey conducted by Bitkom Research on behalf of the digital association Bitkom. 1,004 people over the age of 16 in Germany were interviewed by telephone. The survey is representative. The question was: "Where do you usually get information before taking out insurance?"
www.bitkom.org