Message of 10.11.2021

Nutrition is a basic component for a healthy lifestyle. There's also exercise, which many people don't get enough of. Compared to the past, today's life is less physically demanding, which is often not reflected in eating habits.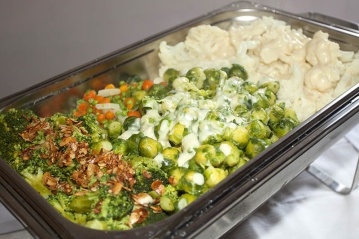 Adapt food to life
Many people underestimate the lower energy needs. Sitting in the office all day uses less energy than someone on a construction site. Office workers burn just 68 calories in an hour, compared to 340 for construction workers. Firefighters consume even more.
The energy requirement that we have to ingest with food varies accordingly. Our body does not immediately defend itself against excessive energy consumption, but prepares itself for bad times and accumulates fat reserves. Sport offers a way to compensate for a lack of exercise at the office, which many people don't feel like doing after work.
Poor nutrition makes you sick
In the end, a diet that is not adapted to the energy requirement can make you sick. According to the Federal Institute for Risk Assessment, diseases that can be attributed to eating habits include:
food allergies
obesity (obesity)
cardiovascular diseases
Mellitus diabetes
Diabetes mellitus presents mainly as types 1 and 2. In adults, it is mainly related to type 2, which is the result of being overweight. About 90 percent of diabetics are affected. Scientists used to assume that those affected needed a special diet for a long time. However, recent studies show that this is not necessary. Rather it is enough to change to a healthier diet, which is why for some time the same nutritional information has been applied to diabetics as to healthy adults.
A low-carbohydrate, high-fiber diet is recommended. When it comes to calorie intake, it's important to consider your own needs. A balanced diet is important to avoid deficiency symptoms.
Fruits and vegetables as main food
According to the German Nutrition Society (DGE), an adult should eat at least three servings of vegetables and two servings of fruit a day. There are also fiber-rich legumes like beans, peas, and lentils. Whole grains are more filling and contain more nutrients than white flour foods. Also, whole grains are a true master in disease prevention. In addition to type 2 diabetes, it reduces susceptibility to cardiovascular diseases, metabolic disorders, and colon cancer.
The DGE does not agree with those who think that fish and meat should completely disappear from the menu. However, enjoyment should be done in moderation. Therefore, dairy products can be eaten every day, but only 300-600 grams of meat per week. A steak every day is a pleasure, but it shortens life. Instead, fish is allowed once or twice a week.
All in Main
Vegetable fat is better than animal fat. With omega-3 fatty acids and vitamin E, plant oils have substances that our body urgently needs. Otherwise everything must be used in Maen. It is ideal here to largely avoid prepared meals. Not only do they contain underreported fats, but also too much sugar and salt. The latter can lead to high blood pressure.
It is important to drink enough, giving preference to water or soft drinks. You should drink 1.5 liters a day. Alcoholic beverages, on the other hand, should be avoided. They are high in calories and, according to scientists, promote cancer. Dietary supplements may be helpful for diabetics. However, it is important to avoid overdose.
conclusion
The key to fighting type 2 diabetes and other diseases is a healthy diet. (pm)
Agency Author:
sebastian meier
---
.