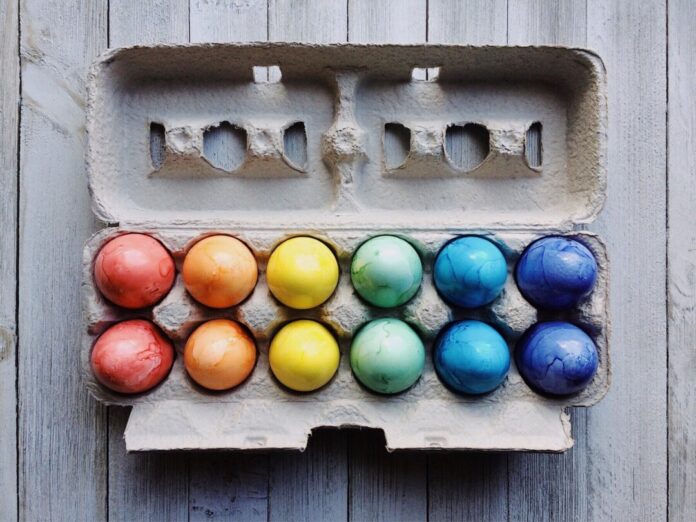 Velbert. They are colored, lovingly painted, monochrome, striped or spotted: the Easter eggs that accompany the upcoming holidays in a colorful way. Germans eat significantly more chicken eggs at Easter than usual, but how healthy are they really? dr Daniela Musiol, Head of Section for Diabetology and Nutrition at the Helios Clinic in Niederberg, clarifies the prejudice against eggs.
"The average German eats about 230 eggs a year: consumption skyrockets at Easter. In the past, the chicken egg was one of the most controversial natural foods and was often demonized as a cholesterol bomb. An egg contains 12.8 percent protein, 11.3 percent fat, and just 0.7 percent carbohydrates. In addition, vitamins A, D, K, B2, B6, B12, folic acid, phosphorus, sodium, potassium and calcium are high-quality components," reports Helios.
Eggs are not essential to the diet, as long as other foods meet the body's protein needs. "Eggs are particularly important for vegetarians: vitamin B12, which is responsible for blood formation, cell division and nerve functions, is only found in animal products. This makes eggs, along with milk, the only source of vitamin B12 for people who don't eat meat," says Dr. Daniela Musicol.
As much as competitive athletes appreciate and use eggs as a source of protein, many others are skeptical about this food, especially when it comes to cholesterol. Eggs have a reputation for raising blood cholesterol levels, which promotes hardening of the arteries and subsequently increases the risk of heart disease.
But there has been a rethink in recent years, reports Dr. Music. "The level of cholesterol is largely determined genetically," says the expert. So it largely depends on how well the body is able to regulate its own cholesterol levels. "Although an egg contains more than a gram of cholesterol, we now know that only 15 to 20 percent of blood cholesterol levels depend on diet. Also, cholesterol has a long-term effect in terms of hardening the arteries, so eating a few Easter eggs certainly won't hurt."
Possible diseases that can be triggered or transmitted by eggs are considered a risk when eating. Salmonella is often mentioned first. These are rod-shaped bacteria that can cause an infection with diarrhoea, malaise, abdominal pain or fever. However, there is usually only the risk that the food has not been fully cooked. "The hard-boiled Easter egg is not critical, and it is considerably healthier than a chocolate egg," says Daniela Musiol.
Anyone who eats one or two more eggs from Good Friday to Easter Monday can do so without a qualm of conscience; no health damage is expected. But there is advice from the section chief on how to actively use spring for your health: "In general, resistance training is best for cardiovascular health. 30 minutes of brisk walking every day is enough for this. In fact, regular exercise lowers LDL cholesterol and raises HDL cholesterol. The latter has a protective character, only the increase in LDL cholesterol is associated with heart disease".