Judith Haudum's Sports Nutrition Blog – With a Recipe!
By Judith Haudum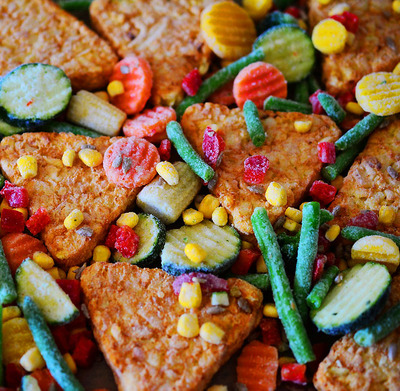 A meal prepared as frozen food | Photo: pixabay
09/04/2022 | Clean eating, raw diet – new nutritional trends that are based on unprocessed and untreated foods. But are processed foods really that bad? In my counseling, I experience over and over again that many athletes think about their diet and how they should eat healthily. "Organic" is becoming more and more important, including regional food. I hear "clean eating" over and over again: "clean eating" in the sense of fresh food, healthy food that is processed as little as possible. "Raw Diet" goes one step further: The food isn't even cooked.
Both forms of nutrition are also directed at health,
promises more well-being and weight loss, also interesting for cyclists. But there are not many studies on this, not even on the question of the percentage of processed foods in the daily energy intake of athletes.
quinoa slices
Ingredients:
(9 – 12 servings; cup ~ 240 gr.)
½ cup chopped walnuts
Wafers, rectangular
1 ½ cups quinoa (raw, soaked for at least 24 hours)
½ teaspoon Inwger, ground (or freshly chopped)
2 tablespoons honey or syrup (for example, maple)
Salt
Options:
½ cup chocolate chips
½ cup dried fruit, chopped
½ cup coconut flakes/shredded
1 medium ripe banana
Preparation:
Wash 1 quinoa, bring to a boil (a pinch of salt in the water), leave to soak for about 15 minutes.
Fold in 2 chopped walnuts, mix with ginger.
3 Add the honey to the quinoa mixture, mix well.
4 Line the baking sheet with parchment paper and place the wafers on it.
5 Spread the quinoa mixture evenly.
Top 6 of the quinoa mixture with wafers; Press the wafers lightly into the dough so they stick.
Bake in the oven for 7 10-15 minutes.
8 Let cool, cut into bars.
The bars can be enjoyed cold in a box for several days. They also last longer in the freezer.
Nutrient Information
(Per portion):
Energy 140 – 105 kcal
Iron (Fe+) 3 – 2.2g
Carbs 24-18g
Dietary fiber 2.5 – 1.9g
Egg white 4.2 – 3.1g
Salt 32 – 24mg
We eat a lot of processed foods every day, even homemade tomato paste is already processed. However, it still differs significantly from many similar products that we find in the supermarket. Highly processed foods are prepared meals, pre-cooked foods, ready-to-go meals, frozen foods…
Even if in its packaging
When we talk about vegetables and fruits, what they actually contain has little to do with the original state. Scientific studies have shown more and more clearly in recent years that highly processed foods are harmful to us, even chronic diseases with high consumption.
The reasons for this: mostly low-quality ingredients, too much salt, too much fat, too much hydrogenated and saturated fat. And besides: too much sugar, too many emulsifiers and other substances to process. If you take the trouble to take a closer look at prepared goods when it comes to just salt, you'll quickly see how much salt we're getting with it, even with foods you wouldn't expect: supermarket baked goods, for example, where you already eat a serving or two more salt than the WHO recommends as a daily maximum. The quark bag, for example, tastes sweet, but it also contains a lot of salt.
The disadvantage of highly processed products.
it is also that there is very little of the original micronutrients left. If you buy tomato sauce, you won't absorb much of a tomato's vitamins, even if the tomatoes are included. The more processed a food is, the less useful it is. This applies to many products, including those advertised as "organic," "vegetarian," or "vegan." In most cases, the proportion of additives and contaminants increases in parallel with the processing stage.
Sports nutrition products are also processed, some even very strong. Others have many artificial ingredients that create the final product and its flavor. Isotonic drinks, gels, bars: All products that are classified as highly processed. After all, a trend has been set in recent years that relies more on "natural" energy, and therefore also less processed foods.
Athletes should also reduce the proportion of highly processed foods,
of industrially produced foods in the daily diet. So: cook and prepare as many dishes as possible, only process foods to the extent that you can make a meal out of the raw ingredients: cook, bake, roast, puree…
In the case of sports nutrition products, this means that we must reduce or limit them to use only when there are no alternatives. Why drink sports drinks, electrolyte mixes, and vitamin water throughout the day? Even if they are low-calorie or no-calorie drinks, they are industrially produced and enriched, drinks that our body does not really need "in the middle". The same applies to sports bars; much better are fresh, home-made fruits and tea with a little fresh lemon juice. This way the vitamins are absorbed and the water does not taste boring.
There are also opportunities in training and competition.
use unprocessed and lightly processed sources of energy: homemade bars (see box), banana bread, bananas, nuts, bread with jam or honey, homemade isotonic drinks. I only take gels with me for intensive units, when bars or cakes are no longer enough, but only then, and only for the purpose of a quick supply of energy.
It is worth taking a closer look at what is offered on the market: What is included? Some manufacturers have better products than others. So you can also find the best among processed sports nutrition. Here too there are many products to which a number of substances have been added; in the strictest sense, they are highly processed. At first glance, this often seems interesting and manufacturers often promise performance-enhancing effects. But if you look at everything from a processing point of view, usually only artificial substances enrich the product; as a result, it does not become healthier.
So should you do without bars and gels?
Should I be afraid that these highly processed products will have a negative impact on my performance and health? Surprisingly, no studies have yet addressed these questions. Back to practice: muscles prefer to work with sugar, they need sugar to remain efficient. So when I'm racing, one cake probably isn't enough to stay in the front pack. Then I turn to (grape) sugar, gels, highly processed foods. But as soon as I get off the bike, quality comes back to the fore: providers of natural nutrients, processed as little as possible, preferably homemade. Bon appetit, and good luck!
Judith Haudum is a sports and nutrition scientist and founder of the consulting institute "sportnutrix" in Hallein, in the Salzburg region. She works with various cyclists from the UCI WorldTour and Women's WorldTour, the Austrian Cycling Association and other sports associations. Judith reports exclusively on radsport-news.com every three weeks on new discoveries in sports nutrition.