Peter Seidel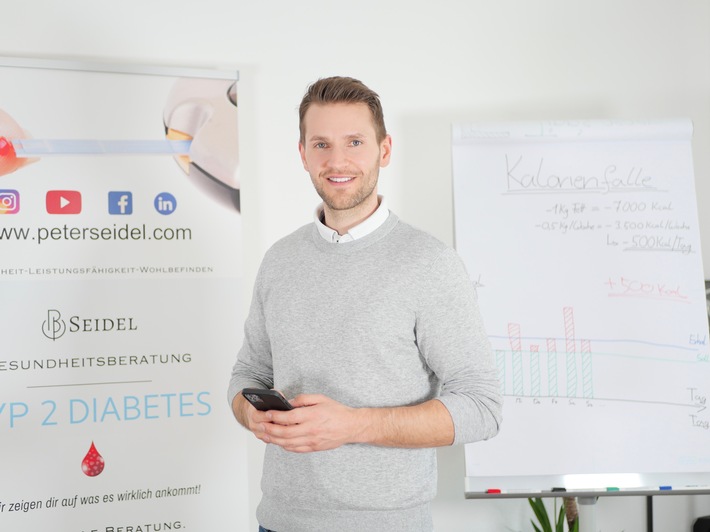 Brannenburg
Barbara and Peter Seidel help people with type 2 diabetes make sustainable lifestyle changes. In this way, they can manage their disease in the long term and without making great sacrifices, and minimize the risks associated with diabetes. With comprehensive individual support, they pass on their successful method to those affected, which restores their quality of life.
Around eight and a half million Germans suffer from the dangerous widespread disease that even increases the risk of having a stroke: diabetes. What used to be known as adult-onset diabetes is now diagnosed in young people. Apart from hereditary predisposition, the causes of type 2 diabetes are mainly seen in unhealthy nutrition, obesity and lack of exercise. Drugs are used to contain the disease, which implies a loss of quality of life and carries a high risk of secondary diseases. Barbara and Peter Seidel show those affected alternative methods that work to control their disease.
"Instead of increasing the dose of medication, we are getting to the root of the problem and using a new lifestyle to combat the causes of the disease and not the symptoms," the experts explain. This lifestyle can be integrated into everyday life, is easy to implement and leads to desired long-term results. The focus is on improving values ​​and reducing medication. The goal of registered nutritionists is also to improve overall health through weight loss and improved fitness. They take a holistic approach to what they offer, including nutrition, exercise, and the right mindset.
Fight the causes and improve quality of life
Barbara Seidel is not only a nutritionist, but also a qualified physical therapist specializing in neurology and internal medicine. Peter Seidel is a state-approved diabetes consultant, registered nutritionist, and medical fitness trainer. Three years ago they jointly specialized in counseling type 2 diabetics and helping those affected to work on the cause of their disease. He wants to show them that they don't necessarily have to rely on increased medication for life and can even reduce it with the right approach.
Unlike conventional advice offered by health insurance companies, Barbara and Peter Seidel's method is completely natural and individually tailored to the respective person, which is why it works so well. "Everyone takes the path that is easiest for them," reveal Barbara and Peter Seidel. The great lever for success is nutrition. Then there is movement and both in a form that can be easily integrated into everyday life.
Individual support and holistic methods
Current methods focus on lowering blood sugar levels with medication or a low-carbohydrate diet as the disease progresses. However, the increase in its value is only a symptom, the cause of the disease is insulin resistance. The nutrition duo knows that you can get better with the right foods, some exercise, and proper stress management. His long-term goal is that those affected no longer have to pay as much attention to carbohydrates and may even reduce their daily dose of medication.
Clients have the opportunity to contact the experts on a daily basis. Barbara and Peter Seidel have intensive discussions with their clients, motivate them, explain what they can do even better and are happy about mutual success. In addition, its clients have access to a portal where important information is available and live calls are made twice a week where doubts can be clarified. This offer is enhanced with additional live training.
The right lifestyle leads to better health, also for type 2 diabetics
Barbara and Peter Seidel's consultation can be done entirely online. Clients who come to them report that they often felt lonely before. That's because there's something wrong with the industry. Medications are prescribed too quickly, patients are not properly informed or receive incorrect information. In most cases, no one tells them how they can maintain their quality of life despite type 2 diabetes.
During the consultation, those affected receive an individual plan that is based on a detailed analysis and takes into account personal factors and preferences. If this, with the comprehensive support of health advisors, is adhered to and lifestyle is optimized accordingly, both the patient's condition and her quality of life can be significantly improved in the long run. "In the end, our customers realize that they can do a lot for their own health," explain Barbara and Peter Seidel.
Are you also affected by type 2 diabetes and want competent support and real help? Contact Barbara and Peter Seidel now and schedule an appointment for a free initial consultation!
Press contact:
Barbara and Peter Seidel
Telephone: 0172 2508182
Email: [email protected]
Website: http://peterseidel.com/
Original content by: Peter Seidel, broadcast by aktuell news
.