May 20, 2022
The sixth forum of the Federal Center for Nutrition (BZfE) will take place on September 1, 2022 as part of the digital and interactive Bonn Nutrition Days. Digitization is also about content the question "Nutrition 4.0: How digitization influences our diet". Information on this is already available at www.bzfe.de.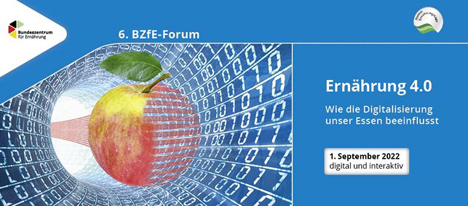 Photo © BZfE
Algorithms and artificial intelligence are making their way into many areas of the world of food and nutrition: from the first smart shopping carts, online farmers' markets and grocery shopping apps to digital tools in nutrition advice, new approaches in nutritional research and creative concepts for food. ups start-up These developments harbor enormous potential for sustainable nutrition. Opportunities are the focus of this year's BZfE Forum.
In the forum, experts present what is possible today and in the future. Publicist and food activist Hendrik Haase explains important basics of digitization using examples from across the food value chain. He emphasizes: "Digital technology, no matter how 'smart' it may seem, is always made by people. For it to become an effective tool for a more sustainable and healthy future on the plate, we must be aware of its opportunities and threats and get involved in its development".
The role that the food industry plays in this is described by Dr. Simone Frey, founder of the NUTRITION HUB network. She draws attention to the benefits of innovative production and marketing concepts for a more sustainable and healthy food choice.
Cultural anthropologist Dr. Katharina Graf investigates home food preparation in the digital age and offers insight into the kitchen of the future and the interfaces between modern technology and individual needs. Eva-Maria Endres, an expert in nutrition communication, addresses the question of how social networks can be used to change collective consumption, nutrition and health behavior so that it is healthy and sustainable. Digital health expert Dr. Ursula Kramer shows the great opportunities of digitalization for more success in nutritional advice.
Uncertainties about the use of the data resonate with all of these issues. What regulations are needed so that the collection of large amounts of data can be used for the public good while protecting the interests and rights of the individual? The Consumer Informatics research group is dedicated to these questions. They will be introduced by Prof. Alexander Boden and Margarita Esau from the Bonn-Rhein-Sieg University of Applied Sciences and then deepened in a subsequent discussion with all participants.
The program and more information about the process can be found at www.bzfe.de/ernaehrung/ernaehrungskommunikation/bzfe-foren/6-bzfe-forum-2022/
Source: BZfE
Release date: 05/20/2022
.