cottage cheese
Is grainy cream cheese a secret weight loss weapon?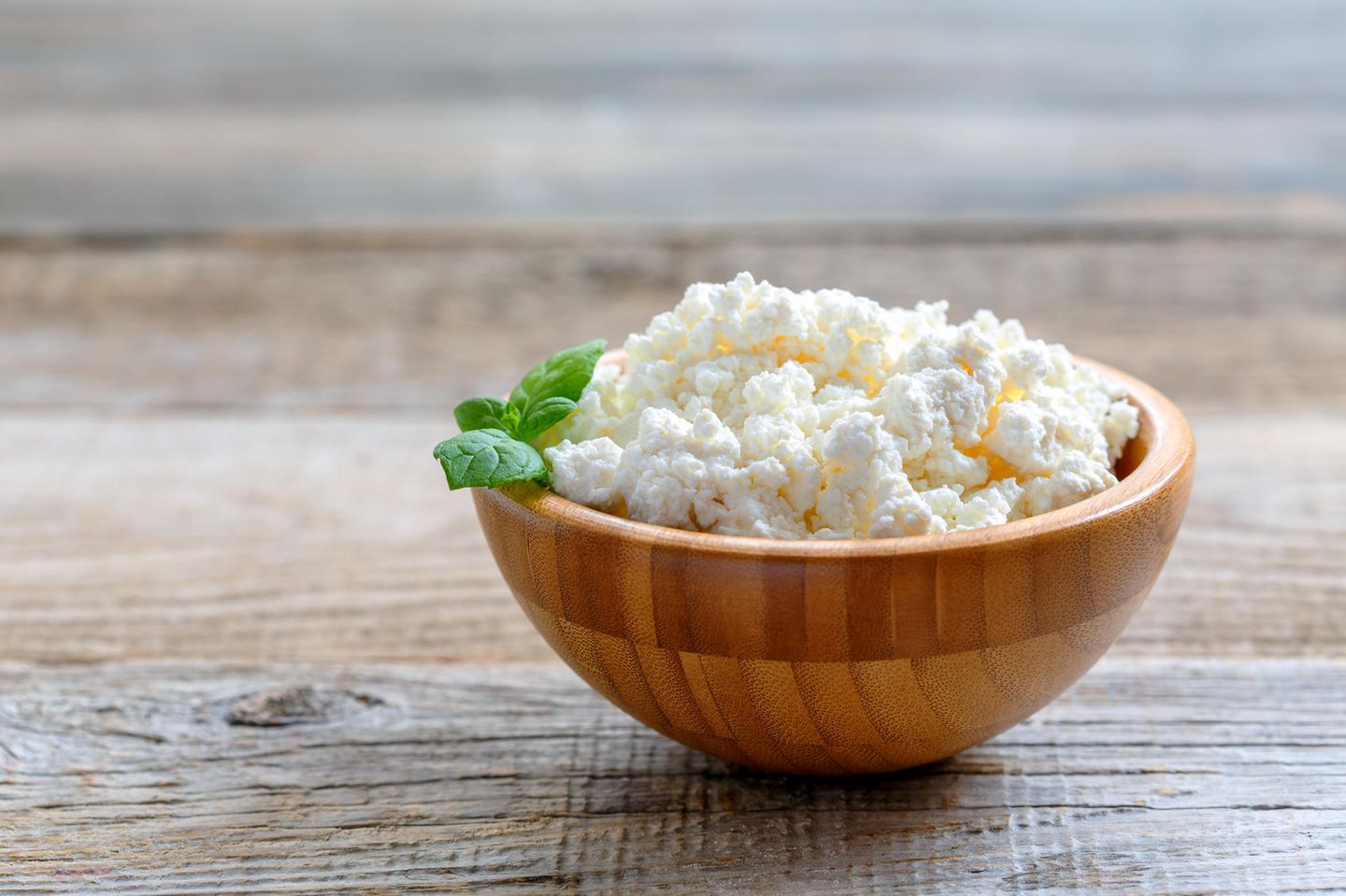 Cottage cheese is a tip for many, while others avoid or overlook it. We will show you that cottage cheese has many nutritional benefits.
What really is cottage cheese?

Cottage cheese has many names: Grainy cream cheese, cottage cheese, or crumbly quark. But the content is identical. Cream cheese is made from skim milk that is heated to 85 degrees and thickened with lactic acid bacteria and an enzyme blend. This procedure creates a grainy mixture that is made into cottage cheese. A little cream and salt refine the flavor of the cheese.
But why do we also call grainy cream cheese cottage cheese? That's because the The English used to do it in cottages in rural areas. and received the name "Cottage".
Cottage cheese: unbeatable nutritional values

Cottage cheese is low in fat, low in carbohydrates, and surprisingly low in calories. For every 100 grams there are 11 grams of protein and a total of 102 calories. This makes cottage cheese perfect in a healthy diet and can also be eaten quickly as a snack.
Calories: 102 kcal
Protein: 11.1 grams
Carbohydrates: 3.3 grams
Fat: 4.3 grams
This is how cottage cheese helps you lose weight

There are many good reasons to incorporating cottage cheese into your diet if you want to lose weight:
Protein: Cottage cheese is a perfect food for a high-protein diet. Protein is important for breaking down fat and building muscle because most of it is made up of protein. Even if your goal isn't to build more muscle, protein will help you burn fat.
Calories: Since cottage cheese only contains about 100 calories per 100 grams, you can eat your fill without upsetting your daily balance.
Calcium: Grainy cream cheese contains 100 mg of calcium per 100 grams. This vital substance is not only important for our bones and teeth, but also for metabolism. Anyone taking 1000mg a day also speeds up metabolism and thus increases fat burning. Milk and yogurt are also good sources of calcium.
All the benefits of cottage cheese at a glance

low calories
Almost no fat and carbohydrates.
Power fat burning
easy to digest
Calcium strengthens bones and teeth.
Magnesium is good for the nerves.
Recipes with cottage cheese: This is how it tastes better

Grainy cream cheese has a flavor that many will have to get used to at first. This is because it tastes quite sour due to being made with milk. There are definitely differences: Variants with more fat have a stronger aroma, so that the cream cheese is almost creamy. However, with low-fat products, you have the advantage, in addition to the calories saved, that you can change the flavor from fairly neutral to something sweet or salty. This is how cottage cheese tastes best:
in bread: If you want to go fast, cottage cheese is a great snack for bread. You can conjure up delicious flavor variations with salt and pepper, herbs like spring onions or cucumbers, and tomatoes. You can also flavor the snack with mozzarella or balsamic vinegar.
As a dessert: You can also eat cottage cheese as a sweet variant. It tastes great with cinnamon alone. You can also use maple syrup or fruit puree as a delicious flavor enhancer.
On the pizza: Yes, grainy cream cheese also makes a great pizza topping. It is best to prepare a base of whole grains and then top it with vegetables and cottage cheese.
You can find more great recipes for a balanced diet here. How about a cream cheese omelette or cottage cheese and ham toast?
Sources
Marquardt, M.: Nutritional Physiology of Foods, Lehmanns Media, 2014
Cottage cheese, food comparison, last accessed June 10, 2022
brigid