Why is fasting so important to Muslims?
Fasting in Ramadan is obligatory for Muslims. He who fasts takes care of the welfare of his soul. This brings with it a pleasant inner peace. So there are several reasons why many do not want to do without fasting.
Who would you advise against fasting anyway?
Type 1 diabetics can only fast, if they fast, if their blood sugar is closely monitored, though I wouldn't recommend it. And among type 2 diabetics, there are some groups who definitely shouldn't fast: pregnant women, for example. If a pregnant woman with insulin-dependent diabetes develops severe hypoglycemia, she too can endanger the life of the fetus. I also advise against fasting for people who have diabetes that is difficult to control or who do not experience hypoglycemia.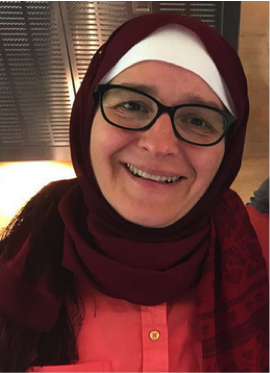 Does fasting with diabetes really have a positive effect on health?
Overweight type 2 diabetics in particular may benefit. During Ramadan, people eat less than usual and one or the other loses weight. Insulin works better. This relaxes the metabolic situation. Fasting has also been shown to activate autophagy, a type of recycling process in cells.
Do you lose weight in Ramadan? Breaking the fast every night is usually luxurious…
That depends on the circumstances. Here in Germany, everyday life goes on: we have to go to work, the children to school. This year Ramadan falls in April. So it's been light a little longer, the break of the fast is a little later. Food should therefore be light: soups, vegetable dishes, legumes and raw vegetable salads are cheap. Carbohydrates such as bread, rice or bulgur only in small amounts. Such a diet puts less pressure on your blood sugar, but fills you up well, so you eat less and are more likely to lose weight, and sleep better, too.
With other forms of fasting, the motto is always: drink a lot!
Those who fast in Ramadan do not eat or drink anything during the day. However, a balance is possible by breaking the fast after sunset: with a diet rich in liquids with stews, soups, dips, low-calorie drinks and unsweetened teas. But if you have problems during the day, for example with blood sugar, you have to drink and break your fast.
Unknown meal times have an effect on blood sugar. What does that mean to measure?
Measurement is very important, even if you don't eat or drink anything. Especially with symptoms of low blood sugar such as cravings, shaking, sweating. When the blood sugar level is about to drop too low, the fast should be broken. At what values ​​this is exactly the case, you need to clarify with the doctor beforehand.
Do you need to adjust your medication or insulin now?
Therapy often has to be readjusted for the fasting period. This is done by your treating doctor or diabetes team.
Most doctors in Germany are not Muslim. How well does communication work on the subject of Ramadan and fasting?
In my experience, every doctor does what is best for his patients and is happy when they seek a good solution together with him, as long as fasting is feasible from a health point of view.
How far in advance should you talk to your doctor?
A quarter of a year earlier is best: Changing diabetes therapy for Ramadan is more complex than simply managing blood sugar levels.
What other precautions can you take?
Tell the people you see every day that you have diabetes and that you are fasting so they will know in case of an emergency. Family members can accompany you to the doctor visit. Also, an emergency card or diabetes pass is helpful in case of severe hypoglycemia. And to go: pack readily available carbohydrates, like juice or glucose.
His main advice for people with diabetes in Ramadan?
Follow the instructions of your doctor. Then you have a good chance to master fasting. If your body tells you that fasting is not for you, don't do it. In the Qur'an, some groups are exempt from fasting and instead can feed, i.e. donate food, to a person in need every day that they are not fasting. This applies to women who are menstruating, pregnant, or nursing, to the elderly, frail, and sick, and to anyone who does not feel able to fast, such as people with a chronic illness such as diabetes. According to the Qur'an, our body is an asset that has been entrusted to us and should not be harmed.
.