Eating like a cover model: That doesn't just mean healthy, but above all delicious. The best thing about this: you can actually draw from the whole. Because there are tons of fresh and healthy foods that make you and your body fit and strong. And these are exactly the adjustment screws that, in relation to your training, take you from a good shape to the best shape!
Losing weight is not the focus of our recipes, they are aimed at all people who already have an ideal weight and are well trained. It's all about the finishing touches, the last mini layer of fat that should coat and melt away your well-trained muscles. With these tips and delicious recipes you will reach your goal very quickly.
What do fitness models eat? 4 recipes
You can probably imagine that burgers and fries aren't the main focus here. But it's not all about salad and crusty bread, either. Our recipes are balanced and delicious, while perfectly filling you up and giving you energy for upcoming workouts. Of course, they contain all the necessary nutrients that a hedge model needs. But check it out for yourself:
Beetroot and apple bowl with radicchio and rice
The typical slightly bitter taste of chicory not only provides a great aroma to the delicious beetroot apple bowl, but also has a digestive effect. The bitter substance contained intybin promotes the activity of the liver, bile, pancreas and intestines. Chicory also contains the soluble fiber inulin, which can regulate blood sugar levels and lower blood cholesterol levels. Tip: The bitter substances in cabbage are healthy, but not everyone likes them. Remove the stem, there are many there.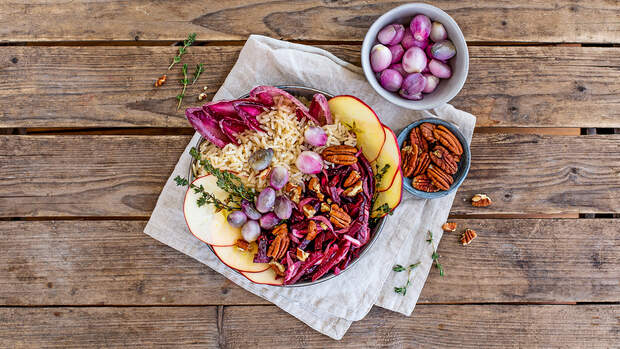 Ingredients for 4 servings: 250 g of brown rice, a little salt, 2 tablespoons of rapeseed oil, 150 g of small shallots, 2 sprigs of thyme, 1 tablespoon of agave syrup, a little pepper, 2 small apples, ½ lemon, 4 beets (vacuum-packed and precooked), 250 g radicchio, 1 tablespoon red wine vinegar, 40 g pecans
Preparation (40 minutes)
For the rice, bring 500 ml of water to a boil with a little less than ½ teaspoon of salt. Add the brown rice and stir once. Simmer in the covered pot for 8-10 minutes until the rice has absorbed the water. Briefly drop the rice into the pot and let it sit in the closed pot on the stove off for a few minutes.
Meanwhile, heat 1 tablespoon of oil in a skillet. Peel the shallots and fry them on all sides over low heat for 8-10 minutes. Wash the thyme, shake it off and add it to the shallots with the agave syrup. Let caramelize for 3-4 minutes. Spice with salt and pepper.
Meanwhile, wash the apples, dry them, cut them into thin slices and sprinkle them with lemon juice. Cut the beet first, then cut it into thin sticks. wash and trim the chicory; Cut the outer large leaves into strips.
Mix the remaining oil with the red wine vinegar and season with salt and pepper. Mix the beet and radicchio strips with the oil and vinegar mixture. 5. Arrange the rice, beets, apple slices and radicchio leaves in 4 bowls. Divide the caramelized shallots between the shells and serve sprinkled with walnuts.
Nutritional values ​​per serving: 446 calories, 9g protein, 70g carbohydrates, 14g fat
Fettucce with lentil bolognese
The fiber and protein in wholemeal pasta and lentils prevent attacks of ravenous hunger with a good satiety effect and activate the metabolism. Walnuts also provide vitamin E, which protects cells from free radicals. The vegetarian version provides high quality vegetable protein and a lot of fiber thanks to the combination of wholemeal pasta and lentils.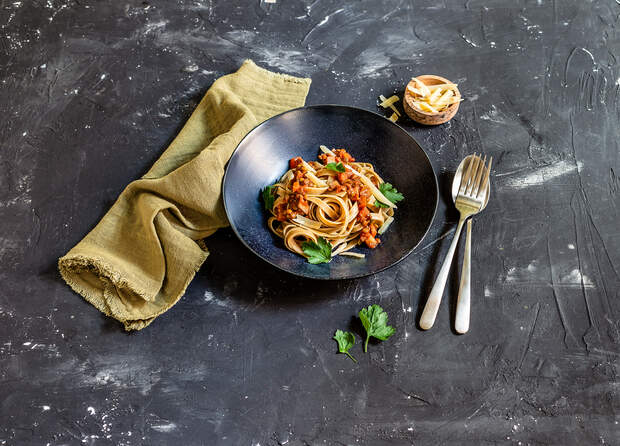 Ingredients for 4 servings: 1 onion, 1 clove of garlic, 2 carrots, 200 g of celeriac, 3–4 tomatoes, ½ bunch of parsley, 50 g of walnuts, 2 tablespoons of olive oil, 150 g of Pardina or Puy lentils, 50 ml of red wine (or red grape juice), 1 bay leaf, 50 ml milk (1.5% fat), 500 g tomato passata, a little salt, pepper, 500 g wholemeal fettuccine, 40 g Montello (30% fat matter in dry extract)
Preparation (50 minutes)
For the sauce, peel and chop the onion and garlic. Clean, peel, wash and finely chop the carrots and celery. Wash the tomatoes, cut the stems and cut the tomatoes into cubes. Wash the parsley, shake it dry and chop it. Chop the walnut kernels into large pieces.
Heat the olive oil in a pot. Sauté the onion and garlic in it for 2 minutes over medium heat. Rinse the lentils in a colander and let them drain.
Then add the vegetables, nuts and lentils and sauté for 4 minutes. Deglaze with the wine and add the diced tomatoes, half the parsley and the bay leaf and cook over low heat for 3 minutes. Add the milk, the tomato passata and about 150 ml of water and simmer for 30 minutes, stirring regularly. Spice with salt and pepper. Remove the bay leaf from the sauce.
Meanwhile, cook the pasta in plenty of boiling salted water according to package directions. Grate the cheese. Then we drain the pasta (reserving 2-3 tablespoons of the cooking water), drain and mix with the reserved cooking water. Arrange the fettuccine with lentil bolognese on 4 plates and serve garnished with Montello and the remaining parsley.
Nutritional values ​​per serving: 842 calories, 39g protein, 119g carbohydrates, 21g fat
Chicken and rice stir fry with broccoli and corn
This recipe prepares in no time. Chicken can also be replaced with a plant-based meat alternative. Thanks to its high content of vitamin C, broccoli not only works well against colds, but also increases performance thanks to its quercetin. Green vegetables also contain many vitamins such as vitamin E, K and B complexes, as well as minerals such as magnesium, iron, zinc, calcium and potassium.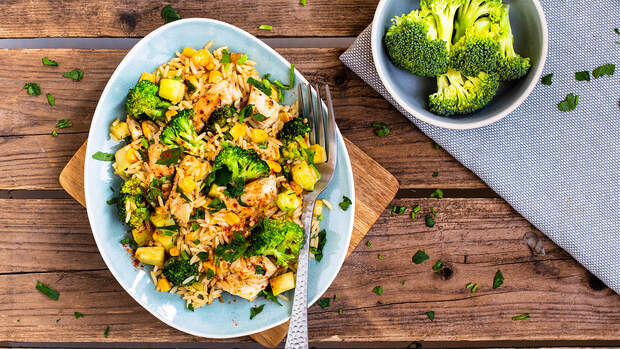 Ingredients for 4 servings: 1 small onion, 500 g broccoli, 200 g corn kernels (can; drained weight), 300 g chicken breast fillet, 2 tablespoons rapeseed oil, 500 g precooked parboiled rice, 2-3 tablespoons lemon juice, a little salt, pepper, a little sweet paprika, ½ bunch of parsley.
Preparation (25 minutes)
Peel and chop the onion. Clean and wash the broccoli and divide it into small florets. Peel and finely chop the broccoli stem. Rinse and drain the corn kernels in a colander. Rinse the chicken breast fillet, pat dry and cut into small cubes.
Heat the rapeseed oil in a frying pan, fry the chicken cubes over medium heat for 5-6 minutes on all sides. Remove from pan and reserve. Then add the onion and sauté in the hot fat for 3 minutes. Add broccoli and sauté another 5 minutes.
Fluff rice by gently squeezing packets, open packets and add rice, chicken cubes and corn to broccoli, add 4 tablespoons water and lemon juice and sauté over medium-high heat for 2-3 minutes.
Season the rice pan with salt, pepper, and paprika powder. Wash the parsley, shake it dry and chop it. Arrange the rice casserole on plates and serve sprinkled with parsley.
Nutritional values ​​per serving: 352 calories, 27g protein, 45g carbohydrates, 7g fat
Fusilli with shrimp, spinach and cream cheese
Leaf spinach is a superior cell protector and immune booster thanks to the vitamins C and E and the beta-carotene it contains. The green vegetable also offers zinc, which is involved in the regulation of many metabolic processes and plays an important role in wound healing, for example. Shrimp provide a good amount of protein and therefore food for the muscles.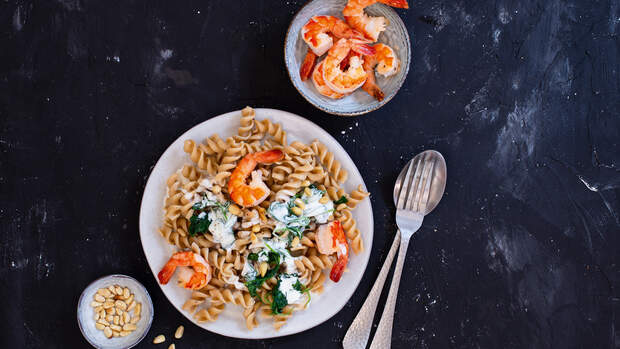 Ingredients for 4 servings: 500 g of wholemeal fusilli, salt, 1 clove of garlic, 400 g of spinach leaves, 300 g of prawns (ready to cook, peeled and deveined), 2 tablespoons of extra virgin olive oil, pepper, 150 g of cream cheese , 100 g of whipped cream, 100 ml of vegetable broth, zest of ½ organic lemon, 2 tablespoons of pine nuts (30 g)
Preparation (15 minutes)
Cook the pasta according to package instructions in plenty of boiling salted water. Then drain and drain.
Meanwhile, peel and mince the garlic. Clean the spinach, cut the stems, wash and shake to dry. Rinse shrimp and pat dry.
Heat the olive oil in a frying pan, sauté the garlic and shrimp over medium heat for 4 minutes. Season shrimp with salt and pepper and remove from skillet. Add the spinach to the skillet and sauté over medium-high heat for 5 minutes, letting it wilt.
Add the cream cheese, heavy cream, vegetable broth, and shrimp and cook, stirring, for about 3 minutes. Season the sauce with salt, pepper and lemon zest. Toast the pine nuts in a hot skillet without fat over medium heat for 3 minutes. Divide the pasta between plates and serve with the sauce, shrimp and pine nuts.
Nutritional values ​​per serving: 732 calories, 39g protein, 92g carbohydrates, 22g fat
Discover more recipes to stay fit
All delicious fit recipes in this article come from our cover model contest partner REISKONTOR.DE. If you are looking for even more inspiration, you can find many more free recipes at www.reiskontor.de. There you can also order the rice-fit or Oryza rice you need right away and, by the way, you can also order the pasta you need under the Garofalo brand. Enjoy your food!
This article may contain links to vendors from whom Women's Health receives a commission. These links are marked with the following icon:
.