In reality, it was a European crisis that broke out in February 2022. However, the invasion of Russian troops in Ukraine set in motion an event that Africa is also experiencing: the supply of grain and other agricultural products suddenly deteriorated, leaving It is clear how dependent large parts of the continent still are on imports.
"The conflict in Ukraine, but also the coronavirus pandemic, have shown that our food systems are not working for the poorest," says Sara Mbago-Bhunu of the United Nations' International Fund for Agricultural Development (IFAD).
The financial burden on individual households has already increased significantly as a result of the coronavirus pandemic, the Tanzanian economist tells DW. 60-70 percent of income is now spent on food. The result: "Households of five or six people have to weigh what they can afford and are likely to turn to less nutritious products that are cheaper." An urgent rethink is needed, and there are many approaches, experts stress, from the farmer to the dining table.
The "barns" of Africa
Many African countries have the potential to become food exporters, says Mbago-Bhunu. These include Zambia, Malawi and the Democratic Republic of the Congo. This means that they could produce more than is necessary for their own market simply because of the large proportion of arable land. However, the popular image of the "bread basket" does not quite apply, because conditions on the continent are not ideal for wheat and other types of grains common in bread production.
But cereals such as millet and sorghum or a wide variety of fruits and vegetables are already grown in abundance. In other areas, ranching could offer opportunities to produce meat and dairy products on a large scale.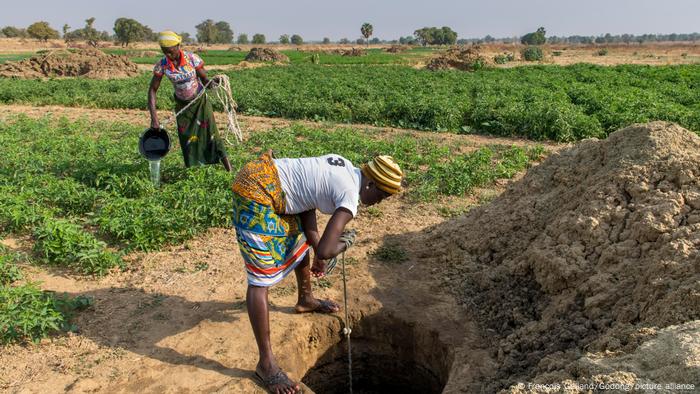 Watering by hand requires labor, like here in Togo.
But some obstacles had to be overcome. This includes the fact that widely used farming methods such as slash and burn have depleted the soil. Add to this the creeping devastation: water reservoirs in southern Africa in particular urgently need to be protected to make agriculture possible, says the economist. In addition, opportunities to improve performance by area should be taken advantage of. The technical possibilities for this are multiple. Experts say local investment and knowledge transfer is needed, starting with drip irrigation and the use of fertilizers.
Free trade for regional consumption
When harvest time comes, the following challenges come: the workers have to come here. This is not always an easy task. Because young people in particular are increasingly attracted to cities in search of work. Next, the merchandise has to reach the customer. Kamassah Felix Mawuli is the director of an agricultural company in Ghana. His range of products extends from root vegetables popular in the region, such as sweet potatoes, yams or cassava, to tomatoes and peppers, and herbs such as basil and mint. His clients are in Europe.
Many products end up in Europe and not in other regions of Africa
Because the trafficking routes in Africa are usually bad. "If I travel from Ghana to Sudan, it takes me 13-14 hours," Kamassah, who also runs the Ghana Exporters Association, tells DW. "If I want to go to Europe, I'll be there in six hours." He would also like to supply the region, says the businessman. "It may come as a surprise, but exporting to neighboring countries is sometimes more expensive than exporting to Europe."
It is also traders like Kamasah who have campaigned for the African free trade agreement that was agreed a few years ago. So far it has had little effect. And it's not just the tariffs: a massive expansion of infrastructure would be necessary for products not to spoil en route to regional markets. Here, Kamasah hopes for investment and more support from the African Union and its member countries.
Farmers and merchants, network!
Much is still needed to make Africa's food production competitive, agrees Francisco Marí, a global nutrition expert at the German development organization Bread for the World. The resilience of small farmers in particular needs to be strengthened. Because many factors, such as climate fluctuations and extreme weather events, make it risky to rely on large-scale cultivation. And something else worries Marí: "We would be happy if the world allowed Africa to feed itself, that the great diversity of food production could be taken advantage of and that local markets could be supplied by African producers," he says in DW Interview.
Instead, competition from often subsidized European products is fierce and has driven African markets into dependency for decades. For example, the focus on imported wheat instead of locally grown grains.
Also important, according to Marí, are better energy supplies and access to innovative technologies with which African farmers can network with traders and gain access to food auctions.
Where governments intervene, success is sometimes quickly visible, as in Kenya, as IFAD expert Sara Mbago-Bhunu reports. High import tariffs on powdered milk would have made domestic milk production competitive in a short time.
.