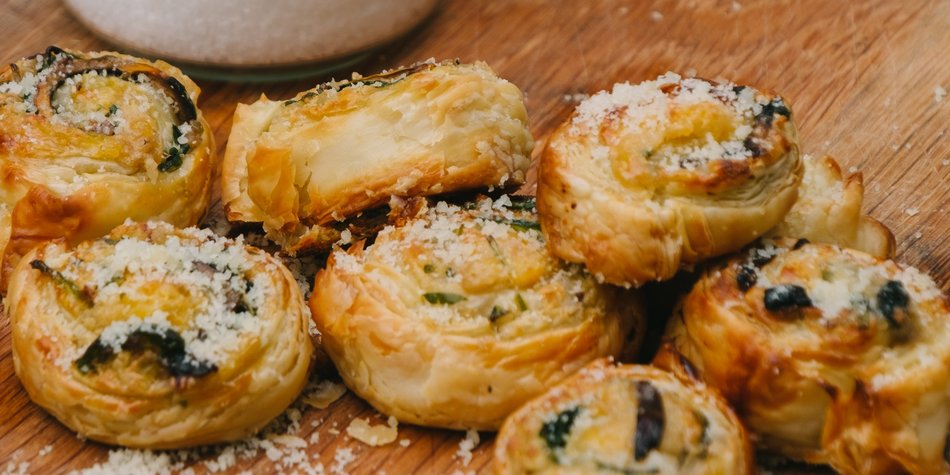 Vegetarian diet
Fromlena baseckeon 02.05.2022 | 3:30 pm
Whether sweet or savory – puff pastry is used for a wide variety of baked goods. But is puff pastry also suitable for a vegan diet? We tell you!
In short: what is puff pastry?
Puff pastry is a food that actually consists of many layers of thin sheets of dough that are separated from each other by what is known as "fat." The process of this layering is called "turning". Traditionally, the flour butter and water are the main ingredients, but also Milk sometimes it is included. The dough can then be filled to your heart's content: from chocolate spread like Nutella to cinnamon and sugar for savory fillings, anything is possible.
We show you 5 quick vegetarian and vegan recipes in our Video:
Is puff pastry vegan? Are there vegan alternatives?
The classic puff pastry is non vegan, as it contains butter and sometimes milk. Especially the baked goods you get at the bakery usually contain animal products. However, there is also vegan puff pastryin which instead of butter margarine is used and the milk simply does not appear. When buying ready-made dough in the supermarket, it is worth taking a look at the list of ingredients. In the bakery there are also ingredient lists for the individual baked goods, which are delivered upon request. Do you prefer to make the puff pastry yourself? Then simply replace the butter with margarine in the recipe and you can integrate it into your vegan diet. Keep in mind, however, that this is a very fatty food either way, so you should use puff pastry as part of a healthy diet (for example, during pregnancy) only moderately consume.
conclusion
Puff pastry is not always vegan, so if in doubt, you should take a look at the ingredients list or ask the baker. If you make the puff pastry yourself, you can simply use margarine instead of butter and you have a vegan puff pastry. Are you interested in a vegan lifestyle? Then check out our article on maple syrup. Here we tell you if it is a vegan alternative to honey or if animal products are also used in its preparation.
Image Credit: unsplash/LeCoquin Foods
Well, did you like "Is Puff Pastry Vegan? What Should You Consider With These Baked Goods?" Did it help you, make you laugh or cry? Then give us a like or share the article with other nice people. We really appreciate your feedback, and even more so if you follow us on Pinterest, Facebook, Instagram, Flipboard, and Google News.