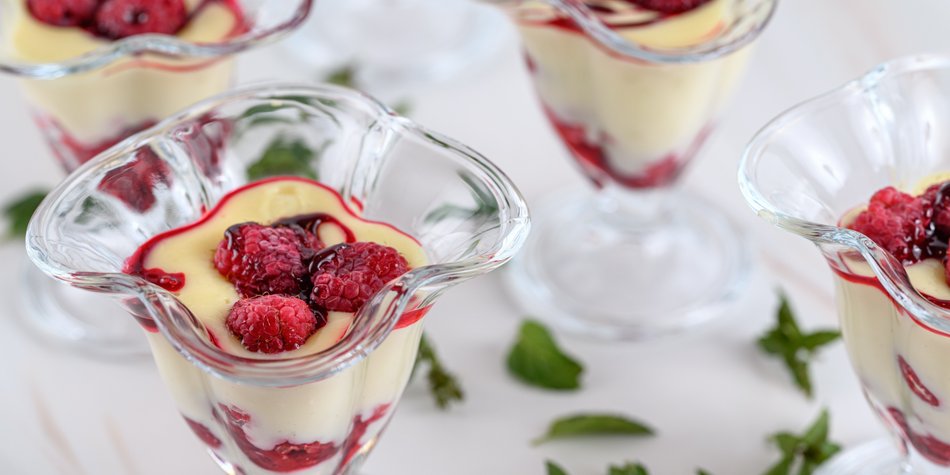 dessert
Fromisabel tranon 05/16/2022 | 15:29
With the finished powder, the vanilla pudding is made very quickly. Here we will explain to you whether pudding powder is also suitable for a vegan diet.
Is the custard powder vegan?
In some situations, the pudding is a balm for the soul and with the ready powder from the supermarket the delicious dessert is prepared in no time. However, as a vegan, you are already used to taking a close look at the ingredient list on finished products. The good news for all vegan eaters: in the most pudding mixes to hide no animal ingredientseither vanilla or chocolate pudding. According to most ingredient lists, the powder is made up of starch and table salt, flavorings and colors, quinoline yellow, orange yellow S, or carotene. The latter ensure the bright color of the vanilla pudding. Chocolate pudding has cocoa powder instead. Contrary to popular belief, animal gelatin is not used in production and milk is not a necessary ingredient.
Can I make powdered pudding with vegan alternatives to milk?
You don't necessarily need animal milk to make creamy custard from custard powder. Actually, all of the plant-based milk alternatives work. The most appropriate soy and almond milk. With oat milk, depending on the product, there is a risk that the pudding may not set at the end. This is sometimes due to the enzymes in the oat milk, which can destroy the starch in the pudding powder.
Do I really need the pudding powder or can I make pudding myself?
Most pudding mixes are suitable for a vegan diet in combination with plant-based milk alternatives. However, you can also do without powder and dessert altogether. completely without finished products produce. So you can be absolutely sure of what you eat. The basic vegan vanilla pudding recipe consists of a non-dairy milk of your choice, cornstarch, a vanilla bean, and sweeteners such as sugar or an equivalent. You can use turmeric as a natural coloring agent.
conclusion
With powdered pudding from the bag, as a vegan you don't have to worry about the final product not being vegan for most products. To be sure, you should always read the ingredient list, unless the manufacturer states that the pudding mix is ​​clearly vegan. If you don't know them yet: We tell you 200 supermarket products that you probably didn't know are vegan.
Image Credit: Unsplash/Jana Ohajdova
Well, did you like "Is pudding powder vegan? These ingredients are in vanilla pudding", did it help you, did it make you laugh or cry? Then give us a like or share the article with other nice people. We really appreciate your feedback, and even more so if you follow us on Pinterest, Facebook, Instagram, Flipboard, and Google News.