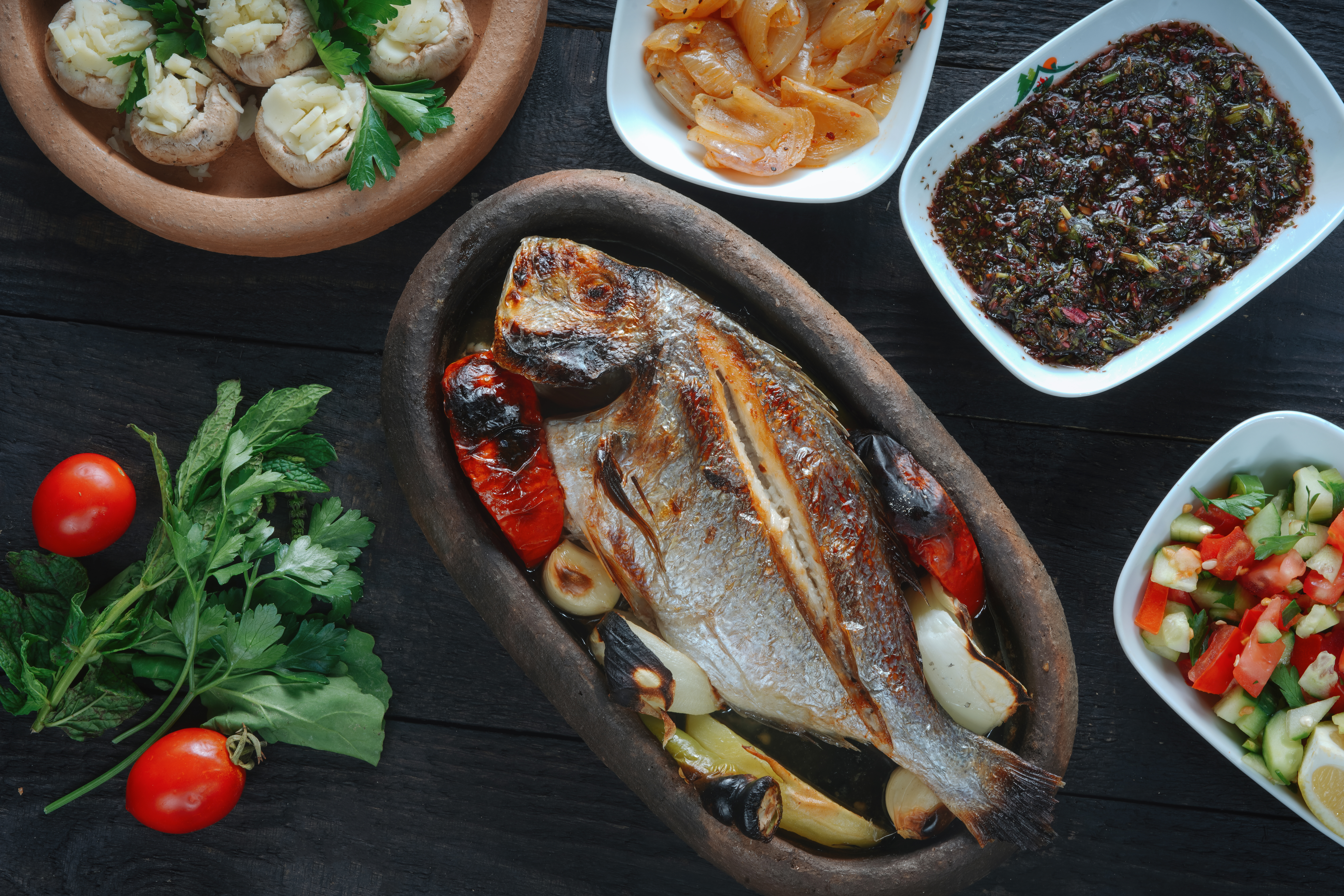 A Mediterranean diet may be better for heart health than a low-fat diet, according to a study.
According to the researchers, people who eat a Mediterranean diet also have a significantly lower risk of heart attacks and strokes.
One reason for this could be that foods like olive oil, nuts, and fish are high in healthy unsaturated fats.
A Mediterranean diet may be even better for your heart than previously thought. That's according to new research.
A Mediterranean diet was more effective than a low-fat diet in preventing heart attacks and strokes in people with heart disease, according to a study published in the medical journal The Lancet.
Researchers from the University of Córdoba and the Reina Sofía University Hospital in Spain studied some 1,000 Spanish patients with coronary artery disease over a seven-year period. Half of the participants were randomly assigned to a low-fat diet. The other half was sticking to a Mediterranean-style eating plan rich in vegetables, olive oil, whole grains, nuts, and fish, and even included small amounts of wine.
The researchers found that those who ate a Mediterranean diet were 26 percent less likely to have major cardiovascular problems, such as a heart attack or stroke, over the course of the study than those who ate a low-fat diet. The so-called Mediterranean diet was particularly effective in men, whose risk was even 33 percent lower, according to the data evaluated.
However, the low-fat diet also has advantages. Within the group of participants who ate a low-fat diet, there were significantly fewer deaths and adverse events overall than the researchers expected. Similar studies without a specific diet plan had previously shown more than double the deaths.
Rich in healthy fats
According to the study results, both groups ate more fiber and less processed food than before the study began. This may have contributed to the lower mortality rate.
If you consume enough fiber, you will strengthen your digestion and at the same time reduce the risk of chronic diseases. Processed foods, on the other hand, have historically been linked to a variety of negative health outcomes, including an increased risk of cancer and heart disease.
The participants who ate a low-fat diet consumed far more carbohydrates than the second test group, a total of about 45 percent of their daily caloric needs. At the same time, they ate about 12 percent less fat, including unsaturated fatty acids.
Hardly any other diet is as rich in unsaturated fatty acids, that is, the healthy form of fat, as the Mediterranean diet. Unsaturated fats are found in olive oil, nuts and fatty fish, among others.
They can help increase the amount of "good" cholesterol and protect you from heart attacks and strokes, according to the Mayo Clinic, a US nonprofit organization. In addition, previous research has shown that a high intake of unsaturated fats can have a positive impact on overall heart health.
The Mediterranean diet also allowed for small amounts of wine (up to one glass a day for women and two for men), which was not allowed on the low-fat diet. Some studies suggest that drinking wine in moderation may have health benefits, such as better levels of good cholesterol.
Another benefit of the Mediterranean diet is that it seems to get easier to follow over time. Only 46 study participants discontinued the Mediterranean diet. In contrast, of the test group that ate a low-fat diet, almost twice as many people abandoned their diet plan before the end of the study. According to the researchers, the more consistently a diet was followed, the lower the risk of heart disease in the end.
The results of previous studies had already indicated that the Mediterranean diet could represent one of the most sustainable and healthy diets. In addition to the benefits already mentioned, a Mediterranean diet can also reduce the risk of diabetes, reduce inflammation and improve cognitive health.
This text has been translated from English. You can find the original here.