GbR event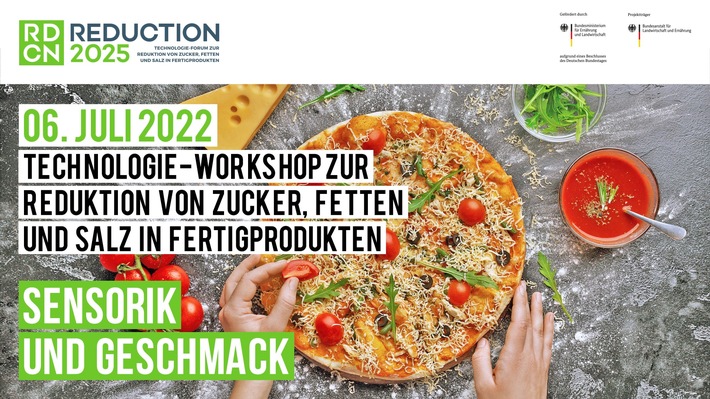 Munich (ots)
What is crucial for the development of new products so that they finally arrive in the shopping cart?
The third workshop on Reduction2025, the networking and transfer project in relation to the "NRI – National Reduction and Innovation Strategy for Less Sugar, Fat and Salt in Finished Products" of the Federal Ministry of Food and Agriculture, focuses on the sensory technology and taste. In this workshop, participants will discuss how consumers make purchasing decisions and what properties reformulated products must have for a successful market launch.
At the beginning of the third workshop of Reduction2025, the isi (Sensor Research and Innovation Institute) will start directly with the central topic, what properties does a successfully reformulated product need in order for the "Customer King" to finally buy it. isi is an internationally recognized provider of sensory marketing services. It examines products in terms of their sensory properties—that is, appearance, taste, smell, texture, and feel—and then makes recommendations about what adjustments are necessary for a successful product launch. On the day of the workshop, take the opportunity to learn about the world of sensors for yourself.
The food industry has been working for years to reduce sugar, fat and salt in finished products. Hydrosol develops and produces tailor-made texturing and stabilizing systems for foods and has already successfully developed products that take reformulation requirements into account. In cooperation with two sister companies, a number of new dairy and delicatessen concepts for children were developed in which sugar and fat were reduced. The decisive factor in the development is that the original flavor was preserved as well as possible and at the same time a need-based addition of vitamins and minerals could be included with respect to a needs-covering diet.
The topic of children's restoration also includes the project's research topic "Start Low".
This is a joint project of the Albstadt-Sigmaringen University, the German Nutrition Society (DGE) and the company Pro Care Management GmbH (PCM). The project addresses the question of how salt and sugar can be reduced in daycare catering and how the use of fats can be optimised. In addition to technology, the focus is on sensory feasibility, determined through acceptance and behavior analysis. In addition, the situation of consumption in nurseries and other measures to support the acceptance of food, such as the push, are considered.
We cordially invite you to the first Reduction2025 live workshop in Munich on Wednesday, July 6, 2022. Take the opportunity to exchange ideas and discuss the future development of new products in the network.
Press contact:
GbR event
Gerfried Steinkamp
[email protected]
Original content from: Evenion GbR, broadcast by news aktuell
.