tom pidcock

He is not only the reigning Cyclocross World Champion, but also the Tokyo XCO Olympic Champion and triumphant in the "Baby-Giro", a shortened version of the legendary Giro d'Italia. In short: it is an absolute polyvalent phenomenon that wants to be the fastest on any traversable surface.
But what else do you need besides intensive training to be able to achieve such outstanding performances? Let's take a look at the Pidcock diet together…

What do you eat on a typical training day?
My breakfast is always the same: I eat 105-120g of oatmeal and then an omelette with half an avocado and smoked salmon. Lunch is pasta or rice with some protein and vegetables, and at night too. Carbs, protein and lots of vegetables – it's that simple!
As a snack in between, I've actually always eaten rice cakes for the past few years. They are great because they are low in calories and you can eat a lot of them. On the bike I mainly eat bars, bananas and sometimes Oreo bars or something like that. In fact, I always try to eat something every 20 to 60 minutes, depending on the training session. I usually keep gels in training, they are only available in races.

What is the most important thing for you in your diet?
First of all, it's about balance. When I exercise I eat a lot and eat well, then on rest days I eat less and try not to eat too much. I don't currently work with a nutritionist, but I used to have one. The most important thing is: high carbs on training, low carbs on rest days.
Many make the mistake of eating less to lose weight. I tend to try to eat a lot when I'm training and then slow down on my off days.
Many make the mistake of eating less to lose weight. I tend to try to eat a lot when I'm training and then slow down on my off days. Now that I'm getting a little older, I have to be more careful about what I eat. Before I could eat anything, now it's different.
Do you remember a sporting moment when you realized that you were not getting enough energy?
The Otley Reliability Ride was probably the worst. It was in winter, almost 100 km of travel, I was about 15 or 16 years old and about 15 km from the finish line I was completely exhausted. Today that doesn't happen to me anymore, you're hungry, but you can still go on. But then I couldn't drive a subway anymore. A nice guy gave me a bar and helped me out.
What about sweet temptations? Do you need certain snacks to get you through tough training blocks?
I'm not really a sweet tooth and would say I eat very healthy anyway. I don't drink alcohol and I like to eat healthy, so I don't have to change or change much when it comes to training. But yes, I don't skimp on desserts out of season.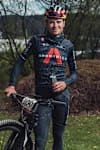 Let's talk about your pre-race routine to what you eat in the race depending on your discipline.
Breakfast before a cyclocross race and three hours before the start of the race there are pancakes with berries and maple syrup. It tastes good and gives you energy.
Right before I start, I drink another

red bull can

— not the whole can at once, but sips for a light caffeine kick.
At the beginning of a race as a solid food, towards the end as a gel.
In MTB, I also eat three hours before the start and drink Red Bull while I prepare. Then I drink the Red Bull after a gel at the starting line. On the way I have a bottle with me for lap but not much in it. The liquid is a mixture of energy. Halfway through the race I take another gel.
In a road race I try to drink one bottle per lap, about 500ml, but probably a little more when it's hot and a little less when it rains. I also eat a snack every 20 minutes. At the beginning of a race as a solid food, towards the end as a gel.
What do you need for regeneration?
I have a protein shake right after training and races and then try to get a meal in my stomach as quickly as possible.
In a stage race you always have to think about the next few days. Eating reasonably well on the bike, drinking a shake right after, and eating a nutritious meal is usually all you can do.
What is your absolute favorite food?
Fish and French fries! Very good fish and chips. when it lasts [nach einem Rennen] When I came home after months, I only ate the absolute classics for a while: fish and chips, curries, pizza, burgers. But that's just out of season!
What would you cook for us if we came for a fancy dinner?
At some point I came up with a really delicious dinner on the table: chicken in bacon, peas, leeks and more bacon, with potatoes au gratin. But I've only done it once and I don't usually cook like that. Typically, carbs go in one pan, protein in another, and veggies in a third; I end up putting everything on a plate.