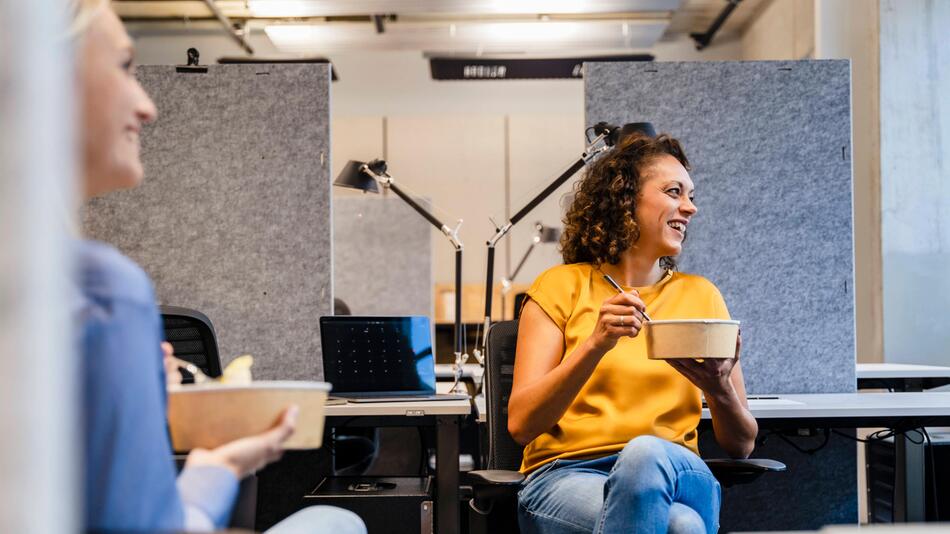 © 1&1 Mail & Media/news spot
Updated on 05/27/2022 at 16:27
Many employees turn to unhealthy snacks in between.
The food in German canteens is usually hearty and high in calories.
So you can still eat healthy at the office.
The obligation to work from home introduced by Corona ended in March. For many employees, this meant: going back to the office. But in the workplace, snacks and other temptations are often tempting. Exercise is also often in short supply for office workers. Our tips will tell you how you can continue to eat healthy at the office and exercise more.
1. Start the morning earlier
It is scientifically proven that getting up early has a positive effect on the body and mind. Morning rest reduces stress and lowers blood pressure. The risk of migraines is also reduced. At the same time, the oxygen content of the brain increases. A balanced mind, in turn, helps you avoid emotional eating caused by stress. So set your alarm 20-30 minutes earlier than usual and establish a morning routine. Ideally, this should include a short break from sports, because morning exercise not only activates circulation, but also burns calories.
2. Eat breakfast after morning exercise
An extensive breakfast ritual can also help you reduce your stress level. However, breakfast in the morning should only be eaten after a training session. A study published in the scientific journal "The Journal of Nutrition" examined the energy balance of twelve young, athletic men in different situations. There's hardly any difference: If the test subjects only ate their food after a cardio unit, they then had an excessive appetite and initially made up for the energy deficit. Interestingly, however, cravings decreased throughout the day, leaving the participants with a caloric deficit of around 400 calories at the end of the day.
3. Take the stairs instead of the elevator
Climbing stairs has a positive effect on our cardiovascular system. Climbing stairs is also good for your figure because it stimulates muscle growth. Every newly formed muscle burns calories, even at rest. Climbing stairs has another positive effect on the skin: the movement improves blood circulation, making the skin look firmer and healthier. The brain also ages more slowly in people who climb stairs more often. Researchers at Concordia University in Montreal found that brain age decreases by 0.58 years for each flight of stairs climbed daily, that is, one flight of stairs between two consecutive floors in a building.
4. Eat mindfully and consciously
Who does not know them, the desire to eat in the office? Then you quickly scavenge for a croissant at the bakery or something sweet at the corner kiosk and get distorted while working at your desk. But carbohydrates, fats and sugar not only make you tire quickly, they also accumulate unwanted fat deposits. So if you're hungry, don't eat at your desk. Instead, get up and go to the kitchen or a recreation room. Have healthy snacks ready, for example, some fruit or natural yogurt. Nuts and dried fruit are also good for hunger pangs in between. Reserve at least a quarter of an hour for lunch and eat carefully. Chew mindfully and enjoy your food. During this time, do nothing but eat.
5. Choose healthy food in the dining room
Eating in the canteen is convenient, but the meals there are usually large and high in calories. No wonder currywurst with chips, schnitzel or spaghetti bolognese are among the standard dishes in German canteens. While these taste delicious, they are definitely not a healthy lunch. On the contrary: they are heavy on the stomach and cause us to fall into the so-called "digestive coma". In other words: we get tired and less efficient. Instead of the "take away variant", choose light dishes, such as fish without batter, lean meat, steamed vegetables and salad. If your coffee shop doesn't offer anything like this, prepare your food at home and take it to work. It sounds like a lot of work, but it usually isn't. You can simply cook more and take the leftover portions to the office.
6. Drink green tea instead of coffee
Last but not least, a piece of advice for everyone who doesn't wake up in the morning. Drink green tea instead of coffee. This also contains caffeine, but it wakes you up more gently than coffee and also has a longer effect. In addition, green tea reduces fat absorption and prevents anxiety about eating. This is the result of a study conducted by the German Nutrition Research Institute in Potsdam. These researchers also found that green tea stimulates fat burning. Increases the basal metabolic rate by stimulating the formation of heat (thermogenesis) in the body. This melts the fat cells.
Sources used:
National Library of Medicine: The Silent Brain: Mind Wandering, Mindfulness, and Calm States of Mind
Concordia.ca: Do you want a younger brain? Stay in school and go upstairs
The Journal of Nutrition: Skipping breakfast before exercise creates a more negative 24-hour energy balance: A randomized controlled trial in healthy, physically active young men
International Journal of Obesity: Epigallocatechin gallate attenuates diet-induced obesity in mice by decreasing energy absorption and increasing fat oxidation
teaser image: © IMAGO/Silas Stone
.