the Gears of warGames have always been some of the most visually powerful titles on Xbox and PC consoles, and have always squeezed a lot out of the underlying Unreal engine. For this reason alone, you should pay attention when the current Gears studio, The Coalition, releases a video of an Unreal Engine 5 demo.
Impressive play of light and shadow.
And that's exactly what the developer did as part of yesterday's State of Unreal event. The video showcases the so-called "Cavern Cinematic Tech Test" and gives an idea of ​​what future cutscenes could look like in games made with Unreal Engine 5.
Here is the video:
Link to YouTube content
Pay special attention to the voluminous fog, character details, and realistic lighting throughout the stage. This is something that has rarely been seen with current technology and, above all, in terms of the level of detail, it is a real leap forward.
It is already possible on an Xbox Series X
Even a hundredfold jump if you believe Kate Rayner, technical director of The Coalition. She spoke to the Xbox Blog about the demo, saying, among other things, that the footage to be seen can be rendered in real time on an Xbox Series X. So the cutscenes aren't some utopian castle in the clouds, but something that we will almost certainly see on an Xbox, and of course also on PlayStation or PC, in the future.
However: The Cavern demo is just that: a demo. These are not excerpts from Gears 6, a new Coalition IP, or any other full game, but material for demonstration purposes only. The studio currently has two projects in the works, but it will probably be some time before an announcement is made.
New Tomb Raider: A new Tomb Raider game was also announced as part of State of Unreal. You can find the most important information here:
More about the subject
Tomb Raider: New Part Announced and the Chance of a Graphical Highlight is Great
Editorial evaluation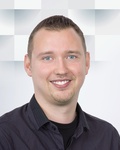 Tobias Veltin
@FischerVeltin
I've been impressed by previous Unreal Engine 5 demos and videos, and the Cavern demo is no different. I'm blown away by how cinematic everything looks and how great the lighting in particular is. Granted, it's "just" a cutscene, but the fact that it can apparently be played on an Xbox Series shows that we may not have to wait too long for graphics of this quality. Now I just hope that The Coalition will soon be around the corner with concrete game information for a new title, and then demonstrate this graphic quality "in live objects".