After a long wait, James Bond is finally back in German cinemas. In no time to die Daniel Craig plays the role of the famous secret agent 007 for the fifth and last time. For many men, James Bond is not only a movie hero, but also an idol of the body: the secret agent represents masculinity, trained muscles, elegance and style. . Daniel Craig has been around since his Bond debut. Royal Casino (2006) as the fittest Bond of all time and also in no time to die he will not disappoint his fans. For his Bond farewell, the 53-year-old trained harder than ever. We talk to his personal trainer and tell you how to get fit like James Bond.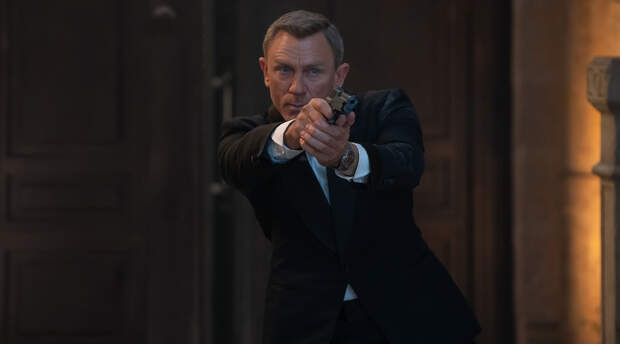 Who trained Daniel Craig and James Bond?
The man responsible for Daniel Craig's fitness is personal trainer Simon Waterson. The celebrity trainer has also trained him on other Bond movies, as well as Halle Berry and Pierce Brosnan, among others. The former marine knows exactly how to prepare stars for the movies. "Working for James Bond is really very special, the role is very well known and requires very special athleticism and an extremely high level of fitness. We train as if we are preparing Daniel for the Olympics," says Simon. Waterson describes the preparation as very hard and meticulous.
How does James Bond train?
The personal trainer designed the training with Daniel in such a way that the body moves in its most natural way. To do this, he created a mix of different workouts: with resistance bands, cable pulls, chain bells, but also bodyweight training (training with your own bodyweight) was on the program. He has dispensed with devices that train individual muscle groups in isolation. Daniel's basic fitness was already being worked on a year before filming began. Dynamism and mobility were also a central point in the preparations.
Next, a specific training on cinema was carried out using the script. In parallel with the shooting, which consisted mainly of stunt scenes, the actor worked out every day. "It was important for Daniel's well-being, not only physically but also mentally, that we be physically active every day for 2-3 hours while we were shooting," explains the personal trainer.
Of course, age doesn't leave a James Bond untouched either. Therefore, regeneration played a special role this time. "Daniel is in his 50s and you have to keep in mind that he takes a little longer and the process gets longer as you get older. Nutrition and recovery were much more important this time than before."
Bond actor shows: You're never too old for bodybuilding training, there are just a few things to consider. Our training plan shows you the best training for men over 40.
your training plan
training program
Muscle building for men over 40 in 8 weeks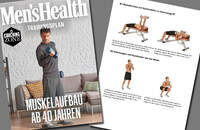 training program
especially for men over 40
perfect for home gym
the 29 exercises in image and video
25 pages, accessible on all devices
all plans
Already a customer? Then sign in here.
After successful payment, you will receive an email with a download link. If you have any questions, please send a message to [email protected]
What physical condition is important for the role of James Bond?
The role of Bond embodies something special, it represents extreme athleticism and aesthetics. Producing such an action-packed movie demands a lot from the actor. The production period is several months. This alone requires a very high level of fitness. Also, Daniel does numerous stunts, such as fighting, running, sprinting, and jumping. This requires very functional training. Personal trainer Simon Waterson designed the training plan around the individual movie scenes in the script.
For the individual stunts, the trainer has recreated situations like jumping out windows, dangling arms, or crawling across the gym floor. "It made it easy for Daniel to get comfortable with the way his body moves naturally," Waterson said. Therefore, very specific training was necessary for individual scenes in the film.
Coach Waterson compares training for no time to die happy to train an athlete for a big competition. And even if at the end of the day you admire Daniel Craig's appearance on film, that's not the focus of the training. The Expert: "Aesthetics is just a byproduct of functional training. Athletes generally don't train to look good, they want their body to perform a function, whether it's running, boxing, or skiing."
The 4 Best Exercises for a James Bond Body
If you haven't seen the new movie yet, spoiler alert: Daniel Craig is in top form! If you want to look like James Bond now, you don't need Simon Waterson. Because he told us the secret behind the Bond body: bodyweight training. The most effective training tool is your own body. With a bodyweight workout, you only train the muscles that you can use in everyday life and that actually make you stronger. You don't need an expensive gym contract or bulky equipment in your home gym. With these 4 favorite exercises, celebrity trainer Daniel Craig made Bond:
1. Pull-ups
A Hang from the pull-up bar with an overhand grip slightly wider than shoulder-width apart, palms facing forward. Bend and cross your lower legs.
b. Bend your elbows and pull your body up until your shoulders are almost level with your hands and your chin is above the bar. Bring your thighs to a horizontal position. Hold briefly, lower again in a controlled manner.
You do 2 sets of as many reps as you can comfortably do.
Here's everything you need to know about pull-ups.
2. Triangle push-ups
A Get into the wide push-up position.
b. Lower the chest to the right hand. Keep your shoulders at the same height.
C In the deep position bring the body closer to the ground towards the left hand. push up. Continue alternately.
You do 2 sets of as many reps as you can comfortably do.
Do you want to do more push-ups? Here we show you how it is done!
3. Single Leg Dips
A. Support yourself on an elevated surface with your arms straight. Put your feet on your heels, straighten your right leg. Maintain body tension.
b. Bend your arms and lower your torso until your upper arms are horizontal. Keep your back straight. push up. Switch legs for the next set.
You do 2 sets of 10 reps each.
Here we have summarized everything about the correct execution of the classic training dips.
4. Burpees
A In a pushup position with your arms bent, keep your chest a few inches off the ground.
b. Push up briskly, lift your feet off the ground and pull them toward your chest. Bring your hands up, shift your body weight back and land in a squat.
C Explosively jump with both legs, swing your arms up and straighten. Return. From the beginning.
You do 2 sets of 10 reps.
One of the most effective exercises in the world, here you will find everything about the burpee.
These 4 exercises have it all. Try to incorporate them into your training 2-3 times a week. You can find even more bodyweight exercises in our 8-week home workout plan:
start now
training program
Top fit with bodyweight training in 8 weeks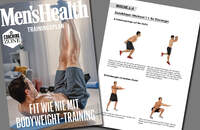 training program
no equipment needed
48 exercises as image and video
36 pages, accessible on all devices
all plans
Already a customer? Then sign in here.
After successful payment, you will receive an email with a download link. If you have any questions, please send a message to [email protected]
Professional Training Tip
For all of you who want to emulate Daniel Craig's ideal body in Bond fever, Bond's trainer Simon Waterson has given us another insider tip:
"You have to look like your own James Bond. Look to Bond's body for inspiration and motivation. It can push you to be the best version of yourself."
Plus: Do something just for yourself every day, even if it's only 15-30 minutes. This not only helps you physically, but also helps your psyche.
So off to the movies and exercise! james-bond- no time to die working since 30.9. also in German cinemas. Get inspired and train with our Bond-shaped workout.
.