– After a two-year break due to corona, the tenth "Fitness Day at Rothsee" aroused great interest. Many used May Day for a trip to the popular recreational waters.

The "3 am Rothsee" – Allersberg, Hilpoltstein and Roth – organized the anniversary edition of their fitness day for the first time exclusively at the beach house in Birkach in cooperation with the Rothsee Zweckverband and with the support of AOK Bayern. With more than 50 offers on health, nutrition and exercise topics, as well as a colorful scenic program.
Exercise concerns all generations: Visitors discovered in an entertaining way what the "3 am Rothsee" has to offer in terms of sports.
© Tobias Tschapka
Roth Mayor Andreas Buckreus also opened the day at the Strandhaus on behalf of his counterparts Daniel Horndasch (Allersberg) and Markus Mahl (Hilpoltstein, represented by MEP Stefanie Schmauser). Hours on the shore of the lake should not only be about sports and exercise, but also about healthy nutrition – informative and interesting "packages".
"We have many practical stations, dance performances and competent advice on how to stay fit and healthy," said the head of the Roth council. Buckreus was pleased that the Queen of the Franconian Lake District, Carolin Büttner, had come, as well as the Director General of the Franconian Lake District Tourism Association, Hans-Dieter Niederprüm, and Ralph Edelhäußer, a member of the Bundestag in Roth, and Hannedore Nowotny. , Deputy District Administrator.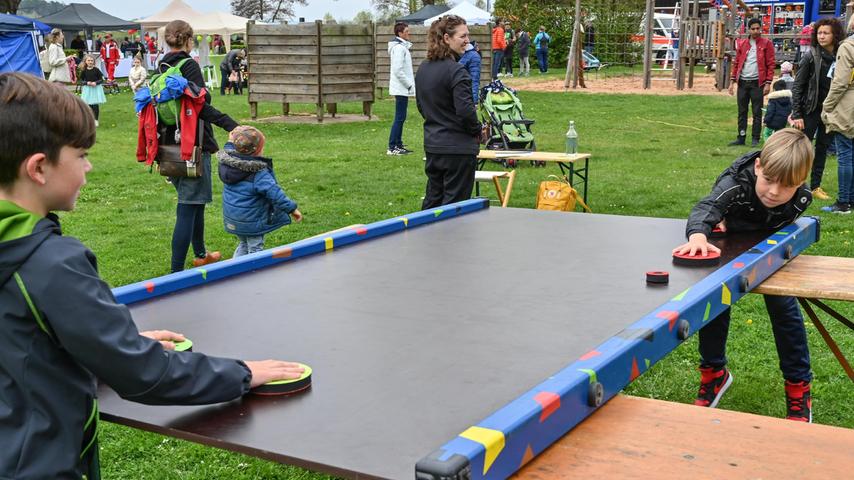 There were many hands-on stations for young and old.
© Tobias Tschapka
Nowotny recounted that since he retired he discovered the gymnastics offered by TSG 08 Roth. "And I can only recommend that to everyone: if you move, even a little bit, you do something for your body. I hope you find many good suggestions here."
The stage was then cleared for the performance of TV Hilpoltstein's Little "Dancing Mice" and many other performances and dance performances, moderated by Hans and Christoph Raithel. Even the Queen of the Lakes herself participated in the presentation of a sweaty "Latin XCO training".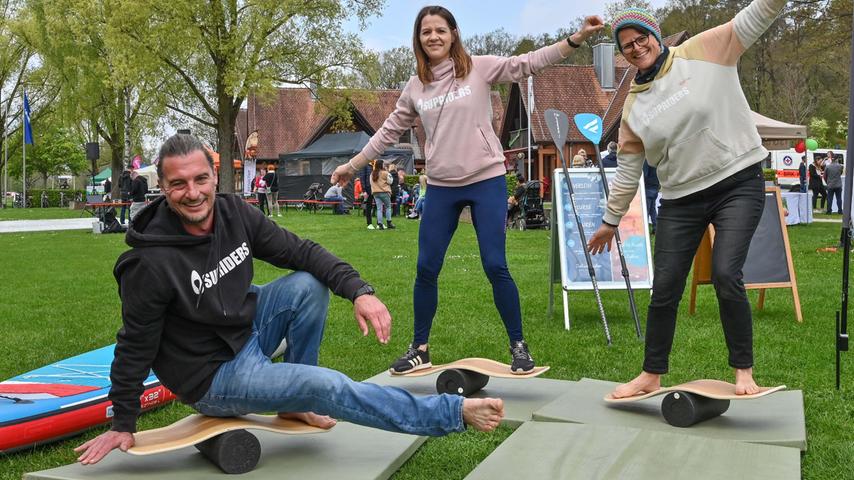 In some seasons resistance and physical condition were required, in others a sense of balance.
© Tobias Tschapka
Not only on stage, but also in the stands there were various activities to follow. From "Power Nordic Walking" through Taekwondo and "Body Jazz" to the presentation "Fit with the Thermomix". A bouncy castle and the action mobile of the district youth council were at the disposal of the little guests.
Finally, the Allersberg and Rothsee water rescue services carried out an exciting sea rescue exercise. And of course, with all the fitness, the gastronomic catering could not be missing. Among other things, the new Hofmann host family from Strandhaus Birkach ensured this with healthy and balanced dishes.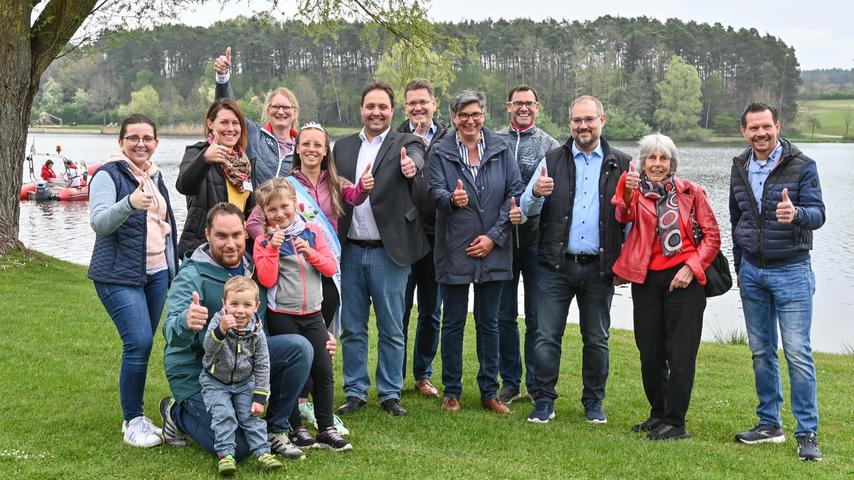 The "3 am Rothsee" team (Allersberg, Hilpoltstein and Roth) were delighted with the lively turnout.
© Tobias Tschapka