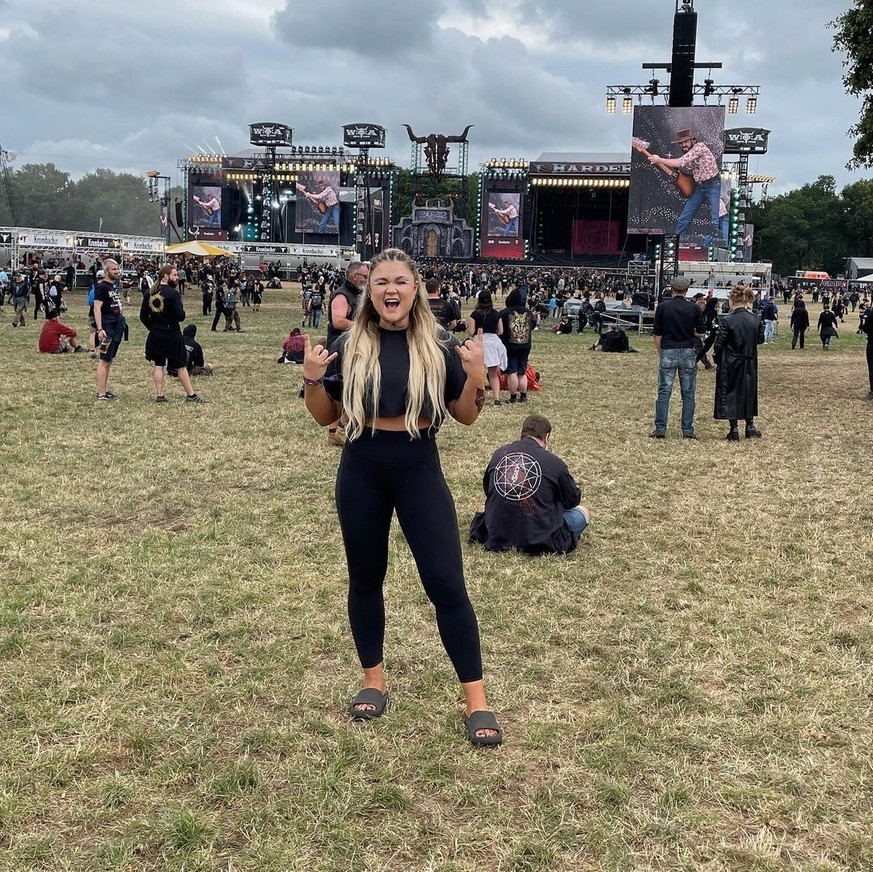 Fitness influencer Sophia Thiel visited this year's Wacken Festival. Image: Screenshot/Instagram/sophia.thiel
This Saturday the Wacken Festival is already in full swing. The metal event in the eponymous village in the Schleswig-Holstein district of Steinfurt is again attracting tens of thousands of fans after a two-year break due to Corona. With 75,000 tickets sold, Wacken is considered the largest heavy metal festival in the world.
Among the guests this time, I'm sure many fans were surprised to find an influencer who is actually making a name for herself on YouTube with fitness, nutrition and lifestyle topics: Sophia Thiel is obviously also a metalhead and on Friday she looked at the Wacken attractions in addition to the numerous concerts.
The 27-year-old not only noticed the spectacular vehicles on display at the festival or the tents with cooking classes, but also the traditional metal yoga. As Sophia pointed out on her Instagram story, the course even offers inspirational potential for her own training.
Sophia Thiel marveled at Metal Yoga in Wacken.Image: Screenshot/Instagram/sophia.thiel
Sophia Thiel finds inspiration in metalheads
"In Metal Yoga we take spirituality and metal worship to another level. Listen to your favorite metal songs while letting your body burn with the heat of hell. Learn to move, scream and breathe at the same timesays the creative description of the course on the festival website. The special yoga session takes place in Wacken every day.
Actually, it goes without saying that Sophia Thiel should not be missing. It primarily examined shirtless metal fans doing the tailored exercises; for example, controlled head movement became neck training. Sofia's conclusion:
"Inspiration for a new Youtube workout?"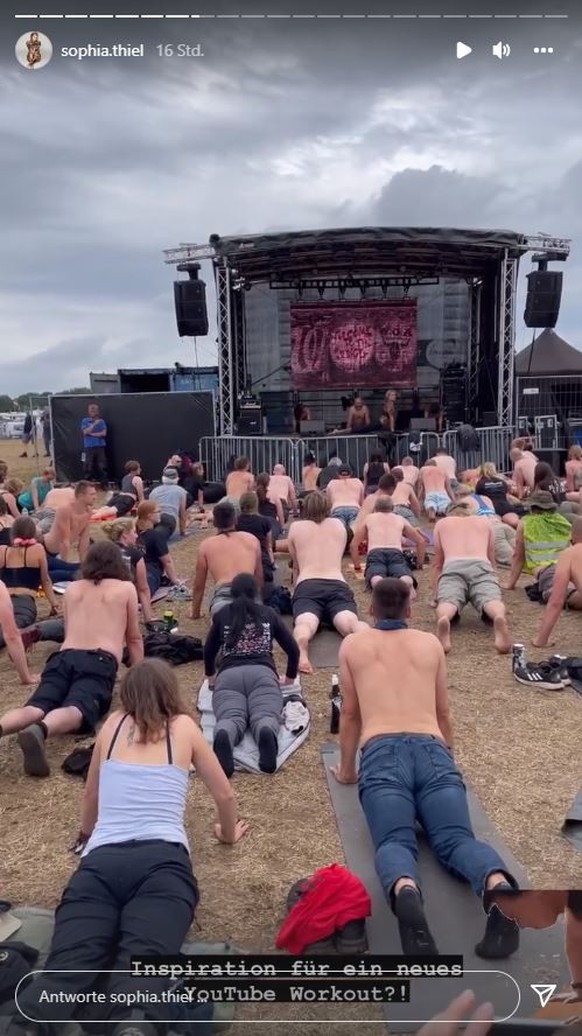 Sophia Thiel gets ideas for workouts when she sees yoga metallers.Image: Screenshot/Instagram/sophia.thiel
It would definitely be time for a new workout video, because the influencer posted the last real workout vlog back in March. However, the video, which talked about exercises to achieve a "small waist and a big butt", was not well received by all viewers:
"Questionable and definitely a trigger for a lot of us," said one user, another added: "No offense intended, but you don't look very happy most of the time…at least it seems to me that the old stubbornness is back."
Sophia took a break from social media for several years because she suffered from an eating disorder and found it more difficult to be herself. She now she has recovered from mental problems. A first metal training could probably inspire many of his fans again from his sports videos.
Influencer befriends Scandinavian metal band
Whether he will actually implement the plan remains to be seen. For the first time, the youtuber enjoyed the Wacken Festival with her sister Bella. Among other things, the two excitedly watched the band Kadavar and the main act Slipknot. "What great bands here!"Sophia was also happy on Instagram.
In the end, Bella and Sophia even seem to have become friends with Swedish horror metal band Mister Misery: "The boys from Mister Misery are really cute!"Sophia wrote on a photo with the quartet.
(cfl)
Dieter Bohlen currently has every reason to be in a good mood: RTL will bring him back as a jury member for the supposed final season of "DSDS", although the broadcaster and the pop titan only parted ways in 2021. In mid-June, the 68-year-old also personally confirmed on Instagram: "Dieter is back."